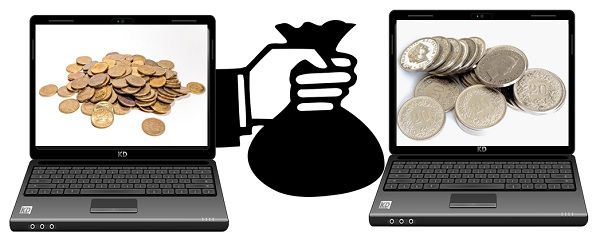 With the advancement of technology, digital money transfer system is gaining popularity because of its speed, simplicity, safety, and convenience. Funds can be transferred electronically from one bank or account or place or branch to another through this system. Moreover, the system enables instant account update and gives quick information about the foreign exchange rates. In India, National Electronic Fund Transfer (NEFT) and Real Time Gross Settlement (RTGS) are very common these days. The basic distinguishing point between the two systems is that the processing of NEFT is comparatively slow than RTGS. Just have a glance at this article to know the difference between NEFT and RTGS.
Content: NEFT Vs RTGS
Comparison Chart
| Basis for Comparison | NEFT | RTGS |
| --- | --- | --- |
| Meaning | NEFT is a system of online money transfer where the payment is made in near real time basis. | RTGS is an electronic payment system where the funds are transferred at the same time when the transaction took place. |
| Introduced in | 2005 | 2004 |
| Basis | Deferred Net Settlement (DNS) | One to One |
| Business Hours | On all working days (except 2nd & 4th Saturday) 8:00 am to 7:00pm | On all working days (except 2nd & 4th Saturday) 9:00 am to 4:30pm |
| Settlement cycle | 12 Settlements in a working day | Continuous Settlement |
| Operates on | Hourly batches | Real time |
| Ceiling limit | No such limit, but the maximum amount per transaction is restricted to Rs. 50,000 (for cash based payment within the country and payments to Nepal). | Minimum - 2 lakh, Maximum - No limit |
| Appropriate for | Small value transaction | High value transaction |
| Processing | Comparatively Slow | Fast |
Definition of NEFT
National Electronic Fund Transfer or NEFT is defined as a countrywide fund transfer mechanism through which an individual or a company can easily transfer money from one account/bank/branch to another. The system is based on the Deferred Net Settlement, where the transactions are processed in hourly batches. In this system, the transactions are held up for a specific time.
The system was first introduced in the year Nov 2005 to replace Special Electronic Fund Transfer (SEFT). As per Reserve Bank of India (RBI) diktat, it was mandatory for all banks to switch to the NEFT system from SEFT system. Since then, the SEFT system is not in vogue.
Only the NEFT-enabled bank branches are authorized to proceed the NEFT transactions. All the persons who are having a bank account with an NEFT-enabled bank branch are eligible to transfer money with the help of this system. However, having a bank account is not necessary, an individual/company can also deposit cash with the bank instructing the transfer of funds through NEFT. Such customers are known as Walk in customers.
The bank charges a nominal amount for providing such facility known as processing or service charges.
Definition of RTGS
The electronic system in which the transfer of funds is made on the online real-time basis is known as RTGS or Real Time Gross Settlement. Real time refers to the processing of transactions that is made at the same time when the order is received. In this way, there is no further delay in settling transactions. Gross means every single transaction is settled individually or one to one basis.
RTGS system is maintained by the Central Bank of India, and hence the transactions appear in the books of RBI. It applies to amounts equal to or higher than Rs. 2,00,000. Only the RTGS-enabled branches are allowed to take part in the RTGS transaction. There are more than 1,00,000 branches all over the country which are a part of this scheme.
These transactions are processed continuously during the business hours. The bank charges a nominal amount for providing such facility, but it is levied only to the outward transaction and not to inward transaction.
Key Differences Between NEFT and RTGS
The basic differences between NEFT and RTGS are indicated below:
NEFT stands for National Electronic Fund Transfer; it is an online payment mechanism through which funds are transferred from one place or branch or account to another. Real Time Gross Settlement or RTGS is an online money transfer tool, in which funds are transferred on an instruction by instruction basis.
NEFT was introduced in 2005 as a replacement of Special Electronic Fund Transfer (SEFT). Conversely, RTGS was introduced in 2004.
NEFT is based on the Deferred Net Settlement (DNS) system, whereas RTGS function on one to one basis.
Normal operating hours on the working days, leaving 2nd and 4th Saturdays for NEFT and RTGS is 8:00 am to 7:00 pm and 9:00 am to 4:30 pm.
There are total 12 settlements in a working day in case of NEFT. But if we talk about RTGS, the settlement occurs continuously.
NEFT operates in hourly batches while RTGS operates on a real time basis.
There is no minimum or maximum ceiling limit in NEFT. However, the amount per transaction should not exceed Rs. 50000 for the remittances based on cash within the country and payments to Nepal. On the other hand, RTGS has a minimum limit of 2 lakhs, and there is no bar on the ceiling.
NEFT is best for small value transactions. Unlike RTGS which is appropriate for large amount transactions.
RTGS is an instant fund transfer mechanism, but NEFT takes the time to transfer funds.
Conclusion
Although the old cheque clearing system still exists, but, as the people are getting technologically advanced, they are preferring new methods of transferring funds that save their time. NEFT and RTGS are very convenient ways of transferring funds even in remote places in very less time. The network of both the systems is very strong. Both the systems are linked to more than 1,00,000 bank branches.