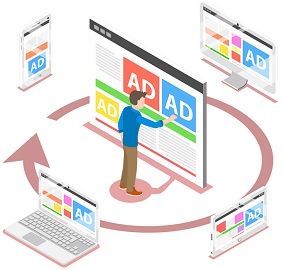 Though Retargeting and Remarketing have similar goals, they are different. While retargeting uses sponsored ads to attract an audience. Remarketing uses email to attract past customers, retain them and encourage further purchases. One must note that retargeting is a subset of remarketing.
Retargeting refers to serving personalized ads to customers depending on their previous engagement. It is an amazing brand-building tactic that keeps the marketer in front of the prospects. Moreover, it aims to attract potential customers' attention by retargeting advertisements for products previously viewed on various platforms.
Remarketing is a pervasive term for marketing products and services to the same prospect multiple times to get them back.
Do you know?
Only 2% of online visitors make the purchase on the very first visit to an online store. That means around 98% of people who visit your website leave without actually converting.
In this post, we are going to discuss the difference between retargeting and remarketing.
Content: Retargeting Vs Remarketing
Comparison Chart
| Basis for Comparison | Retargeting | Remarketing |
| --- | --- | --- |
| Meaning | Retargeting means using paid ads via social media, search engines, apps or websites to reengage people who have visited your site earlier. | Remarketing means a process of re-engaging customers who have already purchased your product in the past using emails, SMS or WhatsApp messages. |
| Customers | Those who have visited the website or social media profile. | Those who have bought something either offline or online and shared contact details. |
| Initial Point | It starts by saving cookies. | It starts when a visitor visits the store and provides their contact information. |
| Objective | To attract more and more customers from users who have previously visited your website. | To retain the attention of the audience who have shown interest in the product or business or previously purchased your products. |
What is Retargeting?
Retargeting means the online placement of ads on different social media platforms or search engines to target those customers who have previously interacted with your site but left without making the purchase.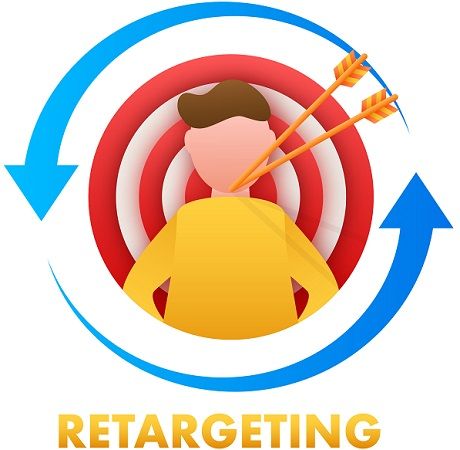 To understand the concept of retargeting, we will take an example – Suppose you visit an e-commerce website or app searching for sports shoes. There you browse around 30 sports shoes product pages but then leave the platform without purchasing. So, you have left more than 30 meaningful purchase intent signals.
A few moments later, you open your social media news feed or stories and find the shoes you browsed a few moments ago in an advertisement. This is the whole concept of ad retargeting.
More precisely, retargeting is how a marketer is able to get through to you again to remind you of your interest in the concerned product that you were searching for in an attempt to bring you back and complete conversion.

How does Retargeting work?
Now you must be wondering, if you haven't bought that item from that e-commerce platform or provided your information, then how the platform follows you?
Retargeting works by using 'cookies'. Cookies are small pieces of text that a website sends to your browser. It stores data about who visited the website and when. Marketers use these cookies to serve relevant ads to the users.
Important: Cookies do not store any sensitive information, like the site visitor's name, address or any such details that might identify the visitor on a personal level.
When a visitor comes to your e-commerce site, a cookie is set to the browser, and after doing some actions like searching for a product or adding a product to the cart, the visitor leaves the platform and visits another site. The cookie lets the marketer know when your bounced visitor uses another site, be it a social media site or website.
Hence, the marketer looks for the available ad space on the website and bids for it in real-time. This process is called real-time bidding or RTB. And if they make the highest bid, they get the ad space, and before the page loads, you see the ads of the product which you were looking for in the e-commerce site along with the page content.
Note: This is an automated process that happens within seconds.
Therefore, the companies use this information to retarget the customers by displaying paid ads of the same product or its alternatives so that the customers are pushed to visit the website and purchase. The essence behind retargeting is to utilize data regarding prior online consumer behaviour as a push to send personalized communications.
So, in retargeting the marketer:
Continually engages the customer during their purchase journey.
Sends dynamic and personalized ads depending on the items that your shoppers like.
Adjusts the targeted ads on the basis of the budget and performance.
Types of Retargeting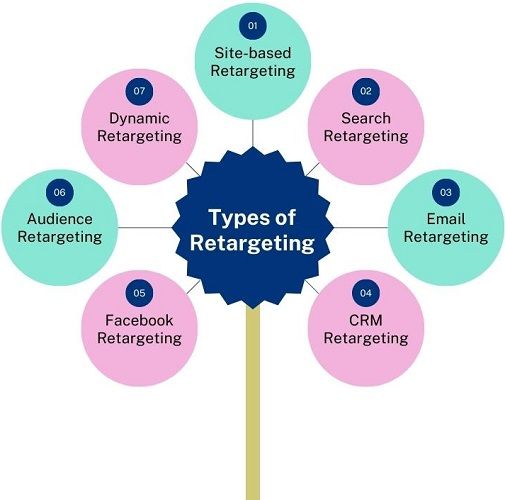 Site-based Retargeting: Serving ads to people who visit your website.
Search Retargeting: Serving ads to the visitors who search your keywords while they are surfing the web.
Email Retargeting: Serving ads to those who open your emails.
CRM Retargeting: Serving ads to the customers who are on the mailing list. It is also known as list retargeting.
Facebook Retargeting: Serving ads to the Facebook users who visit your site.
Audience Retargeting: Use of behavioural, demographic, geographic, interest, and intent-based data to target your ideal audience all over the internet and serve ads
Dynamic Retargeting: Serving ads of specific products depending upon the browsing behaviour.
Also Read: Difference Between e-Commerce and e-Business
What is Remarketing?
Remarketing works by collecting consumer information and creating a list, then this list is used to forward sales emails, send personalized SMS and make calls for new and hot deals. Also, it covers retargeting.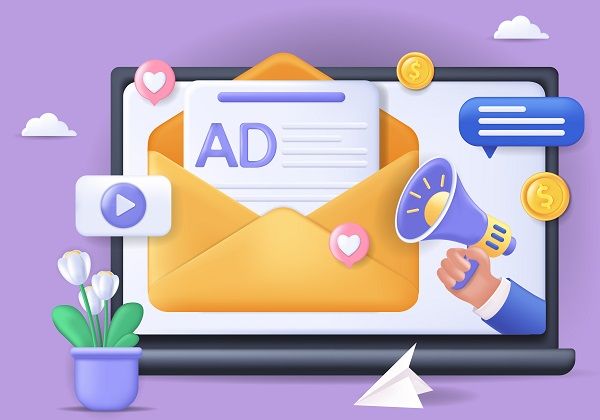 It reconnects businesses with people who are their real customers, i.e. who have made a purchase previously at least once. Moreover, it seeks to re-engage with the users depending on their previous purchase transactions. It supports developing long-term relationships with customers and their retention.
Remarketing is a process that allows advertisers to associate with past visitors of a website or store. It is an advertising and sales strategy for maintaining contact with the prospects after they visit the store. The basic activities in remarketing comprise any marketing material that reminds customers who have visited in the past. This increases the probability of repeat purchases.

Concept of Remarketing
Remarketing is a tool for regaining lost customers and cross-selling products and services. It is not a new term, i.e. before the emergence of social media, the concept of remarketing existed. We all have shared postal addresses, email and contact details with the salesperson when we visited any showroom or a trade show. So, when these companies launch any new product or follow up with the prospect, they send emails, SMS, or even call them. This process is called remarketing.
These campaigns help in increasing revenue growth by reminding and persuading customers to complete their purchases. Hence, this increases customer retention by nurturing existing customers and encouraging repeat purchases. This may include visitors who abandoned their carts, engaged with specific product pages or subscribed to your newsletter. Emails are also sent to customers on their birthdays and anniversaries.
Do you know?
More than half of online consumers spend 75% of their shopping time carrying out research.
How does Remarketing work?
Are you among those who leave products in the cart and get follow-up emails from the e-commerce platforms reminding you to complete the purchase, or will the product run out of stock? Or are you among those who get SMS or emails from sites to make a repeat purchase?
Companies use remarketing when the prospect has already provided their details, like name, email address, phone number etc., to the marketer. In remarketing, the company sends highly targeted personalized emails to customers to bring them back to the e-commerce platform, where they left and take the desired action.
The use of marketing automation platforms, which captures the user's activity and sends emails to the customer depending on their actions.
Remarketing is a process in which marketers use email marketing to associate with the customers again and increase conversion.
Example: Emailing a customer to renew a service.
Remarketing can also be brand 'reminding' a user to take a specific action based on their purchase history.
Remarketing is when you see the ads or follow-up emails from a brand after you are done purchasing a product or you have performed a specified action like adding items to a cart and leaving.

Types of Remarketing Campaigns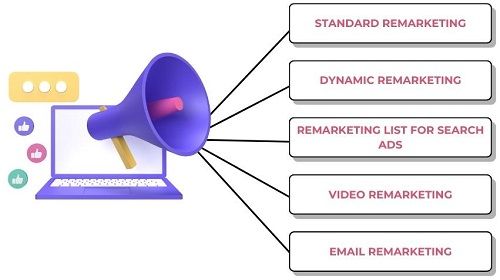 Standard Remarketing: Displaying ads to past visitors as they navigate on different websites or social media platforms. Here, past visitors means people who clicked on an ad, landed on your home page and left the site.
Dynamic Remarketing: Serving ads which are personalized as per the visitor on the basis of their browsing history on the webpage. This may cover sending SMS, WhatsApp messages or emails to the visitor who views them. It increases the chances of returning.
Remarketing List for Search Ads: It is offered by Google Adwords that lets the customer tailor their search ad campaign for visitors.
Video Remarketing: Displaying ads to those visitors who have seen your videos recently. The ads are displayed on Youtube at the beginning or in between videos.
Email Remarketing: It involves serving remarketing display ads to those users who open your email. Also, it is when the marketer gets through the visitor who has left your website, and the sale is not complete.
Also Read: Difference Between Social Media Marketing and Digital Marketing
Key Differences Between Retargeting and Remarketing
Retargeting refers to a cookie-based technology that uses Javascript code to follow the audience anonymously over the web. Remarketing is the practice of sending automated emails to reach consumers directly in their inboxes, along with serving targeted ads on websites and social media.
Retargeting makes use of sponsored ads to reconnect with the users on the basis of their on-site activities like leaving items in the cart and not making the purchase, saving for later, looking for an item using the search option, adding an item to the wishlist or marking them as favourites. As against, remarketing uses emails, SMS and calls for re-connecting with customers who have previously bought goods and those who abandoned carts for different reasons.
When it comes to customers, retargeting includes those customers who have visited the website or social media profile. Conversely, remarketing includes those customers who have bought something either offline or online and shared contact details.
Retargeting aims to attract more and more customers from users who have previously visited your website. In contrast, remarketing aims to retain the attention of an audience who has shown interest in the product or business or previously purchased your products.
Conclusion
Nowadays, most e-commerce companies use retargeting and remarketing. Further, it is the most effective way to bring back those visitors who left your site. While Remarketing is a marketing strategy for reengaging with the customers depending on their last purchase. As against, retargeting is a marketing strategy for reengaging with prospects who interacted with the brand online and didn't convert into sales.