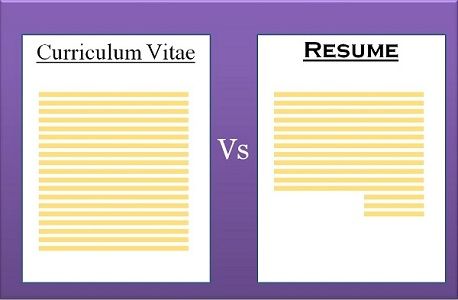 Curriculum Vitae (CV) outlines the academic qualifications, researches, and other relevant details about a person, to represent him in front of employers. A Resume is to the point document, which underlines a person's qualification for a specific job. When it comes to length, a CV is much larger than a resume.
Whenever a person applies for a job, he/she has to make a document which introduces him/her. Which one is suitable a CV or a Resume? It is going to be very difficult to choose one of them if you do not know about their differences. It often happens, many times when candidates without knowing which document is required, they send whatever they have at that time, which is the biggest mistake, and they can even be disqualified for not sending the desired document.
In this article excerpt, you will find the most important differences between CV and Resume.
Content: CV Vs Resume
Comparison Chart
| Basis for Comparison | Curriculum Vitae (CV) | Resume |
| --- | --- | --- |
| Meaning | A document containing information related to individual's past qualification, experience, skills, competencies and achievements is known as a CV or Curriculum Vitae. | A Resume is a document having details of an individual's education, work experience, competencies and previous job achievements. |
| Type of Document | Comprehensive | Concise |
| Etymology | Curriculum Vitae is a Latin expression which means course of life. | A French expression which means summary. |
| Length | 2 to 20 or more pages | 1 to 2 pages |
| References | Included | Not Included |
| Oriented towards | Academic qualification | Non-academic qualification |
| When to use | Applying for an academic position, advanced research, fellowship, etc. | Applying for the job, and intership or taking part in the job fair, etc. |
| Modification | No, it is same for all jobs | Yes, it can be modified according to job. |
| Stresses on | Expertise, i.e. what skills makes you an expert in a particular field. | Contribution, i.e. how your work made a difference, where you have worked. |
| Education | At the top of the CV | Mentioned after experience. |
Definition of CV
CV is an acronym used for the word Curriculum Vitae, which is a Latin word, that means 'course of life' i.e. an individual's course of life. Curriculum Vitae is a written document which contains details about a person's past education, experience, knowledge, skill, competencies, accomplishments, projects, awards, and honours, etc.
The CV is a biography of an individual's academic background and professional experiences. It also includes details about a person's area of interest, hobbies and extracurricular activities. It is not modified according to the job; it remains same for all jobs. It should be systematically arranged so that a proper sketch about an individual's career can be drawn.
Definition of Resume
A resume is a short and brief description about, what a person possess in context to the respective job like qualifications, previous job experiences, and achievements, competencies and skills. It is in the form of a document which is required at the time of applying for business, government and industry jobs. It is a snapshot of an individual's professional profile.
The term Resume is a French expression which means 'summary' i.e. summary of a person's work life. It only outlines the job applicant's relevant qualifications and experience which is required for the specific job. It should be prepared in such a manner that will make an impression on the potential employer because a resume can open the doors of an interview. It also helps the recruiter to pick the most suitable candidate for an interview. The job seeker should present the latest details first in the resume.
Key Differences Between CV and Resume
The points given below are substantial, so far as the difference between CV and Resume is concerned:
A CV is a descriptive document which lists out all the details about a person's career. A Resume is a snapshot of a person's working life, presenting all the details which are required for a job.
A CV is comprehensive while a Resume is concise.
The word CV is an abbreviation for Curriculum Vitae, which is a Latin word. The word Resume is a French term.
The length of a resume is shorter as compared to CV.
CV gives emphasis on academic details whereas a Resume is focused on non-academic details along with highlighting key skills and competencies, matching with the job.
CV cannot be customised; it remains static, but a Resume is dynamic, and it changes according to the job.
A CV includes references. In contrast to Resume, which do not include references.
CV is suitable when applying for academic positions, fellowship, advanced research, etc. On the other hand, Resume is accurate when applying for the job, internships or taking part in the job fair.
Curriculum Vitae (CV) focuses on expertise, i.e. what makes you an expert in the field, you have chosen to study. On the contrary, resume concentrates on contribution, how your work made a difference where you have worked.
Education is mentioned at the top of the CV. Unlike resume, in which education is indicated after experience.
Video: Curriculum Vitae (CV) Vs Resume
Conclusion
The difference between CV and Resume is very clear; CV covers all the aspects of a person's career while Resume is straight forward to the particular job. CV is more detailed as compared to a Resume. There is no contradiction as well as confusion between these two terms. In most of the countries, while the course of employment, CV or a resume is demanded from the candidates. The contents of the two, documents differ in many respects, which is discussed in this article.