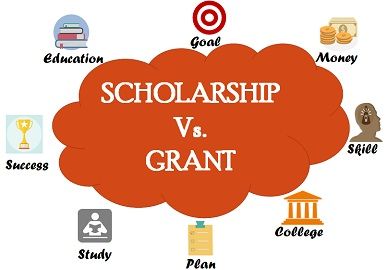 There is a common misconception of the students that grant and scholarship are same, as both the schemes offer money to the students without having to repay them. However, there is a thin line of difference between these two terms, which remain unnoticed by many. While grants are awarded to all the persons who are in need of it, but scholarship is awarded to students only.
Whether it's a student or a businessman or any other entity, finance is the basic requirement, which buys all the stuff, needed in reaching the goal. All those people who are in need of money, to further their education or any project, can apply to the government for awarding grant or scholarship, so as to fulfil their monetary requirement. Explore more differences, on these two terms, in the article.
Content: Grant Vs Scholarship
Comparison Chart
| Basis for Comparison | Grant | Scholarship |
| --- | --- | --- |
| Meaning | Grant implies a sum of money given by the government or any other entity to an individual or entity to carry on a specific purpose. | Scholarship refers to a monetary aid, awarded to the student, so as to help him undergo high level education. |
| Based on | Need | Primarily merit, but considers other factors also. |
| Conferred to | Any person or entity, fulfilling specific criteria. | Students only |
| Performance | Need not to be maintained. | Need to be maintained. |
| Purpose | Awarded for a prescribed purpose. | Educational purpose. |
Definition of Grant
Grants are the funds, awarded by the government, corporation, trust or foundation, to an individual, educational institution, business, non-profit organisation or any other entity for a prescribed purpose, specifically a project, relating to agriculture, education, construction, etc. It may also be known as subsidies, duty drawbacks and cash incentives.
Grants are given for various purposes like undertaking research, studying abroad, starting a new business, or even to the victims of natural disaster. For availing grant, the recipient needs to be eligible for so.
When the grant is given to fund a project, a certain standard is required to be met, and reporting should be done properly. The usage of the grant should be according to the purpose specified or else; the recipient will lose the aid. In fact, there are certain grants which are to be refunded if they are not used for the specified purpose.
Definition of Scholarship
The scholarship is a term used to define a financial aid given to the student, for his academic, artistic or athletic ability, to pursue high-level education. Most of the time, the students who excel in specific activities, affiliations, sports, etc. are awarded scholarship with an aim of, motivating them to do better.
The scholarship is conferred by the government, corporations, foundations, universities or any other entity to those students only, who qualify the specific criteria set by the donor. The rules are a bit rigid, and the student has to maintain a specific score, for keeping the scholarship regular. There are different types of scholarships which are:
Merit-Based: Scholarship is given on the basis of a student's academic achievements.
Need-Based: The educational institution awards it to the students who fulfil the specific criteria.
Student-specific: The scholarship available to the students of a specific community or group.
Career-specific: It is granted to those who pursue the particular course.
Athletic: Scholarship is given to the students who participate in sports.
Key Differences Between Grant and Scholarship
The points given-below explain the difference between grant and scholarship in detail:
A monetary aid, awarded to the student, so as to help him pursue high-level education, is called scholarship. Funds provided by the government or any other entity to an individual or entity to carry on a specific purpose is called grant.
The scholarship is conferred mainly on the basis of merit, which can be academic, athletic or artistic, but sometimes need, and similar other factors also form the basis for granting scholarship.
Grant, conversely, awarded to the student on the basis of their need, i.e. their financial condition is considered.
Grant is awarded to any individual, non-profit organisation, business, etc. who qualify the specific criteria. On the contrary, the scholarship is awarded to students only, and that also to further education.
Although, specific conditions are required to be fulfilled in the grant, the student need not maintain the defined level of performance. As against this, the performance level should not be lower than specified, or else the scholarship will be stopped.
Grant are awarded for different purposes like to undertake research, study abroad, start a business, or any other purpose. Unlike, scholarship which is granted only for educational purpose.
Similarities
Both grant and scholarship are available in the form of free money which need not be refunded. However, there are certain strings attached to it, which are to be met to sustain it for long period. Both are awarded only when the person applies for it.

Conclusion
So, once you get the scholarship or grant, one can easily conduct the activity, for which it is granted, like pursuing a course, performing research, starting a start-up or any other purpose. It has end number of benefits like all your cost will be funded by the grant or the scholarship, and as it does not require to be paid back, it won't add any stress to the person availing it.
Further, all scholarships are grants as, the former itself is a form of latter.