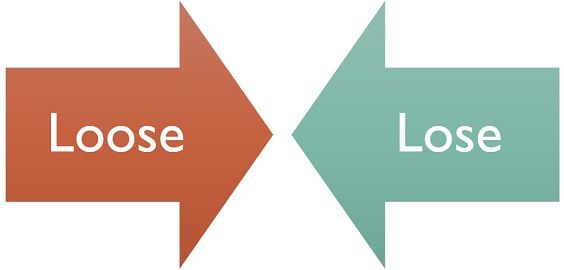 The words 'loose' and 'lose', are the pair of words which are usually misconstrued, due to a little bit of similarity in their pronunciation, and spelling as well. However, they are entirely different in the sense that we use the word 'loose', to talk about something which is not fit or free. On the other hand, lose is used when we misplace something or it can be used as a synonym for defeat. You can understand the two with the help of these examples:
As the worker loosed grip of the rope, the supervisor lost his patience and shouted at him.
You will look more attractive if you wear loose clothes or you lose weight.
In the first example, we have used the word 'loose' to mean 'set free', while lost (past form of 'lose') indicates 'ceasing the ability to keep one's composure intact'. In the next sentence, loose represent 'free or not tight', whereas lose implies 'having less of weight'.
Content: Loose Vs Lose
Comparison Chart
Basis for Comparison
Loose
Lose
Meaning
Loose refers to something which is untied, lenient, free or slack.
Lose is used when we cease to retain a person or object or when we fail to win.
Pronunciation
luːs
luːz
Part of speech
Verb
Verb and Adjective
Example
The shirt is too loose to wear.
I lose my favorite shirt.
Can I have some loose sugar?
Rahul lost his self-control.
Definition of Loose
By the word 'loose' we mean not tightly held, lax or baggy, however, the term has several meanings in English, which is based on the way it is used in a sentence. So, let's have a look at the points given below:
As an adjective:
It means not firmly attached, fastened or tied in or with something:

Some loose sheets are lying on the table.
I think the wire is loose, that's why the iron is not heating properly.

It may also mean not tight:

We should wear loose clothes during summer.

It means inexact or approximate:

The sales executive provided a loose figure of sales in this quarter.

It also refers to disorganized, lenient or not strictly under control:

They have very loose rules for membership.
As a verb:
To mean relax or set free:

Loose your hands.
The birds are loosed, after a long time.
Definition of Lose
The word 'lose' has basically two meanings, firstly it is used to cease to have something, i.e. misplace something, and secondly, it is used to mean defeat or fail. It is used as a verb only, in sentences. Come let's understand its usage:
To cease the possession of an object or refrain from having it, as you mislay it:

She lost her phone at the procession.

It can be used when you stop feeling or believing something:

Kate loses her trust, on Jennie.
Peter lost his temper, after hearing that he is failed in final exams.

When something is removed or taken way:

She lost her parents in a train accident.
Many employees lose their jobs due to lay off every year.

When something is decreasing:

I am losing my eye sight day by day.
If you go to the gym daily, you may lose fat.

It is used for defeat or failure:

After losing the bike on a bet, Varun got angry.
Team A lost to Team C
Key Differences Between Loose and Lose
The points given below will help you to understand the difference between loose and lose:
Loose implies baggy, lax, break-free, slack or not confined. It is used to refer to something which is not firmly attached or set at a place. On the other hand, Lose means no longer possess something or something is taken away. It may also be used when you fail to win.
When it comes to pronunciation, the word 'loose' has an 's' sound in the end, whereas the word 'lose' is pronounced with a 'z' sound in the end.
The word 'loose' is commonly used as an adjective, to mean not tight, strict or exact, but it can also be used as a verb to mean release or relax. The word 'lose' is only used as a verb, which represents misplace or defeat.
Examples
Loose
Loose packs of coffee are not available at the store.
I loosed the grip and fell to the ground.
Riya ordered the dress online, but it is very loose.
Lose
Aastha lost her interest in reality shows.
Alex always loses his spectacles and then finds it all around the house.
Losing hair is more painful than anything else.
How to remember the difference
To memorize the difference between loose and lose, one should notice the sound, which the two creates, the word loose rhymes with the word 'goose', which ends with an 's' sound, whereas the word lose rhymes with the word 'booze', which has a 'z' sound.