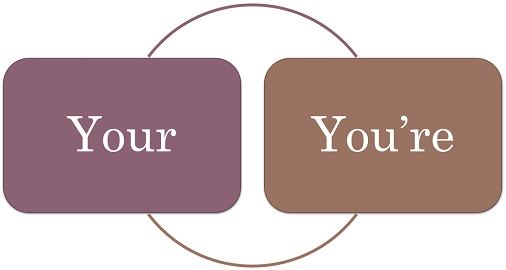 The words your and you're is common in terms of their pronunciation but differ in their meaning and usage. While there are many of us, who use them interchangeably, due to lack of knowledge in this regard. We use your when we want to express belongingness of the other person to the conversation, to something.
On the contrary, you're is a contraction, for the term 'you are', which is used informally in the sentences. Now, let's look at these examples to understand them better.
You're looking for your blanket here.
You're your own master.
You're already late for your Physics class.
In these two sentences, you're is used when the speaker refers to another person. On the other hand, your is used to show possession of the other person over the object.
Content: Your Vs You're
Comparison Chart
Basis for Comparison
Your
You're
Meaning
Your is a term used to show belongingness to the person, the speaker is talking about.
You're is nothing but a short form for 'you are'.
Pronunciation
jɔː, jʊə
jɔː, jə, jʊə
Part of Speech
Possessive Adjective
Contraction
Followed by
Noun
Adjective or Present Participle
Example
Here is your clip.
You're really beautiful.
What is your permanent address?
You're taking it wrong.
May I have your number?
You're a genius.
Definition of Your
The word 'your' is a possessive adjective (second person) which highlights possession or ownership, of another person on something. In other words, your is used to express belongingness to you. We use the word 'your' with a noun both singular and plural. It can be used in the following ways:
As a determiner it refers to belonging or associated to any person or group thereof, to whom the speaker is addressing:

I like your accent.
What happened to your nails?
Your father is very supportive.
What's your plan for today?
I am not your English Teacher.

It can also be used, when you are referring to people in general:

Green leafy vegetables are good for your health.
This school is best for your children's education.
Definition of You're
The word 'you're', is an acronym used commonly for the term 'you are', in the informal sense. It is usually followed by an adjective to tell a description or by a present participle, i.e. a verb ending with -ing, to show some action. Let's look at the examples to understand the use of you're in sentences:
What you're up to?
You're free to call me any time.
I said to David, 'You're always welcome'.
I think you're taking it too seriously.
You're very sweet.
You're not mature enough to take a decision solely.
Key Differences Between Your and You're
The difference between your and you're are discussed in the points given below:
The word 'your' is a determiner which is used in sentences to express the possession or ownership over something, of the person to whom the speaker is referring. On the other extreme, you're is a colloquial short word for the term 'you are'.
While your is a possessive adjective, you're is a contraction.
Basically, your is used before a noun, whereas you're is followed by an adjective or a present participle, i.e. verb that ends with -ing.
Examples
Your
This is your pen.
Is it your notebook?
What is your opinion on this matter?
It's your mistake
You're
You're very busy.
You're taking it too seriously.
I think you're going to regret this.
You look as if you're unhappy, with the decision.
How to remember the difference
Your is just the possessive form of the word 'you'. We can use it for the second person, as we use his and her, for the third person. Further, you can use 'you're' when you can expand it to you are in a sentence or else your has to be used.