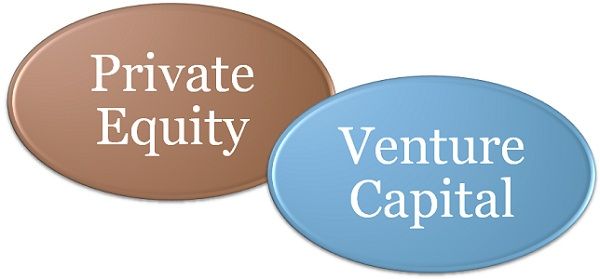 Private Equity and Venture Capital are a type of financial assistance provided to the companies at various stages. Due to the similarity in their concept, they are taken as one and the same thing. However, there is a considerable overlap amidst the two terms which is not known to people. Private Equity involves larger investments in the matured companies. Unlike, Venture Capital in which relatively small sized investments is made, in the companies passing through initial stages of their development.
Private Equity fund refers to an unregistered investment vehicle, wherein the investors combine their money for investment purposes. On the contrary, venture capital financing implies funding to those ventures which possess high risk and promoted by new entrepreneurs, who need money to give shape to their ideas.
Take a read of the given article to understand the difference between private equity and venture capital.
Content: Private Equity Vs Venture Capital
Comparison Chart
| Basis for Comparison | Private Equity | Venture Capital |
| --- | --- | --- |
| Meaning | Private Equity are the investments, that are made in those firms which are not publicly listed on any stock exchange. | Venture Capital refers to financing of small business by the investors, seeking high growth potential. |
| Stage of Investment | Later stage | Initial stage |
| Investments made in | Few companies | Large number of companies |
| Companies | Funds are provided to matured companies having good track record. | Investments are made in startup companies. |
| Focus on | Corporate Governance | Management Capability |
| Industries | All industries | Industries that require heavy initial investments like energy conservation, high technology, etc. |
| Risk Involved | Less risky | High risk |
| Fund Requirement | For growth and expansion of business | For scaling up operations |
| Ownership of investor | Generally, 100% | Does not exceed 49% |
Definition of Private Equity
The term private equity refers to the capital investment made by the investors or companies in the private companies that are not quoted on the stock exchange. The funds may also be invested in a public company to conduct buyout, through, which the public company will be delisted. The investments are made at the maturity level of the company, having a substantial operating history. The package may include both equity and debt financing.
Private Equity firms buy an already existing company and restructure it to develop further, expand and make it better than before. Leveraged Buyout, Venture Capital, Mezzanine Capital and Growth Buyout are the main strategies of Private Equity.
If you look at the private equity graph, you will observe that it has become an important part of the financial services across the world in last 20 years. It is one of the attractive funding options.
Definition of Venture Capital
Venture Capital is described as the capital contributed by the investors or individuals to small enterprises or startup firms which are having a fresh concept and promising prospects. The new private company is not able to raise funds from the public, may go for venture capital.
This kind of financing may involve a high degree of risk and whose promoters are young & qualified entrepreneurs. They need capital assistance for shaping their ideas. Venture Capital firms support the growing companies in their early stages before they make a public offer. The financier is known as Venture Capitalist, and the capital is provided as equity capital.
Venture Capital funding is related to huge initial capital investment business or sunrise sectors like information technology. The risk and return factor in this type of funding are relatively higher.
Key Differences Between Private Equity and Venture Capital
The major differences between private equity and venture capital are indicated below:
The investments made in the private companies by the investors is known as Private Equity. Venture Capital, on the other hand, refers to the capital contribution made by the investors with high risk and return potential.
Private Equity, Investments is made at the later or expansion stage, whereas in Venture Capital the investment is made in the early stage i.e. seed stage or startup stage.
Private Equity firms make investments in few companies only while Venture Capital firms, make their investments in a large number of companies.
Private Equity funds are provided to matured companies that are having a good record. Conversely, Venture Capital funds provided small business but do not have the desired track record.
Private Equity investment can be made in any industry. As opposed to Venture Capital, in which investment is made in high growth potential industries like energy conservation, biomedical, quality up-gradation, information technology and so on.
The risk profile in venture capital is comparatively higher than private equity.
In private equity, the funds are utilized in the financial or operational restructuring of the Vendee company. On the other hand, venture capital funds are utilized in streamlining business operations by way of developing and launching new products or services in the market.
In general, private equity firms have 100% ownership in the investee company, but venture capital firm's ownership in the investee company is not more than 49%.
Conclusion
There are a few of similarities between the two kinds of financing like both represents investments in the companies that cannot raise funds from the public. Both of them are subject to some regulations. The main cause of distinction between the two is the investment size, stage of investment, risk involved and so on. Private Equity firms focus on corporate governance. However, the Venture Capital firms focus on the capability of management.