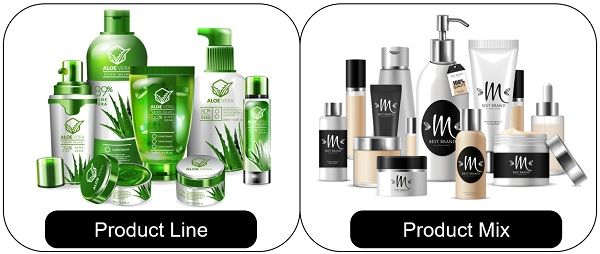 Did you notice that most people have a range of electronic devices from the same company like TV, Microwave, Refrigerator, Washing Machine, etc.. Product line refers to a range of product items which are similar in nature, characteristics and function. On the other hand, product mix is the complete range of products that a firm manufactures and offers for sale.
There are four elements of the promotion mix, and the product is one of its elements. Product implies the goods and services that fulfill the needs and wants of customers. In this regard, product mix and product line are often a part of the discussion. So, here we will explore the differences between product line and product mix.
Content: Product Line Vs Product Mix
Comparison Chart
| Basis for Comparison | Product Line | Product Mix |
| --- | --- | --- |
| Meaning | Product Line is a set of products that are related and has similar functions. | Product Mix is a full assortment of products and items that a company introduces and offers for sale. |
| Factors | Price Range, functionality, brand, and target audience. | Company's age, financial standing and brand identity. |
| Objective | To meet the needs of specific customer within a particular market segment. | To cater a wide range of customer needs, accross various market segments. |
| Relationship | Products in a product line are quite related and have common features, benefits and uses. | Products in product mix may or may not be related, as there is a wide range of categories. |
| Strategy | It is used to catering a wider audience of a particular market segment by offereing different variants of a product to fulfill various needs of customers. | Product mix is used for diversifying the offerings and reducing risks, to cater to different markets and market segments. |
| Variations | Different color, size, features, specifications, technology used, etc | Different product categories. |
| Management | Own management and marketing strategies. | Holistic approach is required for managing different product lines collectively. |
| Strategy for growth | Firms can expand by launching new models or variants within the existing product line. | Adding a new product line for catering different markets and segments. |
What is a Product Line?
Product Line implies a single line of identical products that a company manufactures and offers for sale to its customers. These products perform similar functions, i.e. they are used to satisfy the same want, have the same price range and target the same audience or customer groups. Also, they distribute products using the same channels.
The marketer may ascertain various product lines offered to the buyers by taking into account the buyer's consideration, distribution and economy of production.
Generally, the companies introduce more and more variants in the product line of each product to widen the customer base by filling the gaps in the offering. This will also prevent new players from entering into the market.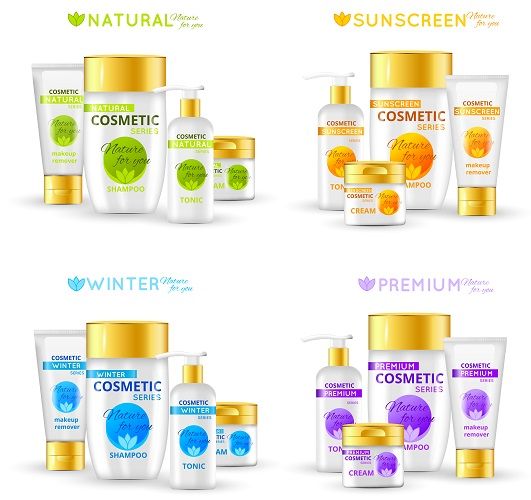 A product line is regarded as short when the profits increase by adding more items to it. Conversely, the product line is said to be long if the profits increase by reducing some products. It attracts new customers, improves the brand's competitiveness and influences the market or field. Product Line comprises a number of several sublines, which include a number of product items.

Example
Suppose a company sells Hair care products may have a first product line that sells Hair oils, a second product line that sells shampoo and a third product line that sells conditioners.
Characteristics of Product Line
It comprises closely related product items. One can distinguish these products only on the basis of shape, size, colour, performance, model, weight, etc.
Products in a product line complement each other.
Product Lines make use of the same distribution channel, which means that products are marketed through the same outlets.
The objective of offering similar products in every product line is to attract customers by supplying more varieties.
The items of a single product line are produced using the same technology or resources.
Their function is similar, and they require similar skills for using them.
Items of a product line are sold to the same customer group. Hence, they satisfy the needs of the same group.
Attributes Related to Product Line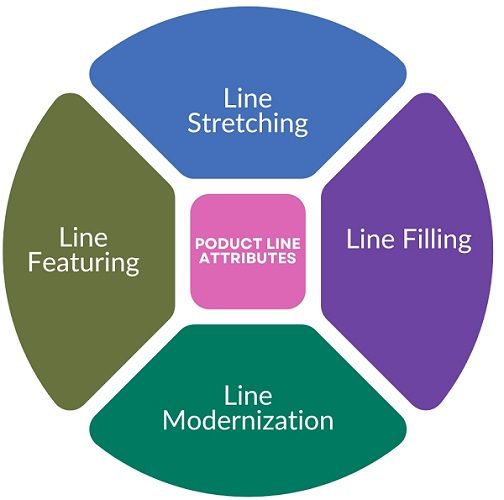 Line Stretching: If a company lengthens its product line over and above its present range.
Line Filling: It is the addition of more variants or items within the current range of products to strengthen the product line. So, it is a technique to increase profits by selling those items that are missing from the current product line.
Line Modernization: It is when the company likes to upgrade their products with new technology to make customers switch to better, and high-priced items.
Line Featuring: Featuring refers to one or two products in line to attract customers to the store. Thereafter, showcasing the various models.
Also Read: Difference Between Product based and Service based Marketing
What is Product Mix?
Product Mix implies a collection of all product lines that a firm sells. Many companies have a wide range of product lines, resulting in a large product mix. Another name for a product line is product assortment.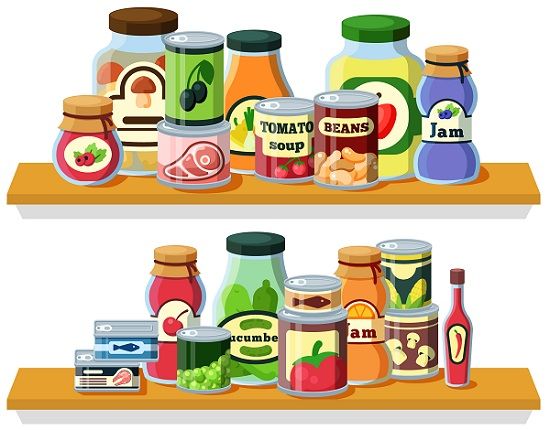 In simple words, product mix means all the products that a particular seller offers for sale. Usually, companies offer a full range of related and unrelated products to the market rather than concentrating on a particular product to increase their presence in the market and profitability.

Dimensions of Product Mix
There are four dimensions of product mix: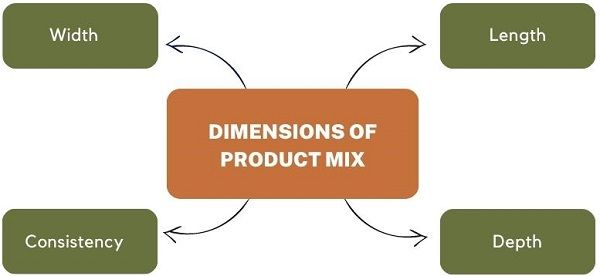 Width: It defines the actual number of product lines that a business has. For Example, A company deals in cosmetic products. It has three product lines: i.e. skin care, hair care, and make-up.
Length: The length comprises the total number of products in the product mix. For Example, As in our earlier example, as the cosmetic company has 3 product lines, each product line has 5 products. So, the length of the product mix is 15.
Depth: Depth defines the number of variations or versions in a product line. It indicates different sizes, ingredients, colours, etc. For Example: If the cosmetic company's product line for skin care products for acne-prone skin includes green tea, tea tree oil, salicylic acid, glycolic acid and niacinamide, the depth of the particular product line is four.
Consistency: It indicates how intimately products relate to one another with regard to use, distribution channels, and type of consumer. The cosmetic company might have a consistency of product lines, as compared to a retail firm that sells groceries, clothes and shoes.
Also Read: Difference Between Product and Brand
Key Differences Between Product Line and Product Mix
Product Line is an umbrella term that describes a group of closely related products and services. That means it caters to similar needs, sells through similar marketing facilities or performs a similar function. In contrast, Product Mix refers to the aggregate of all products sold by the company.
The Product Line is a component of the product mix. As against, both product lines as well as the individual products constitute a product mix.
Factors like price, functionality, target audience and brand determine the product line of a company. Hence, the products having the same price band are on one product line. On the other hand, factors influencing product mix include the company's age, financial standing and brand identity.
The aim of the product line is to fulfil the requirements of specific customers within a particular market segment. In contrast, the product mix aims to cater to a wide range of customer needs across different market segments.
In a product line, products are related and have common features, benefits and uses. Conversely, in a product mix, products may or may not be similar to one another because of a wide range of categories.
A product line is used to cover a wider audience of a specific market segment by selling different versions or variants of products to fulfil the needs of customers. In contrast, product mix is used for diversifying the products to capture the whole market.
Product line variations have different colours, sizes, features, specifications, technology, ingredients, etc. As against, product mix variations include different categories.
In the case of product lines, firms can expand by launching new models or variants within the existing product line as a strategy for growth. Conversely, the strategy for growth in product mix is to add a new product line in order to cater to different markets and segments.
Conclusion
Above all, the product mix covers both product line and product item. The more product lines sold by an enterprise, the more is its offerings. By increasing the product mix, the company expects to make a good name in the market.