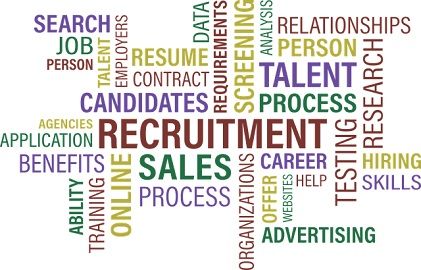 After business planning is performed and the organisation structure is determined, the next step in the process of management is staffing. While planning decides what is to be done, organising determines, how is to be done, staffing decides who is going to do it. Many often misconstrue staffing for recruiting, but they are different, as in staffing refers to putting right people at jobs, recruiting means seeking possible candidates and encouraging them to apply for the vacant position.
To start a business, every organisation requires 5M's, i.e. men, machine, material, methods and money. Of these 5M's, except men, all other resources are same for all organisations. So, it is the workforce, which gives a competitive edge to the organisation, over its competitors and also helps the organisation excel its performance.
Therefore, the recruiting and staffing process plays a crucial role in any organisation. So, check out this article, in which we've differentiated the two.
Content: Recruiting Vs Staffing
Comparison Chart
| Basis for Comparison | Recruiting | Staffing |
| --- | --- | --- |
| Meaning | Recruiting implies an act of searching and attracting prospective candidates for employment. | Staffing means a process of employing and developing the workforce of an organization. |
| What is it? | Component of staffing | Function of management |
| Scope | Limited | Wide |
| Time horizon | Short term | Long term |
| Occurence | At the initial stage of recruiting. | At all the levels of employment. |
Definition of Recruiting
Recruiting can be understood as a process of searching and obtaining prospective candidates for the job, from whom the best candidate can be selected. It refers to stimulating and getting as many applications as possible from the job hunters. It denotes the first contact made by the employer with the possible applicants. Therefore, it is through recruitment, people come to know about the company and makes a decision regarding whether they want to work for it or not.
After chalking out number and kinds of employees required, the identification of sources of recruitment, to find out the perfect match for the job. There are two sources of recruitment internal (recruitment from within the organisation) and external (recruitment outside the organisation).
Theoretically, the process is considered complete on the receipt of applications from job seekers. However, practically the process is stretched to screening so as to eliminate unfit candidates from the pool of qualified job applicants.
Definition of Staffing
The managerial function, which is concerned with obtaining and maintaining the capable, committed and competent workforce to fill all vacant positions from top to bottom, in the corporate ladder, is staffing. In simple terms staffing involves obtaining, employing and retaining a satisfactory and satisfied human resource in an organisation. It is concerned with placement, growth and development of human resources for undertaking various managerial and operational activities of the organisation.
It aims at recognising the importance of each employee in an organisation, as it is the individual worker, who is responsible for the work assigned to him. As the workforce of the organisation has a crucial role to play, because the company's ability to accomplish its goal relies highly on the quality of its human resources. Hence, the hiring and development should be performed carefully, in a systematic manner.
The process is concerned with providing the right number of candidates at right time and place, so as to ensure effective and timely attainment of organisational objectives. The following steps are involved in the process:
Analysis of workforce requirement
Job analysis
Recruitment
Selection
Placement
Performance appraisal
Promotion and Transfer
Compensation
Key Differences Between Recruiting and Staffing
The points given below are noteworthy so far as the difference between recruiting and staffing is concerned:
Recruiting is a process which involves finding prospective candidates for the job and approaching them to apply for it. On the other hand, staffing refers to a process concerned with acquiring, employing, developing, compensating and retaining people of an organisation.
Recruiting is a single component of staffing. As against this, staffing is a function involved in the managerial process.
The scope of staffing is wider than recruiting, as in recruiting represents a single step involved in the process of employment while staffing entails a series of steps, and recruiting is one of those steps.
Recruiting is a short-term process, whereas staffing is a long-term process or say continuous process, as fresh jobs are created, and some employees might retire from or leave the existing positions, which results in the process to go on and on.
Recruiting occurs at the initial stages of employment, which begins with the search for suitable candidates and ends with the receipt of applications. Conversely, staffing is a managerial exercise present in all stages and levels of the organisation, whether it is recruitment & selection, training & development or promotion & compensation.
Conclusion
Talented, committed and competent employees are the spine of any organisation, who are the primary assets of a firm. It is a worldwide accepted fact that the survival and growth of an organisation rely mainly on the people working in the organisation. And to do so constant infusion of qualified and hardworking staff should be done, only when the right individuals are placed at the right positions, organisational objectives can be achieved.