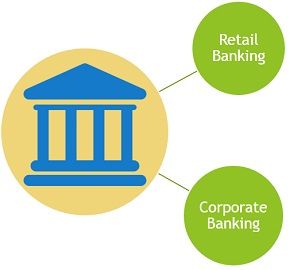 Retail banking model is designed for the general public, with bank branches set up at different locations in a city which handles retail customers daily. In contrast, corporate banking is for businesses to help them in raising funds, providing credit, and offering advice. It offers customized finance specifically designed and personalized for corporate houses, as per their needs.
Banking implies the business carried out or the services offered by the banking company. There are a number of businesses which a bank deals in, including retail banking, corporate banking, merchant banking, investment banking, wealth management, credit management, etc.
In this context, we will talk about the differences between retail banking and corporate banking.
Content: Retail Banking Vs Corporate Banking
Comparison Chart
| Basis for Comparison | Retail Banking | Corporate Banking |
| --- | --- | --- |
| Meaning | Retail banking indicates that division or unit of the bank which deals with retail customers, to provide basic banking services. | Corporate Banking implies that division or unit of the bank which handles large corporate clients to provide specialized banking services. |
| Nature of Products and Services offered | Standardized | Tailor-made |
| Customer/Client base | Large | Small |
| Processing cost | Low | Comparatively High |
| Loan size | Up to 5 crores | More than 5 crores |
| Value of transactions | Lower value of transactions | High value of transactions |
| Profitable | Less | Comparatively more |
Definition of Retail Banking
As the name itself clarifies, retail banking converts the bank into a storefront where the customer can choose and buy the product or service of their need, for attaining personal goals. Retail banking refers to the basic banking and financial products and services provided by the banks to customers.
It is also called as consumer banking, as it is the visible face of banking, for the common man.
Characteristics of Retail banking
Multiple Products and Services: Current account, savings accounts, personal loans, credit cards, debit cards, traveller's cheques, mortgages, term deposit, certificate of deposit, wire transfer, locker facility, and so forth.
Multiple Channels of Distribution: Bank branches, Website and Applications, Kiosk and Call Centre
Multiple Consumer Groups: Individuals, households, trusts, societies, small and medium enterprises (SME) etc.
These services are offered by banks at their branches set up locally. The customer can directly visit the bank branch for any advice, complaint or query. Moreover, e-banking services are provided by the banks which helps in performing the day to day transactions digitally or using plastic cards.
Retail banking has a threefold purview – money management, deposit, and credit. Hence, it helps the customers to save and invest their money, manage funds and have access to credit.
Definition of Corporate Banking
By the term 'corporate banking' we mean the services offered to the business houses and corporations, such as public limited companies, private limited companies, public sector undertaking, local bodies and municipal corporations, by the corporate division of the commercial bank.
It provides customised financial services and banking solutions to corporate clients, to help them run smoothly and efficiently. Banks often hire relationship managers to maximize their business by building a client relationship.
Corporate Banking Services
The services offered under corporate banking are:
General Commercial banking activities: It covers services like accepting deposits, lines of credit, facilitating financial transactions, credit card, e-banking, working capital finance, term loans, trade finance, bank guarantee, etc.
Services customised specifically for corporate clients, such as MNCs and Government bodies: It includes additional services such as facilitating international transactions, investment banking, project finance, insurance, advisory services, shareholding, cash management, wealth management, asset management, underwriting of securities, etc.
Key Differences Between Retail and Corporate Banking
The difference between retail and corporate banking can be drawn clearly on the following grounds:
Retail Banking is a business model which the banks implement with the aim of acquiring maximum customer base, by offering various products and services to the individuals, and small business enterprises. Conversely, Corporate banking is another business model adopted by the banking companies so as to earn maximum revenue, by offering products and services to the business enterprises and government agencies.
Under retail banking, the products and services offered to the customers are usually standardized, also called as off-the-shelf products/services. As against, under corporate banking, customised products and services are offered to the clients, depending on their preferences and requirement.
Talking about the customer base, retail banking often brings a large customer base to the banks, whereas corporate banking does not have a large customer base but the clients are affluent.
In retail banking, the processing cost is low, whereas in the case of corporate banking there is a high processing cost.
With retail banking, one can avail loan upto Rs. 5 crores only, depending on factors like credit score, history, etc. In contrast, with corporate banking, the entities can apply for a loan more the Rs. 5 crores.
Although the volume of transactions in terms of clientele, is high in retail banking, but the value of transactions is low, because the customer base includes individuals and small businesses such as sole proprietorships, partnership firms, one-man company, etc. On the opposite side, the volume of transactions is low in corporate banking, but the value is quite high, as the client base includes business enterprises and high net worth individuals.
When it comes to profitability, corporate banking is more profitable in comparison to the retail banking division of the banks.
Conclusion
In a commercial bank, both retail banking and corporate banking services are provided, which differs in a number of factors including customers, products/services offered and transaction amount.
Retail banking is mass-market banking, with a large number of customers and high volume transactions. On the contrary, corporate banking, as the name itself, indicates is the services offered by the banks to the corporate houses, to help them in growing their businesses and running efficiently.