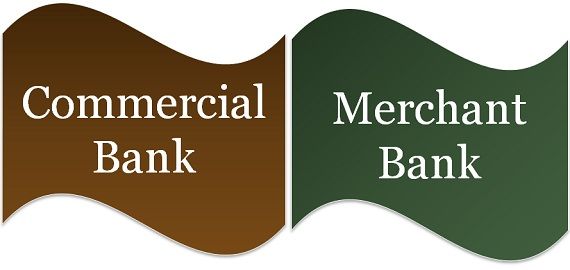 Banks are termed as the financial institutions, which act as intermediaries between depositors and borrowers. Besides the usual function of accepting deposits and extending credit, many value added services are also provided by the banks. Indeed, there are different types of banks set up to perform different functions. Commercial banks are the banks that provide services to the general public and companies as well.
On the other hand, merchant banks are similar to investment banks as they do not provide regular banking services, rather deals with commercial loans and investment avenues. The article presents you the substantial differences between commercial bank and merchant bank, take a read.
Content: Commercial Bank Vs Merchant Bank
Comparison Chart
| Basis for Comparison | Commercial Bank | Merchant Bank |
| --- | --- | --- |
| Meaning | Commercial bank is a banking company established by a number of people for providing the basic banking functions i.e. accepting deposits and lending money to general public. | Merchant bank refers to the financial institution, that specializes in international trade and provide and array of services to its clients. |
| Governing Act/body | Regulated by Banking Regulation Act, 1949. | Rules and regulations designed by SEBI. |
| Engaged in | General banking business | Consultancy type business |
| Nature of loan extended | Debt-related | Equity-related |
| Exposure to risk | Less | Comparatively more |
| Role | Financier | Financial Advisor |
| Caters | Needs of general public. | Needs of corporate firms. |
Definition of Commercial Bank
A commercial bank may be described as the financial intermediary, that offers a number of monetary services to the general public and corporations as well. These are profit making companies, which are owned and controlled by the group of individuals.
The primary function of a commercial bank is taking deposits and granting loans, but it also serves the customers by providing services like:
Disbursement of payments
Collection funds
Providing working capital finance
Safeguarding valuables
Purchasing and selling securities
Bank overdraft
Cash credit
Discounting bill of exchange
Add to that; it offers a broad spectrum of products to the customers like the savings account, current account, fixed deposits, certificate of deposits, etc. Interest on the deposits is provided to the account holders, as well as the bank charges interest on a loan extended to the customer. The rate of interest on deposits or loans relies on the type of product opted by the customer.
Definition of Merchant Bank
A merchant bank refers to the banking company that provides both financial and consultancy services to the clients. It has got expertise in international finance, underwriting and business loans. It is also engaged in activities associated with the promotion and development of industrial projects such as:
Loan syndication
Portfolio management
Underwriting of capital issues
Project counselling
Issue management
Advisory services on mergers acquisitions and takeovers.
Corporate restructuring
Acceptance of bills
Merchant bank aims at fulfilling the advisory requirements of big business ventures and high net worth individuals. It provides financing services to multinational corporations and also looks after the management of currency exchange whenever the funds are transferred. It also assists companies in issuing securities using private placements, which do not require adherence to the legal formalities as in the case of initial public offering (IPO).

Key Differences Between Commercial Bank and Merchant Bank
The points given below are important, concerning the difference between commercial bank and merchant bank:
A commercial bank can be defined as the financial intermediary, set up by a group of individuals to offer basic banking services to the general public like accepting deposits and advancing credit. Conversely, merchant banks are the banking company that assist large enterprises in international trade and offer a number of products and services to its clients.
The commercial banks are governed by Banking Regulation Act, 1949. In contrast, the merchant banks follow the rules and regulations framed by SEBI, i.e. Securities and Exchange Board of India.
The main business of the commercial bank is related to regular banking services, whereas merchant banks excel in providing consultancy and advisory services to the clients.
Loan extended by the commercial bank is debt-related. Unlike equity related loans are granted by the merchant banks.
Commercial banks are less prone to risk, while merchant banks are highly exposed to risk.
The role of a commercial bank resembles a financier. On the contrary, the merchant banks act as a financial advisor.
The commercial bank aims at fulfilling the needs of the general public, whereas big business houses that are operating in more than one nation and high net worth individuals are catered by merchant banks.
Conclusion
As both the financial intermediaries cater varied needs of the customers, these are entirely different from one another. A merchant bank charges fees for the financial and consultancy services, commercial bank charges a fee for the facilities provided like ATM, mobile banking and net banking. While commercial bank plays the role of repository for the savings of the customer, merchant bank doesn't.