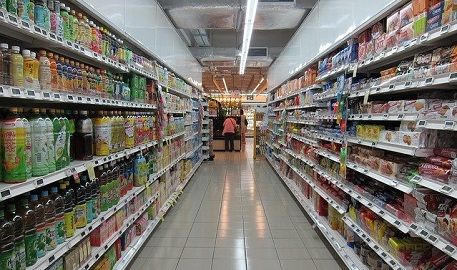 Shopping is an integral part of our weekly or monthly routine ad there are many who love to go shopping every other day. This is because of the executive shopping experience provided by the Supermarkets which not only makes shopping interesting but easy and convenient too. A supermarket can be described as a large shopping centre which operates on a self-service concept, wherein there is a complete line of food products, groceries and household items.
A supermarket is often contrasted with a hypermarket, but there is a subtle difference between the two in the sense that a hypermarket is a very big self-service warehouse plus retail store which possesses the features of almost all types of retail outlets, i.e. supermarket, departmental store, discount store and speciality store.
Now come let's discuss the differences between supermarket and hypermarket.
Content: Supermarket Vs Hypermarket
Comparison Chart
| Basis for Comparison | Supermarket | Hypermarket |
| --- | --- | --- |
| Meaning | A supermarket refers to a huge retailing self-service shopping unit, which sells an extensive range of consumer goods at a significantly low margin. | A hypermarket can be described as a mega retail outlet, which is a combination of departmental store and supermarket. |
| Size | Large shopping outlets | Comparatively larger |
| Products | Offered at market prices | Offered at discounted prices |
| Interior Decoration | Very Attractive | Not very much attractive |
| Promotional Strategies | Used during festivals and special occasions. | Not used |
| Motive | To make a profit | To encourage savings |
| Located | Centrally | Outskirts |
Definition of Supermarket
A supermarket can be described as a huge store with self-service shopping facility, where a range of similar food products, beverages and household items are systematically arranged section-wise on the shelves, to offer them for sale to the customers. This means that the customers themselves pick up the products of their need and bring it to the billing space, so as to pay and take the delivery.
In a supermarket, the customers are free to choose the best products for themselves, by comparing different products, on the basis of prices, quality, quantity and other specification and making rational decisions, as there are no salespersons to convince them to buy a product. A supermarket does not offer home delivery service and credit card services to its customers.
Basically food products are traded in a supermarket, at a significantly low price than the usual market rates due to economies of large scale purchase, lower operational cost, removal of intermediaries, etc. It offers only branded and highly used consumer goods. For example grocery, food items, meat, dairy products, bakery items, daily needs, utensils and basic household items.
More, Easyday and Reliance Fresh are some of the examples of Supermarket
Definition of Hypermarket
Hypermarket is a giant supermarket cum departmental store which often looks like a warehouse with large aisles and offers a wide variety of food and non-food items for sale at a relatively low price. It lets the customer fulfil all their shopping needs at a single stop. These are established to offer goods at reasonable prices, which is obviously lower than the actual market rates, to encourage customer savings, by eliminating the intermediaries in the supply chain.
It offers products for sale belonging to each and every category such as groceries, dairy products, meat, bakery items, apparel, cosmetics, toys, bags, footwear, sporting goods, kitchenware, electronic appliances, jewellery, hardware, automobiles, toiletries, utensils, household items, and so forth. Walmart, Carrefour, and Kmart are some common examples of Hypermarkets.
Hypermarkets are situated in the retail park, with other retail shops, restaurants, cafeterias and a huge car parking area. They have their own petrol bunks and have other facilities too like ATM, photo studio, pharmacies, etc.

Key Differences Between Supermarket and Hypermarket
The difference between supermarket and hypermarket are provided in the points given below:
The supermarket is a large-scale retail centre, wherein a wide range of food products, vegetables, fruits, groceries, and other household supplies are offered for sale under one roof. On the other hand, a hypermarket is a substantially large retail store, which offers a diversified range of grocery items, food products and general merchandise, under one roof.
When it comes to area, supermarkets covers a large area, to sell a range of different products in one place. In contrast, Hypermarkets are comparatively larger in size than a supermarket.
The prices of the products offered for sale at the supermarket are lower than other types of the retail store but higher than the hypermarket.
When it comes to the interior decoration of these two markets, supermarkets are very attractive than hypermarket, in the sense that hypermarkets look more like a warehouse than a shopping facility.
Supermarkets use various promotional and marketing strategies to increase their sales, such as festive season offer or discount offers, etc. As opposed, hypermarkets do not use such strategies to increase the sales of its products.
Supermarkets are established with the aim of making a profit from the sale of products. Conversely, hypermarkets aim at encouraging savings of the customers, by providing products at a relatively lower price.
Supermarkets are generally located at central locations to maximize the reach to customers, and generate maximum turnover. On the contrary, as the hypermarkets cover a large area, they are usually located in suburban areas, typically in the outskirts.
Similarities
Both offer an extensive range of products at a fairly low price, in a single shop, which not only makes it convenient but also economical for the buyers to make purchases.
Both deals in only branded and prepackaged items.
The selling is provided on cash and carry basis, so goods are not provided to the customers on a credit basis, and ultimately there are no chances of bad debts
It allows you to buy all the household supplies and daily needs, which are arranged in racks, where prices are specifically labelled.
Similar products offered by various brands are placed together, which makes the comparison and selection easy for the customers.
Both adopt various security measures such as mirrors, watchman, security guards, volunteers and other supporting staff etc.
Conclusion
The primary difference between these two types of shopping centres lies in their size and the variety of goods offered for sale. A hypermarket is a one-stop shopping destination where you can find each and every product of your need under one roof at a very convenient rate. In contrast, a supermarket is a retail establishment selling particularly food, beverages and household items.