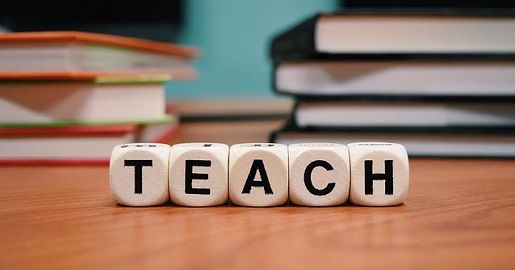 Learning has no end, in fact, there is no age bar for learning. We learn new things every day, no matter if we recognize it or not. Teaching and training are two very common methods of learning, which are often misconstrued by the people, but the fact is teaching is primarily associated with classroom learning, wherein theoretical knowledge of various subjects are provided to the student, as per the opted course.
Conversely, training is one such process which helps in imparting specific skills in the trainee, so as to specialize him/her in the specific job or work.
Nowadays, training is a mandatory requirement for every profession, and so every student has to undergo training, to get a thorough knowledge of how work is performed practically in a particular profession. Come let's move further to understand the difference between teaching and training.
Content: Teaching Vs Training
Comparison Chart
| Basis for Comparison | Teaching | Training |
| --- | --- | --- |
| Meaning | Teaching is an academic activity, in which a teacher imparts knowledge and concepts to the student on a given topic, to prepare him/her for the future challenges. | Training is a learning process, wherein a person is given instructions and guidelines, by a professional or expert concerning a specific skill, related to job, for improving the learner's performance. |
| Approach | Theoretical | Practical |
| What is it? | Provision of new knowledge to students. | Application of existing knowledge of the learners, in a specific manner. |
| Emphasis | Education, knowledge and wisdom | Skills and abilities |
| Inculcates | Breadth of knowledge in different spheres. | In-depth knowledge in a particular sphere. |
| Conducted in | Classroom environment | Work environment or classroom environment |
Definition of Teaching
Teaching refers to the profession wherein knowledge is provided to the students on different subjects, in elementary, secondary, and college level. It is the preplanned sharing of information and experience to the students, provided within a specific discipline, to cause intellectual and emotional growth of the students. Therefore, a teacher needs to be trained and knowledgeable in the specific subject, to teach properly.
It is an activity of shaping a person's way of thinking and doing things by providing necessary guidance and instructions, to the students, so as to make them a good and responsible human being. It can be performed in a number of ways, depending on the topic/subject and student's grasping capability.
In teaching, it is the teacher who imparts education to the young curious minds of the students and helps them in acquiring knowledge, moral values, ethics and competence. He/She makes efforts to bring the desired change in the behaviour i.e. thinking, feeling and activities, of the students. Further, the teacher also assists the students in choosing the right path for their career by directing them and how to face life challenges.
Definition of Training
Training refers to providing guidance, instructions and coaching to someone, in order to impart skills and knowledge to an intended level, for a specific purpose. It is a learning activity which is periodical in nature and provided in a particular time-frame. In this process, the training is provided by an expert in the respective field. The trainees acquire knowledge, sharpen their professional skills, improve their attitudes and competencies, to perform well in the tasks assigned.
It aims at improving one's potential, productivity, efficiency and competency in doing tasks or to help him/her in attaining the desired level of knowledge. Training also helps the new graduates in gaining basic knowledge of the work-life, office culture, factory environment, etc.
Training is a tool of human resource management, which can improve the basics of employees and develop them in a way, that they can perform their duties and tasks effectively. And so, the human resource department, first of all, identifies the need for training, along with the areas, where training is highly needed. Thereafter, a series of steps are to be taken so as to fulfil the training needs, for the well-being of the organization as a whole.
So, it is the fundamental requirement of the organization, which is required at every stage and is a must for every person working in the organization. This is just to keep the employees up to date with the changing business needs and the latest technology. Not only this, but training also increases the quality of the work performed.
Types of Training
Induction training
Job training
Apprenticeship Training
Internship Training
Promotional Training
Retraining
Safety Training
Remedial Training
Key Differences Between Teaching and Training
The difference between teaching and training can be drawn clearly on the following grounds:
Teaching is a profession wherein a teacher shares his knowledge, experiences and abilities to the students who are amateur, with an aim of causing positive change in their conduct, which is important for his/her development. On the other hand, training refers to a program through which the trainees get to learn the skills or knowledge specific to the course or job, which will help in improving performance and productivity.
The basic point of distinction between teaching and training is that in teaching, theoretical knowledge is imparted, whereas practical knowledge is provided in case of training, about how the task is to be performed, how the tools are to be used, what are the instructions one needs to follow and so forth.
In teaching, the knowledge about a new topic is provided by the teacher to the students. Conversely, in training, a person comes to know the practical application of what he already knows.
Teaching emphasizes on education, knowledge and wisdom, whereas training stresses on skills and abilities.
While teaching inculcates breadth of knowledge in different field of study. As opposed, in-depth knowledge in a particular sphere is provided in training.
Teaching is often conducted in a classroom environment, i.e. schools, colleges, research institutes, special schools, etc. On the contrary, training is mostly given in offices, i.e. work environment or classroom environment.
A teacher is someone who possesses a high level of knowledge and experience in the respective subject. In contrast, the trainer is someone who possesses expertise in the specific skill, on which training is provided.
Conclusion
We all know that teaching is an art, which has the capability of transforming society's thinking and overcoming stereotypes. Many times, it is not confined to classroom studies, but teaching can be otherwise also. However, teaching is a profession, which requires proper training.
Training is the process of increasing the knowledge base and skills of a person, to prepare him/her for efficiently performing the job assigned. It is an organized program, to add to the skills, knowledge, competencies and abilities and also to make changes in the attitude and behaviour of the employees, to assist them in performing satisfactorily.