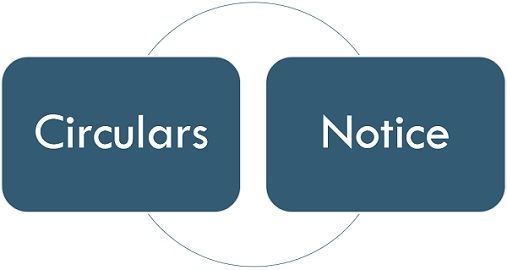 Notice and circulars are used as a form of written communication, to give or exchange information with the staff. Notices are commonly found on a notice board, specially meant to bring attention to the people who pass by. On the other hand, Circulars are the tool of internal communication that is used to convey the message to various addressees within the organization. It is brief and formal.
The notice covers the information which we want to be noticed (paid attention to) by a maximum number of people. As against, circular is used to circulate information in any direction.
One should take note that, the tone of both circular and notice should be in the form of request rather than command. Also, both can be written for the same purpose or reason. The only difference is notice is pinned at the board, circulars are meant for circulation. Having said that here we are going to discuss the difference between the two here, using formats and example.
Content: Notice Vs Circular
Comparison Chart
| Basis for Comparison | Circular | Notice |
| --- | --- | --- |
| Meaning | A Circular is also a written formal document meant for department-wide or organization-wide communication. | Notice is a formal document in written form which is meant to provide important information to the receivers. |
| Communication | It is circulated among the members concerned. | It is displayed in one place to bring attention to something important. |
| Used for | Interdepartmental communication | Intradepartmental communication |
| Font size | Small font size | Comparatively larger font size |
| Use of box | The box is not used. | Notice is always written inside a box. |
| Meant for | General Announcement | Targeted Audience |
What is Circular?
Circular is like an advertisement, commonly printed on a page or leaflet, so as to disseminate the information across the wide network of people, i.e. employees, department or branches of organization, business clients customers, etc.
During the course of business, a number of events may take place which requires sending circular letters. With the help of these circulars, the sender intends to provide some information to the persons concerned. The process of sending circulars to different addressees is termed circulizing.
These are used for a number of purposes or events such as – inviting employees for meetings, sales campaigns, enforcing dress codes, an announcement of special developments i.e. change of address, reorganization, and extension.
Points to be considered while drafting a Circular
The signature of the reader is taken, which indicates that the information has been conveyed.
It is required to be specially written in an unambiguous and easily understandable language.
It has to be printed or cyclostyled.
Dear Sir/Madam is used as a general form of salutation.
Circulars are prepared once and then they are cyclostyled or electrostated with a space left for variable details, for circulation to different recipients. To personalize the circular letter – name, address, and individual salutations can be inserted in those spaces after it is cyclostyled and addressed to one individual by way of post. However, they can also be randomly distributed. It can also be issued like an advertisement in the newspaper.
Types of Circulars
General Circular
Official Circular
Business Circular
Sales Circular or Trade Circular
It is to be noted that the circulars differ in their layout, content, and matter.

Objective of Circular
To issue directions
To inform about new policies, procedures.
To gain publicity of the goods to be purchased or sold.
To influence the readers, with factual points about the company and its offerings.
To create interest of readers in the contents.
To gain the reader's confidence.
To encourage sales.
To invite suggestions
Format of Circular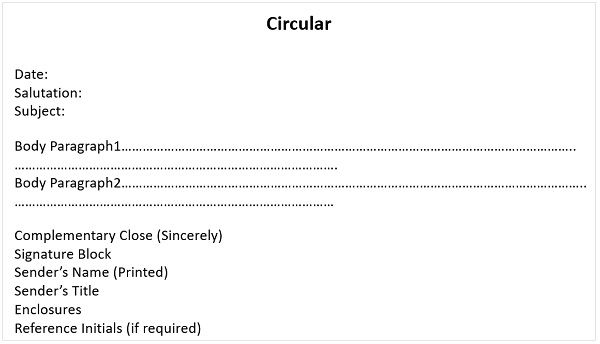 Absence of Sender's Reference: The reference of the sender is absent in the circular because he doesn't expect a reply from the receiver, as he wants to communicate information to a number of customers.
Absence of Inside Address: The inside address is absent in circulars as these are printed copies and are addressed to different receivers. So, the inside address is not printed in advance. At the time of posting the letter, the individual address is mentioned at the bottom left-hand side margin.
Use of Combined Salutation: Combined Salutation is used, to increase its applicability to a variety of users.
Use of Signature Block: The signature block of the authorized signatory is prepared and affixed on the letter at the time of printing.
Special Message: In case of a sales circular, it has to be drafted with a special message i.e. Attention, Interest, Desire, and Action i.e. AIDA formula.
Also Read: Difference Between Internal and External Communication

What is Notice?
Notice implies a piece of information related to a fact, communicated by an authorized person of the organization to different parties like employees, clients, customers, suppliers, etc. When it comes to intra-organizational communication, notices together with an agenda are conveyed to all members beforehand, so as to hold meetings.
Many organizations have notice boards at notable places, all over the office, so that they can be seen by all to whom it is meant. Every member of the organization is expected to read its contents. It is also shown on the company's website.
Points to be considered while drafting notice
The company's letterhead must be used for writing or printing the notice.
Notice should be complete as regards the day, time, date, and venue of the meeting.
Name of those members attending the meeting should be mentioned.
The name of those members presiding over the meeting should also be stated.
It has to be single-spaced and left-aligned. Further, one line should be left between paragraphs.
It must contain meeting agenda.
What is Agenda?
As the name suggests, the agenda is the list of all the matters which are raised in the meeting in a specific order, commonly announced in advance.

Purpose
Notices are primarily used to grab the attention of the staff towards special matters. It also plays an important role in ending legal contracts such as employment contracts. Notices are displayed about:
Inviting everyone for meeting
New procedures or new rules to be initiated or followed
Social events to be held
Advertisements for internal appointments
Reminders of company procedures
Report on the matter of interest
Holiday
Deadlines about any particular job assigned.
Format of Notice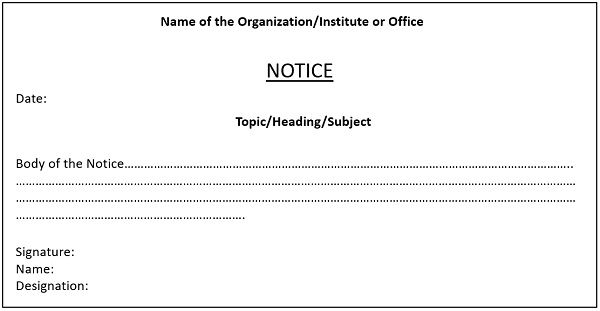 The title of the company is the one issuing notice.
The subject of the notice should be bold and catchy.
The body of the notice may include reasons for writing notice, relevant event and occasion information, and information about date/time/venue.
Lastly, the signature, name, and designation of the issuer of notice are mentioned.
Also Read: Difference Between Oral and Written Communication
Key Differences Between Circular and Notice
As we have understood the meaning of the two, we will talk about the difference between circular and notice:
Circulars are a means of written communication used when the same information is to be conveyed to a number of people. On the other hand, notice is a form of written communication, used to transmit informational messages to members of the organization.
While notice is displayed on the notice board, where everyone can see and go through its contents. It is also shown on the company's website. Unlike, circulars are distributed to the members concerned.
Notices are generally used for intradepartmental communication, i.e. communicating messages within the department. In contrast, circulars can be used for inter-departmental communication, i.e. transmitting messages across departments or branches of the organization as well as to clients, suppliers, and customers.
The font size used for writing circulars is smaller than the font size used to write a notice. That is to say, notices are written in larger font size as it allows people to read even from a distance. Conversely, circulars are handheld by individuals and that is why their font size is smaller.
Notice is always written within a box, but no such boxes are used to write circulars.
Notice is meant for a targeted audience. As against, the circular is a general announcement.
Example
Circular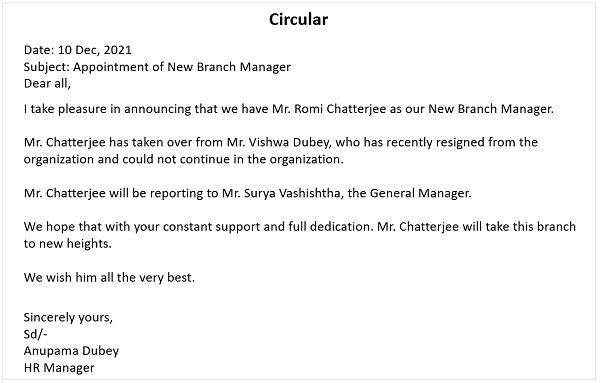 Notice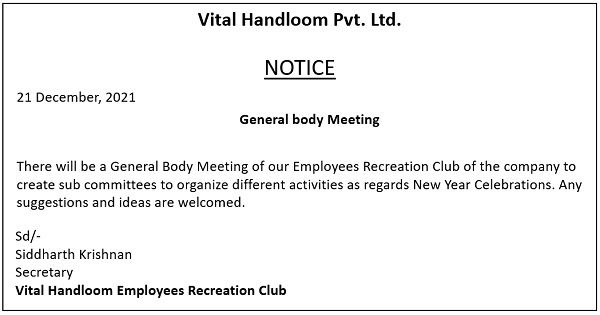 Also Read: Difference Between Memo and Letter

Conclusion
Notices have legal standing as they are displayed or posted prominently, which are supposed to be read by every person for whom it is meant. Conversely, it cannot be said that circulars have reached the target audience.