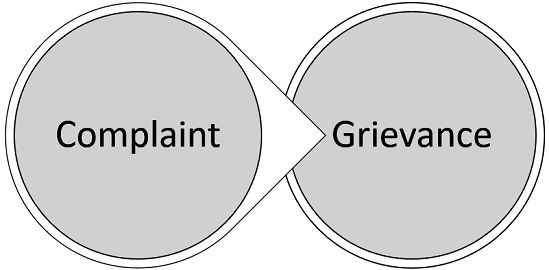 An organization is a group of people, coming from different walks of life, having different values, culture and perception. So, while pursuing the organizational objective, differences in opinion often take place, leading to inconvenience and conflict. If this continues for the long term, it results in "Complaints".
Further, when these complaints are not attended and resolved properly and timely, it can cause dissatisfaction. The main reason behind dissatisfaction are expectations, which are not fulfilled. This dissatisfaction is the primary factor for grievance.
People often mix up complaint and grievance and use them interchangeably. So, here we will talk about the differences between complaint and grievance.
Content: Complaint Vs Grievance
Comparison Chart
| Basis for Comparison | Complaint | Grievance |
| --- | --- | --- |
| Meaning | A complaint can be any act, treatment, behavior or state which an employee perceives as unfair or unjust. | Grievance refers to the legitimate complaint made by an employee, regarding unjustified treatment, concerning any facet of their employment. |
| Who can file? | Complainant | Aggrieved |
| What is it? | An oral or written claim by the unrepresented employee. | Written complaint by a represented employee. |
| Nature | Informal | Formal |
| Issue | Minor or Major | Major |
Definition of Complaint
The complaint refers to oral or written communication of dissatisfaction, which may be due to inappropriate or unprofessional conduct, unlawful harassment, issues concerning health and safety, organizational policy or decision, interpersonal conflicts. It is a way to raise your voice or fight back against ill-treatment.
In finer terms, it is the objection to the unfair or unacceptable act of management, or working condition, by an unrepresented employee, which has negatively affected the terms and conditions of employment or violated the provisions of human resource policy.
The complaint can be against the superior, work environment, co-worker, machines/equipment, canteen, timings, workload, etc.
Definition of Grievance
A grievance can be defined as any unfair or inappropriate act, treatment, rule or state, which the company's management can make good. Any type of complaint which is officially written and presented to the concerned authority for redressal.
It may cover the problems encountered by the employees during the course of their employment.
A grievance can cause unhappiness, discontentment, alienation, demotivation, absenteeism, frustration, low morale, negligence, inefficiency and unproductivity. Hence, it should be resolved as soon as possible, or else the consequences will be reflected in the wastage of time, poor work quality, insubordination, unsatisfactory customer service, resistance to change, labour unrest, etc.
It may be noted that complaints relating to harassment, discrimination and misconduct do not form part of grievance, as they are resolved with specific procedures. Moreover, grievance belongs to an individual, however, when many employees have the same grievance, and the trade union takes up the issue, and it turns out as a dispute.
Characteristics of Grievance
Discontent arising due to any reason relating to employment.
Discontent is expressed or implied.
Discontent may be legal and rational, untrue and irrational.
Discontent can be real or imaginary
Causes of Grievances
The primary causes of grievance are given as under:
Working conditions: Changes in schedule, Poor working conditions, Bad employer-employee relationship, Unavailability of machines and tools.
Management Policies: Wage Payment, Promotion and Transfer, Leave, Disciplinary Action, etc.
Personal Maladjustment: Over-ambition, High Self-Esteem, Unrealistic attitude towards job and work, etc.
Key Differences Between Complaint and Grievance
Upcoming points will explain to you the differences between complaint and grievance:
A complaint is an expressed dissatisfaction, brought to the notice of the immediate boss. In contrast, Grievance implies any complaint or dispute voiced by an employee relating to an incident, decision, or issue amidst employer and employee, having an adverse effect on the employee's performance.
The complaint refers to a written allege about the particular act of management, made by an unrepresented employee. On the other hand, Grievance is nothing but a written complaint against any violation of the collective bargaining agreement made by a represented employee.
A complaint is filed by the complainant, i.e. the person who expresses his/her concern against the injustice or unfair treatment. Conversely, the aggrieved party, i.e. the one with whom the wrong or injustice is done, can seek redressal by way of grievance.
While a complaint is informal in nature, the grievance is formal.
A complaint can be made for both minor or major issues such as unprofessional conduct, unlawful harassment, bullying, inappropriate working conditions, long working hours etc. On the contrary, The grievance is usually made for major issues especially the one relating to a violation of terms of the collective bargaining agreement.
Conclusion
In a nutshell, every company has its own unique procedure to handle complaints and grievances of employees, but the ideal procedure has the following features – fairness, facilities of representation, procedural steps and promptness.