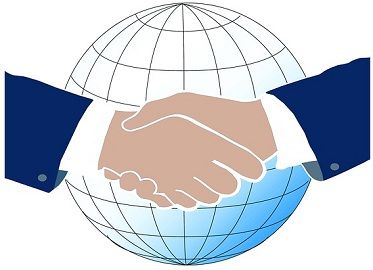 Negotiation is described as the two-way communication through which one can get what he/she want from others. It is a process in which two parties seek to resolve their conflicts, by modifying their demands, to reach a mutually acceptable solution. The two common types of negotiation are distributive negotiation and integrative negotiation. Distributive Negotiation is one in which one party wins, and other loses.
On the other extreme, integrative negotiation can be described as the negotiation in which the two-party finds a mutually acceptable solution, and wins something. The article excerpt explains the difference between distributive and integrative negotiation.
Content: Distributive Negotiation Vs Integrative Negotiation
Comparison Chart
| Basis for Comparison | Distributive Negotiation | Integrative Negotiation |
| --- | --- | --- |
| Meaning | Distributive Negotiation is the negotiation strategy in which fixed amount of resources are divided between the parties. | Integrative Negotiation is a type of negotiation in which mutual problem solving technique is used to enlarge the assets, that are to be divided between parties. |
| Strategy | Competitive | Collaborative |
| Resources | Fixed | Not fixed |
| Orientation | Win-lose | Win-win |
| Motivation | Self interest and individual profit | Mutual interest and gain |
| Issue | Only one issue at a time is discussed. | Several issues at a time is discussed |
| Communication climate | Controlled and Selective | Open and constructive |
| Relationship | Not a high priority | High Priority |
Definition of Distributive Negotiation
Distributive Negotiation refers to a competitive negotiation strategy which is used when the parties seek to distribute a fixed resource such as money, assets, etc. between themselves. It is also known as zero-sum, or win-lose negotiation, in the sense that the parties to negotiation try to claim the maximum share for themselves and due to which when one party wins or reaches its goals and the other one loses.
Distributive negotiation is chosen by competitive communicators when there is lack of mutual trust and cooperation. It is often considered as the best approach to negotiating.
Definition of Integrative Negotiation
Integrative Negotiation implies a collaborative negotiation strategy, in which parties seek a win-win solution to settle the conflict.
In this process, the parties aims and goals are likely to be integrated in such a way that creates a combined value for both the parties and thus results in enlarging the pie. It stresses on reaching a mutually beneficial and acceptable outcome, keeping in mind the interest, needs, concerns, and preferences of the parties concerned.
The technique is based on the concept of value creation, that yields substantial gain to each party. In this type of negotiation, two or more issues are negotiated at a time.

Key Differences Between Distributive Negotiation and Integrative Negotiation
The difference between distributive and integrative negotiation are explained hereunder:
Distributive Negotiation connotes a negotiation technique wherein the parties try to gain maximum value for themselves, from definite resources. Conversely, Integrative Negotiation can be described as negotiation strategy which attempts to settle the dispute, with a mutually acceptable solution.
Distributive Negotiation is a competitive strategy, whereas integrative negotiation uses a collaborative approach.
Distributive Negotiation has a win-lose orientation. On the contrary, integrative negotiation is based on win-win orientation.
When the resources are limited, distributive negotiation is better. As against, the integrative negotiation is used when the resources are in abundance.
In distributive negotiation, the parties self-interest and individual profit motivate the parties. Unlike, in integrative negotiation mutual interest and gain act as a motivation for the parties involved.
Distributive Negotiation discusses only one issue at a time, whereas multiple issues are taken into account in an integrative negotiation.
The communication climate is open and constructive in an integrative negotiation. In contrast, controlled and the selective environment is there in a distributive negotiation.
When the relationship between parties does not have a high priority, distributive negotiation is used. On the other hand, integrative negotiation is used when the parties try to develop a long-term relationship with one another and have a very high priority.
Conclusion
To sum up, negotiation is a decision-making process, in which two parties with different needs, interest and preferences discuss an issue to come up with a solution which is agreeable to the parties involved. Distributive negotiation is chosen over integrative negotiation when goals are a fundamental issue between the parties, however, if it is not so, integrative negotiation is opted.