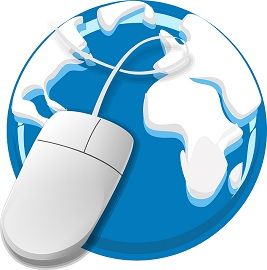 e-Government implies the implementation of information and communication technology like internet, to improve government activities and process, with the aim of increasing efficiency, transparency, and citizen involvement. On the other hand, e-Governance means governing or administering a country/state or organization, with the help of information and communication technology.
Many think that these two are related to delivering government services through the internet, but the fact is they use ICT as a tool for the development of good governance in any country. There is always a buzz when we talk about these two terms. So, check out this article to know the difference between e-Government and e-Governance.
Content: e-Government Vs e-Governance
Comparison Chart
| Basis for Comparison | e-Government | e-Governance |
| --- | --- | --- |
| Meaning | The application of ICT, with the aim of supporting government operations, aware citizens and deliver services is called as e-Government. | e-Governance refers to the use of ICT in enhancing the range and quality of information and services delivered to the public, in an effective manner. |
| What it it? | System | Functionality |
| Communication Protocol | One way communication protocol | Two way communication protocol |
Definition of e-Government
e-Government may be defined as the integration of information and communication technology, in public administration, i.e. to various government processes, operations, and structures with the purpose of enhancing transparency, efficiency, accountability and citizen participation. It facilitates:
Greater level of efficiency and effectiveness in government activities and process.
Enhances quality of public services
Simplifies administrative processes
Improves access to information
Increases communication between various government agencies.
Strengthen support to public policy
Enables seamless government
Definition of e-Governance
Electronic governance, shortly known as e-governance refers to the utilization of information and communication technology (ICT) for providing government services, disseminating information, communication activities, and incorporation of miscellaneous stand alone system and services between different models, processes and interaction within the overall structure.
E-governance is a tool, that makes available various government services to citizens in a convenient way, such as:
Better provision of government services
Improved interaction with different groups
Citizen empowerment through access to information
Efficient government management
e-Governance Models
G2G (Government to Government): The exchange of information between government agencies or departments, i.e. within the confines of government is called as G2G interaction.
G2C (Government to Citizen): As the name suggests, it is the interaction between government and the citizens of the country. It involves establishing an interface, to enable the general public to access information and services, whenever and wherever they want. They can also give their feedback with respect to policies and rules.
G2B (Government to Business): The dissemination of information between government and the business, is G2B interaction. It focuses on reducing red-tapism, establishing transparency and accountability in the business environment.
G2E (Government to Employees): The interaction between government and employees to increase employee morale and satisfaction, is made easier and faster with the help of information and communication technology.
Key Differences Between e-Government and e-Governance
The points presented below are noteworthy, so far as the difference between e-Government and e-Governance is concerned:
By e-Government we mean the application of ICT in government operations, as a tool to make better government. e-Governance, on the other hand, implies the use of ICT in transforming and supporting functions and structures of the system.
While e-Government is a system, e-Governance is a function.
e-Government is a one-way communication protocol. On the contrary, e-Governance is a two-way communication protocol.
Conclusion
e-Governance and e-Government are not a one-day affair, but the entire system should work together and make plans and strategies, which are able to implement it. There are a number of merits of like; it results in decreased corruption, increased trust in government, transparency in government activities, citizen engagement, growth in GDP, expansion in government reach and so on. Moreover, it accentuates internal government inconsistencies.