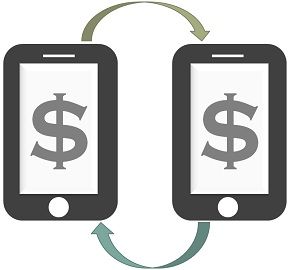 In the fast-paced world, with the change in information and communication technology, banks are also adopting e-banking culture that helps in providing better and flexible products and services to the customers. In this context, terms like ACH and EFT are commonly used. All the transactions that take place through the computer system or digital mode come under the ambit of Electronic Fund Transfer or EFT.
On the other hand, ACH implies Automated Clearing House, is a huge network of banks and financial institutions, which enables financial transactions in the United States. In India, it is known as Electronic Clearing System. The article presents you all the differences between EFT and ACH, take a read.
Content: EFT Vs ACH
Comparison Chart
| Basis for Comparison | EFT | ACH |
| --- | --- | --- |
| Meaning | EFT refers to the fund transfer mechanism in which the money is transferred from one account to another electronically. | ACH is an electronic clearing and settlement system, set up to facilitate exchange of transactions carried out electronically between two financial institutions. |
| Activity | Transfers money from one bank to another. | Connects different banks. |
| Time | Instant | Comparatively slower |
Definition of EFT
Electronic Fund Transfer, shortly known as EFT is any fund transfer which takes place through electronic mode. It is a transfer system, wherein money is transferred through computerised network either among the accounts of the same bank or different banks. It promotes cashless and chequeless transactions, i.e. the use of paper bills stamps and cheques are eliminated.
EFT transactions are also termed as online transactions or PIN-debit transactions. The most common use of EFT, is a direct deposit of funds in the bank account electronically, rather than issuing a pay-cheque.
Electronic fund transfer mechanism entails wire transfers, direct debit, online bill payment, ATM withdrawals, etc. where there is no involvement of the bank staff. The transfer can take place with the use of card or codes, through which one can access the bank account.
Definition of ACH
ACH or otherwise called as Automated Clearing House is a vast network of banks for financial transactions that helps in the processing various transactions in slots. It provides clearing and settlement facility to all the transactions that involve the countrywide transfer of funds between two bank account electronically.
It is divided into ACH (debit), and ACH (credit), wherein utility companies like electricity companies, telephone companies, insurance companies uses ACH (debit) for consumer payments. On the other hand, ACH (credit) is used to facilitate payment to different clients like dividend warrants. It includes direct debit, vendor payments etc.

Key Differences Between EFT and ACH
The difference between EFT and ACH can be drawn clearly on the following grounds:
Electronic Fund Transfer or EFT as the name suggests is the digital transfer of money between two bank accounts of the same or different banks. On the contrary, ACH expands to Automated Clearing House, is the system of clearing and settlement that assist in the processing of electronic transactions between two depository institutions.
EFT is concerned with the safe, convenient and secure transfer of funds between two bank accounts. Conversely, ACH links nationwide banks and financial institutions, for facilitating monetary transactions.
Transfer of funds using EFT, consumes less time than through ACH, as in the latter case, the transfer is effected in batches which take some time, whereas the former settles the transaction on, either real-time or near real-time basis.
Conclusion
Nowadays, paper-free banking transactions are initiated, which results in the constant increase in the use of EFT for online payment of bills, recharges, purchase and other payments. Contrary to this, ACH, is one of the oldest electronic forms of fund transfer, that effects payments like bills, interest and dividend.