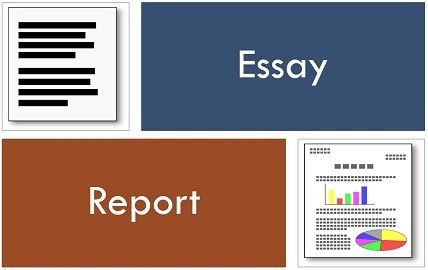 Basically reports are a formal or official document which contains facts concerning a specific subject under study. It is the written presentation and analysis of the data, findings and results thereof that the researcher obtained during the research, using various methods such as survey, interview, observation, experiment, etc.
On the other hand, an essay can be understood as a piece of writing, on a specific topic or subject, which expresses the author's own ideas and knowledge about the subject.
The basic difference between essay and report is that while an essay is argumentative and idea-based, reports are informative and fact-based. Now, let us move further to understand some more points of differences.
Content: Essay Vs Report
Comparison Chart
| Basis for Comparison | Essay | Report |
| --- | --- | --- |
| Meaning | An essay refers to a literary device, in which almost everything is discussed or stated about a subject. | Reports are the documentation and analysis of the findings and recommendations from the practical research. |
| Based on | Subjective analysis of theories and past research by experts and one's own ideas. | Past research, as well as present data and findings. |
| Presents | Facts and writer's personal ideas and views | Information |
| Division | It is divided into cohesive paragraphs | It is divided into sections which contains headings and subheadings. |
| Graphical Representation | It does not contain charts, graphs, tables and diagrams. | It contains charts, graphs, tables and diagrams. |
| Conclusion and recommendation | Conclusion depends on writers person's experience and views, and it does not include recommendations. | There is independent conclusion and recommendations are included. |
Definition of Essay
An essay can be understood as a comprehensive literary composition, written in a narrative style and presents a particular topic, supports an argument and highlights the writer's view or ideology. An essay is used to check a person's outlook and understanding on specific matters and also his/her ability to describe and argue in a way which convinces the reader or informs him/her about a specific topic.
One can make use of learned materials, along with his/her own research, to write an essay effectively. It includes both narrative and subjective thoughts. Further, an essay supports a single idea at a time, for which several components need to be covered in it so as to appear logical and chronological.
It can be a learned argument, observation of day to day life, literary criticism, political manifestos, recollections, and reflections of the writer. It starts with a question and attempts to answer or give suggestions to the problem, on the basis of the existing theories or the writer's personal opinion and assessment.
While writing an essay, it must be kept in mind that the approach used by the writer should be positive, even if the topic of argument is negative.
Definition of Report
The report implies a well structured factual document which is created and presented after conducting an independent enquiry, research or investigation on a specific subject. It serves as a basis for problem-solving and decision making.
Reports are prepared for a definite purpose and contain relevant information in a proper format, for a particular audience. It is used to identify, observe and analyse the issues, events, findings, that occurred practically, i.e. in real life.
A report is designed with the aim of informing the reader about the event, situation or issue, in a very simple and objective manner, while enabling them to get the desired information quickly and easily. It provides recommendations for future actions. Information collected from research, or from carrying out a project work is presented in a clear and concise manner, under a set of headings and subheadings, that helps the reader to get the desired information quickly and easily.
Characteristics of an Ideal Report
It must be clear and concise.
It is written in easy language which the readers can understand easily.
It has to be appropriate and accurate.
It should be well drafted and organised, with specific sections, headings and sub-headings.
A report summary can be provided orally, however detailed reports are usually in the form of written documents. It contains – Title Page, Acknowledgement, Authorization Letter, Table of Contents, Executive Summary, Introduction, Discussion, Results, Conclusion, Recommendations and References.
Moreover, Cover letter, Copyright notice, Bibliography, Glossary and Appendices may also form part of a report.

Key Differences Between Essay and Report
The difference Between report and essay is discussed here in detail:
An essay is a brief literary composition, which is used to describe, present, argue, and analyse the idea or topic. Conversely, a report is a formal and concise document consisting of findings from the practical research. It aims at investigating and exploring the problem under study.
An essay is written on the basis of subjective analysis of theories and past research, by other people and own ideas, on the concerned subject. As against, a report is objective and factual, which is based on past research, as well as present data and findings.
An essay talks about general facts and events along with the writer's personal ideas and views, on the topic in a non-fictional manner. On the contrary, a report contains information which the reader can use to identify the facts or support in decision making or solving issues if any.
When it comes to sections, a report usually contains different sections, with catchy headings which may attract the attention of the audience. As against, an essay does not have any section, its flow is continuous. However, it is divided into cohesive paragraphs.
A report uses tables, charts, graphs, diagrams, statistics and many more for a clear and better presentation of the information. But, in the case of essays, they are not used.
The conclusion in an essay is based on the writer's personal opinion and views on the topic itself which must be optimistic, and it does not provide any recommendations for future actions. On the other hand, a report gives an independent conclusion, but it may contain the opinion of the experts or previous researchers and recommendations are included, about how the research can be improved and extended.
Conclusion
In a nutshell, Essays are descriptive, subjective and evaluative, whereas, a report is descriptive, objective and analytical. Essays are mainly used in an academic context, whereas reports are preferred in the field of research.
The report is used to present the researched information in a written format, to the audience. Conversely, essays are used to identify what the writer knows about the topic and how well the writer understand the question.