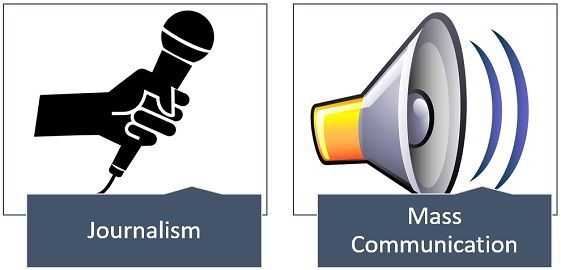 Whether we recognize or not, we are surrounded by ideas, news, information, messages, etc. that come to us through different channels, in different forms such as stories, articles, memes, posts, etc. Its aim is to acquaint, entertain, persuade and influence us. This process is termed as mass communication. It is all about spreading of a message or information to a large segment of the population by an immediate means of reproduction and distribution.
Mass communication is an umbrella term, which covers many fields such as public relations, advertisement, journalism, film making and publishing. It is often contrasted with journalism, which is a profession concerned with gathering information from different sources on a particular topic and then reporting the analysis, findings and conclusions, to the large group of people, via different media such as print, electronic and online.
In this write-up, we will discuss the differences between journalism and mass communication.
Content: Journalism Vs Mass Communication
Comparison Chart
| Basis for Comparison | Journalism | Mass Communication |
| --- | --- | --- |
| Meaning | Journalism is the activity of gathering information about the day to day events and matters and notifying the general public about the same. | Mass communication refers to the different ways through which a firm or individual can convey information or message to a large group of people, in just one go, using mass media. |
| Focuses on | News reporting | Broadcasting news and information |
| Content-type | Content is primarily based on facts, evidence and statistics. | Content can be based on facts, history, entertainment, politics, fiction, economy, world, sports, cinema, etc. |
| Objective | To state facts and acquaint the readers with exact events that took place. | To spread information to masses, using various media platforms. |
| Creative Freedom | No | Yes |
Definition of Journalism
Journalism can be understood as an impartial publication/production and sharing of a news report on the latest or past events and happenings, on the basis of facts and evidence. It a profession, wherein the journalists collect information on serious matters or matters of public interest, so as to inform the readers and viewers as well as to help them in fact-finding.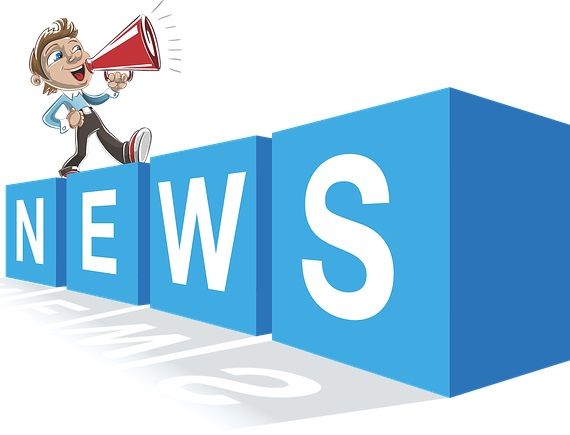 Journalism is one of the fields of mass communication in which the information collected, is refined, filtered and then presented in a particular format. Further, the information to be broadcasted is allotted a proper slot or place, on the basis of its relevance. It is presented in different forms, such as:
News, i.e. breaking news, featured stories or investigative stories.
Opinion, i.e. editorials, columns and reviews.
Blogs, Discussions and newswires.
The task of a journalist is to find, verify, write, edit and design the news in such a manner in which it can be easily understood by the people. It is a tool to form an opinion and inform people about current affairs. The news can be reported through different media platforms such as newspaper, magazines, radio, television, website, social media network, youtube channels, documentaries, etc.
Definition of Mass Communication
Mass communication implies an automatic method which propagates the message, so as to convey it to a large number of people at the same time. Its aim is to inform, persuade, develop an opinion, entertain, establish contacts, promote a political ideology, sharing views and opinion.
In this, the message is transferred from its source to destination (people), by various channels such as newspaper, radio, books, television, cinema. The task of mass communication is divided into two segments, i.e.
what to communicate and
how to communicate
It will help in making the highest possible impression on the audience.
The three aspects of mass communication are: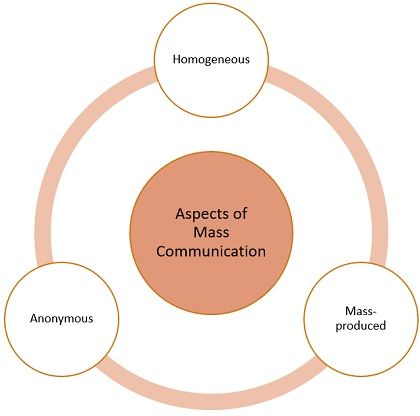 Heterogeneous: In mass communication, the audience is heterogeneous in the sense that the audience belongs to different age group, gender, class, race, etc.
Anonymous: The message is targeted to the anonymous audience, i.e. the sender does not know about the people who will take that message.
Mass-produced: Placement of content of the mass communication, in an appropriate form, which is apt for distribution.
Characteristics of Mass Communication
Target: Messages or information is targeted to a large population.
Transmission: There is a public transmission of the message
Duration: Message duration is usually short so that they can be quickly consumed.
Feedback: There is an indirect and late as well.
Audience: Medium decides its audience, i.e. literate people often get the information via newspaper, magazine, TV etc. while the illiterate and poor people get the information through radio.
Objective: It has a specific objective, be it conveying a message, providing information, spreading awareness and entertaining the audience.
Message: It is a process of transmitting a similar message simultaneously, to a vast, varied and scattered group of people.
Source: It can be any person or group, operating in an organization.
Nature of message: The message is refined and intricate.
Mass medium: Mass medium can be radio, television, newspaper, internet, social media, youtube, etc. as their reach is very high.
Impersonality: Due to the lack of personal touch of the medium, the messages remain impersonal.
Gatekeeper: A person who selects, changes and rejects messages, so as to control the flow of information provided to the audience.
Mobility: The means of communication through which messages are transferred can be carried from one place to another.]
Permanency: The medium that carries the message, makes it reviewable. It can be stored in it for the long term.
Key Differences Between Journalism and Mass Communication
The difference between journalism and mass communication can be drawn clearly on the following grounds:
Mass communication refers to communication with the large group of people with an aim of conveying a message, providing information, spreading awareness and entertaining the audience. On the contrary, journalism is the activity of reporting news and other current happenings on a day to day basis, to the large audience.
While journalism is all about news reporting, mass communication is associated with broadcasting news, messages and information.
In journalism, the journalists look for facts-based, or stats based information, to report. However, in the case of mass communication, content can be based on facts, history, entertainment, political, fictional, regional etc.
Journalism aims at stating facts and acquainting the readers with exact events that took place, locally, nationally or internationally. As against, the objective of mass communication is to spread information to masses, using different media channels.
In journalism, the journalist does not have creative freedom as facts are to state in the same manner as they are original, without any modifications. Further, it has a fixed format of writing news, with a certain word limit. On the other hand, in mass communication, the writer enjoys creative freedom because, they can explore the topic, as well as slight changes, can be made to the actual information or message so as to provide a better experience. So, there are innumerable ways in which the message can be presented to the audience.
Conclusion
Journalism is a subset of mass communication, as it is all about the circulation of news to the large population using various media platforms such as newspaper, radio, television, etc. On the other hand, mass communication implies message transmission to a widely dispersed, large group of people.