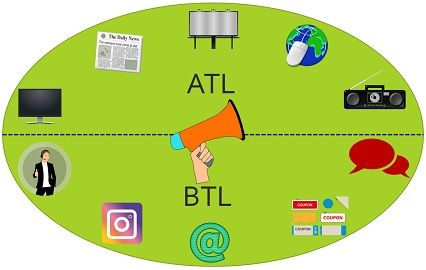 Two common marketing strategies used in the advertising industry, to promote any product or brand are – Above the line (ATL) and Below the line (BTL). Above the line (ATL) marketing is used when mass media is deployed to give a boost to a brand and reach the maximum audience.
On the other hand, Below the line (BTL) marketing is sort of one to one communication, wherein different techniques are used to reach a specific group of people.
The basic difference between the two types of marketing strategies lies in the medium of communication used and the commission charged by the advertising agency, which is extremely important to know so as to understand what's best for your business and the type of campaign planned.
Content: ATL Vs BTL Marketing
Comparison Chart
| Basis for Comparison | ATL marketing | BTL marketing |
| --- | --- | --- |
| Meaning | ATL stands for Above the line marketing, which entails mass media methods so as to target a wider audience. | BTL expands to Below the line marketing, which is used when the company wants to target a small but specific group. |
| Marketing Medium | Uses conventional marketing mediums such as TV, Radio, Print media, Internet, etc. | Uses offbeat marketing mediums such as exhibitions, trade-shows, telemarketing, email marketing, etc. |
| Target | Mass Audience | Specific group of Individuals |
| Objective | To create a brand identity and establish brand awareness. | To generate sales. |
| Cost | Costly | Budget-friendly |
| Result | It drives customer response. | It increases the point of sale. |
| Response Rate | Difficult to measure. | Easy to measure. |
| Communication | One-way communication | Two-way communication |
Definition of ATL Marketing
Above the line, popularly called as ATL uses conventional marketing medium that attempts to reach a large group of audience with a message aimed at reinforcing a brand and also to communicate basic information about the product, so as to generate a response. That is why it is also referred to as mass marketing.
The communication language and message created is in such a way that the audience can understand and connect to it easily.
ATL Marketing is done at the macro level, to cover a mass audience. It includes non-targeted advertising activities having a wide reach, so as to create a brand image. In this, advertising through TV, radio, internet, newspaper, posters, banners, billboards, and magazines.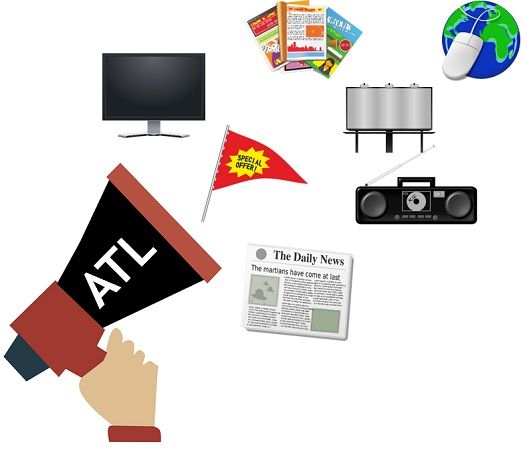 Further, when ATL media is used the primary focus is to create brand awareness, educate customers about the offerings and boost sales. It is mainly adopted by B2C (business to consumer) companies as they seek to reach a large number of people in just one go.
Definition of BTL Marketing
Below the line marketing or otherwise known as BTL marketing involve direct marketing activities, as they intend to build targeted relationship amidst the marketer and final consumer, as well as it provides ease in testing effectiveness and conversions.
BTL marketing is unconventional, carried out at the micro-level as it focuses on specific group either geographically or demographically on the basis of interest or on a niche segment. It involves specific, catchy and direct means of communication to promote the product. It is mainly deployed by B2B (business to business) companies, however, some B2C companies also opt it.
The primary focus of the BTL strategy is to convert leads into paying customers. It includes activities such as direct mail campaigns, sales promotion, public relations, text marketing, gift vouchers, shopfront activity, telemarketing, exhibition, social media marketing, trade shows, flyer distribution, catalogues, sponsorships etc.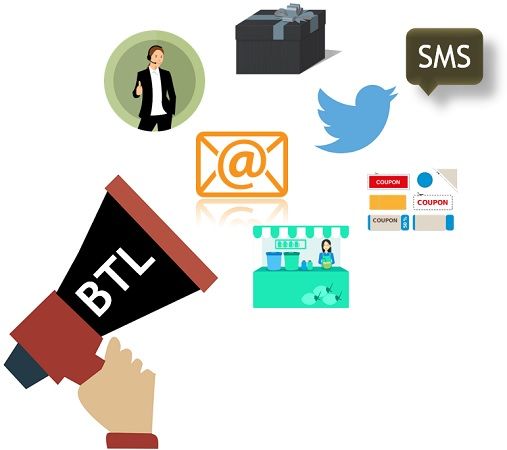 It also encompasses product demos and distribution of samples at busy places, such as malls, residential complexes, etc.

Key Differences Between ATL and BTL Marketing
The points given below are noteworthy so far as the difference between ATL and BTL marketing is concerned:
Above the line (ATL) marketing is a mass promotional activity, carried out for creating brand image and awareness. On the contrary, BTL, i.e. Below the line marketing is a targeted promotional campaign, which is used to initiate direct interaction with the particular group.
ATL marketing involves the use of primary mediums such as TV, Radio, Print media, Internet, etc. to promote a brand and create awareness among the audience. In contrast, BTL marketing uses offbeat mediums such as mailshots, telemarketing, sponsorships, etc. which targets a specific set of audience.
ATL marketing is used when the target audience is huge, i.e. the promotional campaign is all about mass viewership. Conversely, BTL marketing is deployed when the target audience belongs to a specific area or a small specific group.
Above the line advertising methods are useful when the focus is to create brand awareness among people, whereas below the line method is used to establish direct relationships with the potential customers/clients.
When it comes to cost, the ATL marketing medium is comparatively more expensive than BTL marketing mediums.
While ATL marketing drives customer response, BTL marketing increases the point of sale.
When the company uses ATL marketing, it is difficult to measure results because it is not possible to evaluate the commission on the basis of the campaign as well as how much the sale increased due to the campaign. On the contrary, with BTL advertising one can measure the results of the campaign.
ATL marketing is one-way communication, wherein a message is targeted to the audience. On the flip side, BTL marketing is two-way communication, between the marketer and consumer which helps in building strong relationships with the customers/clients.
Conclusion
In a nutshell, we can say that ATL marketing is an extensive brand-building activity, whereas BTL marketing is extremely targeted direct marketing activity, which stresses on personalization and conversions. Hence, ATL marketing focuses on the undifferentiated segment, but BTL marketing focuses on the targeted segment.