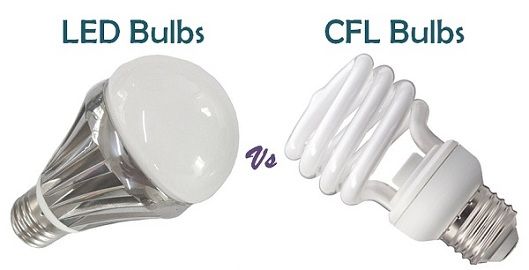 The invention of Light Emitting Diode bulbs came out as the most awaited technological development, in the field of lighting and the reason being its energy efficiency, which saves a lot of energy. Before that, people tend to use Compact Fluorescent Bulbs which are also energy-efficient, but comparatively less.
Think of the days when there is no light bulb and we tend to use candles, lanterns, or earthen lamps, at night or even during the days to lighten the dark place. So, how inconvenient it would be for us to work in that limited amount of light produced by these sources. However, over a period of time, inventions are made by scholars, in this field and we are able to use energy-efficient light bulbs at our homes, offices, and other places.
What is a Light Bulb?
A light bulb refers to an electrical appliance, which transforms electricity into light. It is made up of electric filament, which is used for the purpose of illumination and the filament is covered with a transparent or translucent object, typically circular in shape. The design of the bulb is such that it can be easily plugged into a socket in a lamp.
Do You know?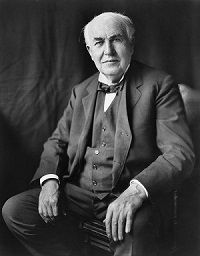 In the year, 1879 Thomas Alva Edison invented the incandescent light bulb. He was an American inventor and businessman.
This write-up will help you understand the difference between LED and CFL bulbs, in basic terminology. And not just that you will also get to know why LED bulbs are preferred over CFL Bulbs.
Content: LED Vs CFL Bulbs
Comparison Chart
| Basis for Comparison | LED Bulbs | CFL Bulbs |
| --- | --- | --- |
| Meaning | LED bulbs refer to the light source that is made up of a combination of tiny solid-state semiconductors. | CFL bulbs are the artificial lighting devices that emerged as an alternative to the incandescent light bulb. |
| Expands to | Light Emitting Diode bulbs | Compact Fluorescent light bulbs |
| Efficiency | High | Comparatively less |
| Saving | Up to 80% a year in energy costs | Up to 75% a year in energy costs |
| Life Span (in hours) | 50000 hours | 8000 hours |
| Electricity Consumption (equal to a 60-watt bulb) | 6 to 8 Watts | 13 to 15 Watts |
| Cost | Less | Comparatively High |
| Presence of Toxic Mercury | No | Yes |
| Sensitivity to Low Temperature | No | Yes |
| Time to Start | It glows instantly when the button is switched on. | It takes time to warm up. |
| On/Off Cycling | Does not affect its life hours | May affect its life hours |
| Durability | Highly Durable | Fragile i.e. glass can be broken easily |
| Heat | It remains cool | It gets heated up quickly |
Definition of Light Emitting Diode (LED) bulbs
LED bulbs are the most energy-efficient lighting devices invented till now as these bulbs consume very little energy as compared to other light sources.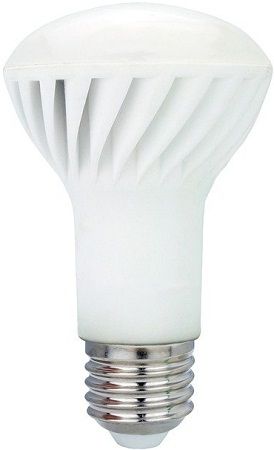 These are available in warm white, cool white, soft white, and daylight variants, in the market. It operates on the principles of electroluminescence.
Features of LED Bulbs
Mercury is not present in LED bulbs, rather it contains other harmful components, for example, lead and nickel.
LED bulbs are subject to recycling.
It uses no gas or filament.
These are long-lasting, durable, and energy-efficient lighting products.
LED bulbs glow instantly, as there is no warm-up time.
They fail by dimming over a period of time, and not by sudden burnout.
What is LED?
Well, LED, as the name suggests is an Opto-semiconductor light source that emits photons and produces visible light of a certain color, when electric current flows through it.
With the introduction of Super bright LEDs, more light is produced with minimum power usage. These are available in multiple colors like red, yellow, green, violet, orange, blue, and white too. And so initially they are used in indicators in electronic appliances, digital display, etc. Nowadays, they are being used in traffic signals, emergency lamps, torches, bulbs, street lights, and so forth.
Important: The introduction of the first LED lamps took place in the year 1990.
Also Read: Difference Between Energy and Power
Definition of Compact Fluorescent Lamp (CFL) Bulbs
CFL Bulbs are commonly known for their energy efficiency that consumes less electricity and ultimately reduces overall spending on electricity, than the traditional incandescent bulbs.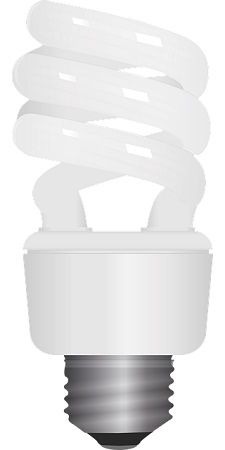 These are available in two types in the lighting market:
Compact Fluorescent Lamp, has two main parts, i.e. gas-filled tube and ballast, which is either magnetic or electronic.
Important: CFLs with magnetic ballast, usually flickr at the time of start.
Normally, they are available in spiral or helical design. They are made up of glass tube, which contains gases including mercury and argon. Fluorescent Material is used to smear the glass tube from within. As soon as the switch is on, current flows from the ballast, electrons are produced that electrifies the gases present in the tube, that releases ultraviolet radiation. As a result of which the coating inside the tube is induced, that emits light.
Hence, the process takes a certain amount of time which is why CFL bulbs take time to lighten up completely.
When compared to an incandescent bulb, the amount of light produced by a 15W CFL bulb is equal to the 60 incandescent bulbs, which is nearly 60 lumens per watt. Also, these bulbs can be recycled, as they contain mercury, instead of throwing after usage.
Also Read: Difference Between Conventional and Non-Conventional Sources of Energy
Key Differences Between LED and CFL Bulbs
So far we have talked about the basics of these two types of bulbs. Now let us dig a little deeper and understand the difference between LED and CFL bulbs:
LED bulbs refer to artificial lighting devices that use tiny solid-state semiconductors to produce light. On the other hand, CFL bulbs connote the lighting device that uses electrical discharge to induce the gases present in the tube, that releases UV light, that affects the phosphor to produce bright visible light.
When it comes to energy efficiency and cost-effectiveness, LED bulbs are a better choice than CFL bulbs.
Talking about the energy savings, LED bulbs save up to 80% in energy cost, which is significantly higher than CFL bulbs which save only up to 75% of the energy costs.
Every lighting device has a lifespan, so do the LED and CFL bulbs. While the life span of LED bulbs is 50000 hours, the life span of CFLs is 8000 hours only.
Talking about energy consumption, LED bulbs use 6 to 8 watts of electricity, whereas CFL bulbs use 13 to 15 watts of electricity. Hence, LED consumes less power per unit of light produced. This results in the reduction of greenhouse gas emissions from power plants and also minimizes electricity bills.
If we compare the yearly cost of the two types of bulbs. LED bulbs are economical in comparison to CFL bulbs.
CFL bulbs contain toxic mercury. As against, LED bulbs contain other harmful components like lead and nickel.
LED bulbs are not sensitive to low temperatures. This means that even if the temperature dropped below a certain level, it is still going to work. In contrast, CFL bulbs may not work, when the temperature is below 10 degrees Fahrenheit or above 12 degrees.
LED bulbs do not take much time to start, they glow instantly when the button is switched on. In contrast, CFL bulbs do not glow instantly, as they take some time to warm up.
When you switch on/off LED bulbs frequently, it may not have any effect on their life hours, but such activity may reduce the life span of CFL bulbs.
While LED bulbs are very durable, as they do not break when they fell on the ground mistakenly. Conversely, CFL is fragile in nature as they break into pieces instantly if dropped mistakenly on the floor.
LED bulb, when lighten up remains cool, whereas the CFL bulb gets heated up quickly.
What is an Incandescent Bulb?
An incandescent lamp is an electric bulb, which makes use of tungsten filament and as the current passes through it, the bulb glows.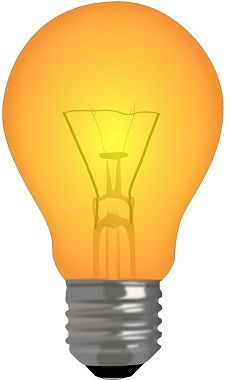 A transparent glass bulb usually rounder in shape is used as an outer case of the filament, and gases like argon, krypton, or nitrogen are filled in it, to raise the brightness and at the same time preventing the filament from burning out due to overheating.

Why use LED Bulbs?
When compared to an incandescent bulb, an LED bulb produces more light per watt, which makes it more energy efficient.
It does not require any color filters to emit the light of the intended color, which is commonly required in the conventional lighting sources, which ultimately reduces the overall initial cost.
There is a need for an external reflector in case of incandescent and CFL bulbs so as to accumulate light and then reflect the same, in such a way which is useful, whereas LED uses a solid outer case which is designed in a manner that focuses its light.
If these are used in applications that require dimming then there is no change in the color tint of the LED, as the current passed through them is reduced, which is not in the case of incandescent bulbs become less bright.
Also, when the use of the light bulb requires frequent on-off cycling, LED bulbs are a great choice, as compared to the CFL ones as they tend to burn out, on being cycled again and again, and the High-Intensity Discharge (HID) lamps as they do not light up immediately and take much longer time to restart. LED's do not burn out easily because, it does not involve heating of filament or gas, to glow.
LED bulbs are made up of solid-state components and so it does not get broken easily if it fells on the ground. Unlike, incandescent and fluorescent bulbs which smashes easily.
If you compare the life hours of the different types of bulbs, the lifetime of LED's is 50000 hours, whereas CFLs have a life of 8000 to 10000 hours and incandescent bulbs only live for 1000-2000 hours on average.
LED bulbs are 50% more energy-efficient than CFL bulbs and 90% more than halogen or incandescent bulbs.
Why CFL bulbs are spiral in shape?
As the Compact Fluorescent Light Bulbs are made up of tubes that are thin, yet long in size, which produces more light using less amount of electricity. So these bulbs are curled up, so as to make them compact and consumer-friendly.

Conclusion
While CFL bulbs emerged as an eco-friendly replacement for conventional incandescent bulbs, the introduction of LED bulbs has proved to be a more energy-efficient alternative, to CFL bulbs.