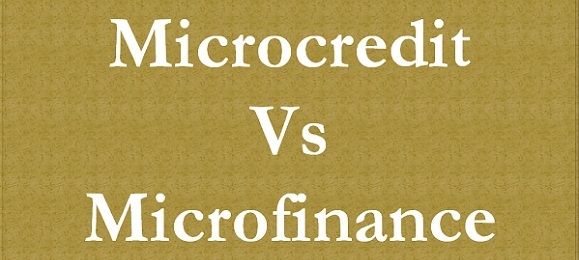 Microfinance means the broad spectrum of financial services such as loans, insurance, savings etc. provided to the people of low-income groups. Conversely, Microcredit alludes to a small loan provided, at a low-interest rate, to the persons of below poverty line to make them self-employed, i.e. to help the small entrepreneurs start their own business.
The scheme is offered to the people of below poverty line who lack collateral, have no access to basic banking services and are not eligible to take a loan in a traditional way. As Microcredit is a financial service provided in microfinance, the terms are used interchangeably by the people.
The article presented to you makes an attempt to clear the differences between Microcredit and Microfinance, take a read.
Content: Microcredit Vs Microfinance
Comparison Chart
| Basis for Comparison | Microcredit | Microfinance |
| --- | --- | --- |
| Meaning | Microcredit is the small loan facility provided to the people with less earning, to motivate them to become self employed. | Microfinance refers to the number of financial services provided to the small entrepreneurs and enterprises who cannot take shelter of banks for banking and other services. |
| What is it? | Subset | Superset |
| Includes | Credit Activities | Credit and non-credit activities |
Definition of Microcredit
Microcredit is the small credit facility provided to the needy people whose earning capacity is very less. The loan is provided to the borrowers who are unemployed, lacking collateral and whose credit history is not sound. The loan is mainly granted to help people earn their livelihood, especially, women who can start their business and become independent.
Microcredit not only increases the income level of the poor people but also raise their living standard. It provides the financial assistance to the extreme poor class of people in rural areas to help them become self-employed rather than depending on loan sharks for raising finance who charge exorbitant interest rates.
The best thing about microcredit is that the loan does not require any asset as collateral. The loan is granted for a short period only.
Definition of Microfinance
Microfinance is a broad spectrum of financial services provided to the people of low-income groups who cannot take bank's assistance banking and allied services. The service is available to extremely poor people, no matter where they live. The purpose of microfinance is to raise the earnings of low-class people and let them access to deposits and loans. The clients may include women, farmers, pensioners and so on.
Microfinance plays a revolutionary role in any country's economy. It helps the poor people to fulfil their basic needs and safeguard them from any risks. It raises the per capita income. It encourages women empowerment by providing term economic assistance and hence advocates gender equality.
Microfinance institutions not only provides capital to the startups or small businessman but also deliver such financial services to the poor people who are constantly avoided by the formal financial sector.

Key Differences Between Microcredit and Microfinance
The significant differences between microcredit and microfinance are provided below:
Microcredit is defined as the loan facility for poor customers. A broad range of financial services for the poor clients is known as Microfinance.
Microcredit is a component of microfinance.
Microcredit includes credit activities only, but microfinance includes credit as well as noncredit activities like savings, pension, insurance, etc.
Conclusion
Till the time, when there are no such facilities like microcredit or microfinance is available to the needy people. They fulfil their financial requirement by taking credit from the money lenders who charge very high-interest rates from the poor people because they are not eligible to take shelter of banks as they do not own any property to provide as collateral. The emergence of microfinance has a very positive impact on the beginners who wants to start their business, but cannot have access to the banking services.