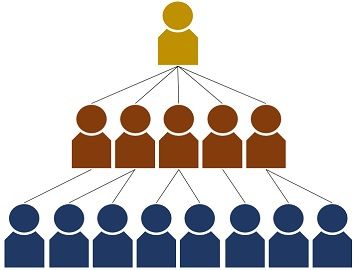 Multilevel Marketing is a marketing strategy in which companies recruit distributors to sell their products and services to the people and also encourage others to join the company as a distributor and earn a commission, by selling the products further and inviting others to work.
Multilevel Marketing is commonly confused with Pyramid Scheme; wherein one pays to join and become an agent of the scheme who get paid for recruiting others into the system and thus widening their network.
One of the most significant differences between multilevel marketing and pyramid scheme is that goods and services are actually exchanged in case of former, whereas no goods and services are exchanged in the latter.
Content: Multilevel Marketing (MLM) Vs Pyramid Scheme
Comparison Chart
| Basis for Comparison | Multilevel Marketing (MLM) | Pyramid Scheme |
| --- | --- | --- |
| Meaning | Multilevel Marketing is strategy, wherein there is a distribution network for selling products and services, either by word of mouth or direct sales. | Pyramid Scheme is a bogus business model that recruits people with a promise of sharing a certain percentage of upfront cost for every additional member enrolled by them. |
| Legality | Legal Activity | Illegal Activity |
| Approach | Objective | Aggressive |
| Focus | Sales of products and services to customer. | Recruiting new individuals. |
| Costs | Upfront cost is charged for enrollment. | High upfront cost and also charges for sales training and materials provided. |
| Earnings | Depends on sales and networking activity. | Depends on number of new recruits. |
Definition of Multilevel Marketing
Multi-level Marketing refers to a marketing technique primarily employed by Direct Sales Companies, in which company's existing distributors are incentivised to make sales and to enlist new distributors to assist in the selling of goods and services of the company. It is also called network marketing or referral marketing, wherein the company explains its own compensation plan to the participants so that they can take a well-informed decision regarding joining the chain.
In Multi-level marketing, the working starts with recruitment, wherein individuals are invited to join as a distributor in the company or through another person, who is already working as a distributor in the company, or through a common meeting, organized by the company itself.
In this way, several members join MLM, to earn commissions either by selling products and services of the company or by recruiting other distributors for the company. The distributors get a commission for sales made by them, as well as they, get a certain percentage of sales revenue of the other distributors, recruited by them.
Amway, Oriflame, etc are some of the Direct Sales company which sells products by way of Multi-Level Marketing.
Definition of Pyramid Scheme
Pyramid Scheme, as the name suggests is scheme having pyramid-shaped structure, beginning with a tip (the main person) on the top, that widens continuously towards the lowest level.
Pyramid Scheme is a superficial and temporary business model in which top-level members recruit other members, by promising them an assured commission for signing up others to the program. For this purpose, a certain amount is charged from the new recruits called as an upfront cost. It can be in the form of Product-based pyramid scheme, Chain emails or Ponzi scheme.
In many countries, the pyramid scheme is termed as an illegal business practice, wherein the agents build network by convincing their friends, relatives, neighbours or acquaintances, to join the company as their underlings, and every time there is a new entry in the company, all the persons above the chain will be benefitted, as a certain percentage is paid to them as commission.
The earning is based on the recruitment fees only. Hence, there must be an unlimited supply of new members to make a continuous income.

How Pyramid Scheme Works?
The scheme is initiated by a single recruiter, who is in the top position in the hierarchy, and makes subsequent recruitments of the second person, who invests the stated amount in the scheme, which goes directly to the primary recruiter.
Therefore, to make up for the investment, the second person in the hierarchy acts as a recruiter and convinces other people to invest money and join under him, to get more money. When they get convinced they join the companies and convinces others in a similar way and the process continues.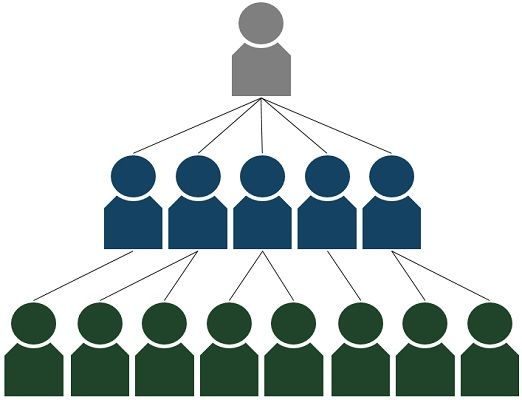 The scheme adds members through seminars, home meetings, social media circle, calls, or emails. The pyramid scheme is very short-lived, as when numerous people enrol in the programme, the cycle is not possible to last long.

Key Differences Between Multilevel Marketing (MLM) and Pyramid Scheme
The difference between multilevel marketing (MLM) and pyramid scheme are given in the points below:
Multi-level Marketing is a form of direct selling in which the company's recruited distributor sells the product to others through relationship referrals or word of mouth. On the other hand, Pyramid Scheme is a business model which is so designed in which the promoters make money by recruiting people into their network, who will pay an upfront cost as membership fees and assuring them returns, which will accrue when they add more people under them.
In a multilevel marketing, real product or services are exchanged and so it is completely legal. As against, no such exchange of products and services involved in a pyramid scheme and hence it is an illegal business practice.
Multilevel Marketing uses an objective approach, by presenting the opportunity and dictating the working and compensation plan to the participants. It gives time to people to think and discuss with whoever they want and take a rational decision, as to whether they wish to enrol or not. On the contrary, Pyramid Scheme has an aggressive approach, which often misled people by giving false information and deadlines, so that they don't get much time to think and discuss, and take a hasty decision.
The primary focus of multilevel marketing is increasing the distribution network and customer base, to sell the products or services and generate income. In contrast, the Pyramid Scheme focuses on making money by widening their network only
When it comes to costs, upfront costs are charged from the participants to join the MLM business. As opposed, the upfront cost in case of a pyramid scheme is high, and they also charge for sales and training material.
In multilevel marketing, the primary source of earning is through selling the products and services to the customers, as well as adding new members, as distributors to the business. Conversely, in a pyramid scheme, the participants can make money, only by adding other people to the system.
Conclusion
With the above discussion, it must be clear to you that both involve networking activity, to build a chain further. However, there are huge differences between them, i.e. While multilevel marketing is a legal business strategy, used by many multinational companies to sell their products. A pyramid scheme is a fraudulent investment type, wherein people are convinced in such a way that they will 'get-quick-rich' by investing in the scheme.