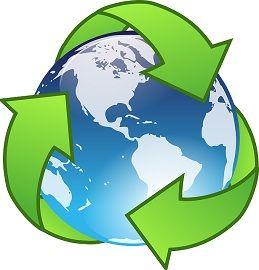 The way, we handle wastes has a great impact on the global environment, i.e. our ecosystem. In our school life, all of us have been taught an eco-friendly 'mantra', with the help of which wastes can be managed or disposed off effectively, with least harm to the environment. The rule is, Reduce, Reuse and Recycle, often known as 3R's. While reuse implies using the same item or natural resource, again and again, recycle alludes to the transformation of waste item to a useful one.
Most of the students, utter confusion in understanding the difference between reuse and recycle, and use them interchangeably, but the thing is, they are different. Take a look at this article to learn the important differences between the two.
Content: Reuse Vs Recycle
Comparison Chart
| Basis for Comparison | Reuse | Recycle |
| --- | --- | --- |
| Meaning | Reuse, means putting an item to same or a different use, after it has fulfilled its original function. | Recycle is a process, wherein a used item is turned into a new product, to reduce waste of potentially useful material. |
| Form | Does not change the original form of the product. | A new product is created, so form of product is changed. |
| Harm to environment | It does not harm environment, in any way. | It sometimes causes harm to environment. |
| Energy | Saves energy | Consumes a little amount of energy, but saves it too. |
| Objective | To elongate the life of article. | To use basic material in the creation of various products. |
Definition of Reuse
The term 'reuse' is a combination of two words, 're' which means again and again and 'use' means application or utilisation. So, as the name signifies, reuse is an act of using a product or material more than once, either in the same or a different way.
Reuse can be a conventional reuse of material; wherein products are put to its original use, again or a creative reuse, in which the items are utilised to serve a different function. It is an eco-friendly technique of saving money, time, energy and resources. Further, when we reuse something, it adds to its function and also lengthens the product's life.
There are multiple ways of reducing waste, in essence before buying a new product; one can look for an item that can be reused another time, to satisfy our needs. Next, instead of buying first-hand items, one can go for options like borrowing, renting, or acquire a second-hand item, which is also a form of reuse.
Definition of Recycle
The term 'recycle' is described as a process, in which waste material is transformed into reusable material or items. It is a great substitute to the traditional waste disposal, which saves material and also reduces the release of greenhouse gases. It can be:
Upcycling: The process in which value addition, is done to an item for reuse.
Downcycling: It encompasses splitting of a product, into various elements, to reuse them.
Precycling: The technique of curtailing waste, in which one refrains from bringing those articles at home that create waste.
E-cycling: Otherwise known as electronic recycling, it is a method of dismantling components or parts of the electronic equipment, so as to reuse them, instead of discarding as waste.
Recycling stops the waste of possibly useful material and also decreases the purchase of new materials. This leads to minimization in the use of energy and helps in the reduction of pollution. Further, it also diminishes the amount of raw material required to create the new product, from scratch, along with giving the old product a new life.

Key Differences Between Reuse and Recycle
The difference between reuse and recycle, can be understood clearly through the following points:
Reuse implies the practice of reutilising an item into same or a different use after the original purpose is fulfilled. Recycle refers to process, a used item to change it into a new product so as to reduce waste of potentially useful material.
When a product is reused, it does not change its original form, whereas when a product is recycled, it is changed into a relatively new form, that can be put to diverse uses.
Reuse is completely an environment-friendly technique, in which one uses a product, that has been disposed off earlier by him or someone else. Conversely, in the recycling process, sometimes, harmful effluents are produced, which eventually causes damage to the environment.
Reusing a product doesn't consume energy. On the contrary, recycling consumes energy but up to the degree of recycling.
Reuse aims at using unwanted items, wherever possible, to increase the lifespan of the product. As against this, recycle aims at convert product, into such a form that can be used in the creation of various products.
Conclusion
The two processes are a great way to minimise waste and create a healthy environment for all the living organism. The materials which are commonly reused or recycled, include paper, plastic, glass and similar other items.