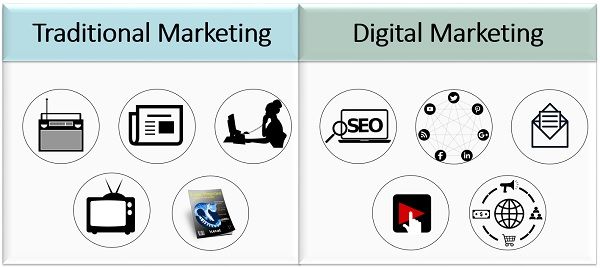 Traditional Marketing is when the marketing activities are undertaken in a conventional fashion, i.e. by way of newspaper, television radio and magazine. As against, digital marketing is when we use the online platform to promote the products and services of our company.
Marketing involves those activities which assist the company in promoting the offerings and converting the prospects into leads. In today's scenario, marketing has completely changed its form, i.e. from physical to digital. So, it is not wrong to say that an average individual comes across thousands of ads in a single day, no matter the mode traditional or digital.
Now coming to our topic of discussion, traditional marketing differs from digital marketing in a number of ways, and one such difference between the two is that in traditional marketing the reach is local, whereas digital marketing is known for its global reach, i.e. the ads that have been placed on the internet can be seen by people belonging to all walks of life and that's the power of digitalization.
Content: Traditional Marketing Vs Digital Marketing
Comparison Chart
| Basis for Comparison | Traditional Marketing | Digital Marketing |
| --- | --- | --- |
| Meaning | Traditional Marketing refers to the marketing that uses traditional channels or media, for the purpose of marketing communication. | Digital Marketing implies the marketing of products and services via digital channels, such as the internet, smartphone, display ads, and other digital medium. |
| Nature | Static | Dynamic |
| Conversion | Slow | Comparatively fast |
| Engagement | Low | Comparatively high |
| Return on Investment | Cannot be measured easily. | Can be measured easily. |
| Effectiveness and expensiveness | Less effective more expensive | Less expensive more effective |
| Tracking | Not possible | Possible |
| Targeting | Standardized | Customized |
| Tweaking | Not possible once the ad is placed. | Can be performed anytime, even after the ad is placed. |
| Reach | Local | Global |
| Results | Delayed results | Quick and real-time results |
| Interruptions | Consumers cannot skip the ads, as they are bound to see them. | Allows the consumers to avoid or skip the ads which do not interest them. |
| Communication | One-way Communication | Two-way Communication |
Definition of Traditional Marketing
Traditional Marketing means the marketing of goods and services using those platforms, channels and techniques that involve one -way communication tool, instead of two-way flow. It integrates different forms of advertising which are easily recognizable yet expensive.
In finer terms, traditional marketing is the typical form of marketing which helps to reach the customer via offline advertising modes, like television, newspapers, magazines, posters, banners, radio, hoardings, etc.
Traditional Marketing is mainly concerned with reaching a wide range of audience and competing by numbers. This means that the larger the number of people watching or going through the ad, the higher will be the leads that you attract.
Why Traditional Marketing?
The reasons why traditional marketing is preferred are: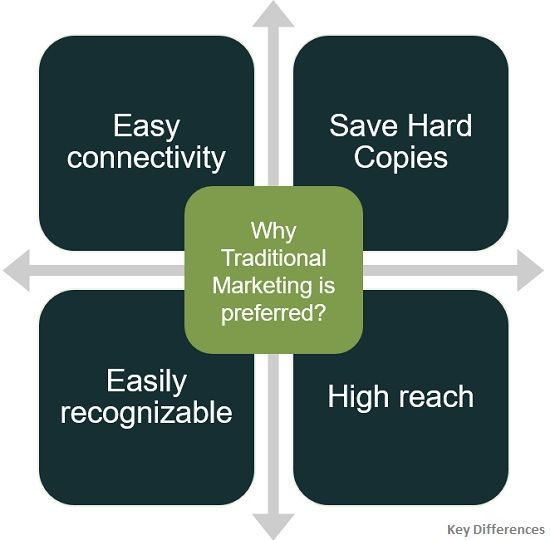 Easy Connectivity with the target audience: Advertisements can be placed on the local news dailies and channels of the concerned geographical area to target the prospective customers easily.
Save hard copies: Customers can save the hard copies of the ads placed in the newspaper or magazine, which they are interested in, so as to refer them when they wish to buy that product or service. They can also share those copies with their friends, relatives and acquaintances, who require that product.
Easily recognizable: People are quite accustomed to the conventional ads, as they are being used for a long time and so they understand and recognize it easily.
High Reach: Traditional marketing channels have a large customer base, and so a single ad can reach millions of customers of the area in just one circulation. Further, people living in those areas where there is no internet access or there is a lack of network connectivity can also be reached through this medium.
Also Read: Difference Between Marketing and Advertising
Definition of Digital Marketing
Basically, digital marketing is the fundamental term that includes each and every online marketing effort. In digital marketing, companies make use of all the digital channels to reach the existing and potential customers. The channels may include Google search, social media, email, websites, so on and so forth. Further, the most important technology, upon which digital marketing relies is 'Internet'.
Simply put, any kind of marketing which is carried out online, comes under the periphery of digital marketing.
Nowadays, there are a number of digital marketing agencies which helps companies connect with their target audience, convert leads into customers and retain the customers by building strong relationships.
Use of tools like Email, website, Smart Television and wireless media.
Focuses on building and maintaining a relationship with the customers through electronic communication channels.
Concerned with gaining new customers through digital communication.
What makes Digital Marketing a powerful tool?
In digital marketing, the market is an even playing field. This means that a start-up company will have the same opportunities as an established enterprise have. And that is why the company that actually performs well usually wins the race.
Why Digital Marketing?
The reasons why digital marketing is preferred are as under: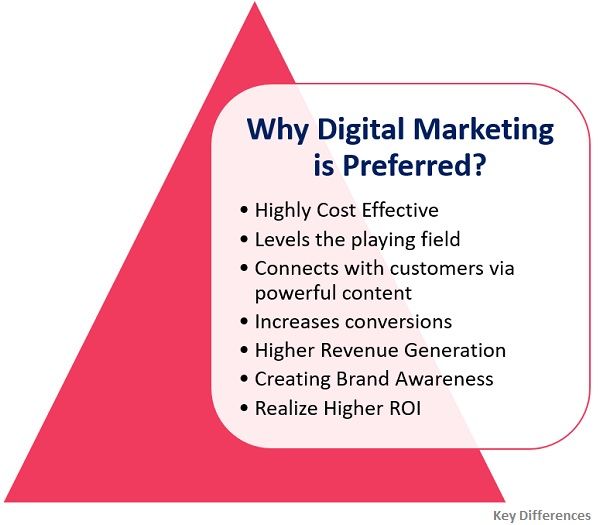 Highly Cost-effective: Small scale business or startup with minimum capital investment can find a better and budget-friendly channel to promote their products and services.
Levels the playing field: Digital Marketing evens the playing field for all, i.e. it provides equal and similar opportunities to all the enterprises be it a multinational corporation or a start-up company, to attract the targeted customers.
Connect with customers via powerful content: On the internet, content is regarded as king, that can influence your audience right away if you have the powerful content.
Increases conversions: The rate of incoming traffic converted into the customers often determines the success of digital marketing.
Higher revenue generation: When customer engagement and conversion is higher, it will reap higher profits for your business. And so, the businesses can expand both domestically and internationally.
Creating brand awareness: Digital marketing helps the firm in creating brand awareness among customers, by keeping them updated about the new products, offers, discounts, etc.
Realise Higher ROI: When the company reaps higher revenue at low costs, it will ultimately help in reaping a better return on investment.
Also Read: Difference Between Social Media Marketing and Digital Marketing
Key Differences Between Traditional Marketing and Digital Marketing
The difference between traditional marketing and digital marketing are stated hereunder:
Traditional Marketing implies any sort of promotion, advertising or campaign, used by the companies over the years for publicizing the products and services, by using conventional channels like radio, television newspaper, etc. On the other hand, Digital Marketing is the process of promoting and selling the company's products and services by using online marketing channels and tactics.
While traditional marketing is static, whereas digital marketing is dynamic in nature.
The rate of conversion from a prospect to lead is faster in digital marketing as compared to traditional marketing. This is because, digital marketing is data-driven marketing and ads are shown to people according to their likes and interests, and this helps in generating qualified leads.
Customer engagement refers to the interaction between a customer and a company via different online or offline channels. So, the rate of customer engagement is higher in digital marketing as compared to traditional marketing. This is because, the customers can directly view the product details and other offers, just by a click in case of digital marketing and they don't need to visit the showroom or the company to get the details of the product.
Return on Investment cannot be calculated in the case of traditional marketing, but one can easily calculate the same in the case of digital marketing.
While traditional marketing is less effective more expensive, digital marketing is less expensive more effective.
With digital marketing, one can easily keep an eye on where the buyer is coming from, which is the most viewed product, how many customers are actually buying the product, who are interested in the product, etc. On the other hand, in traditional marketing, tracking the customer is not at all possible.
Traditional Marketing uses standardized methods to target customers, and therefore, it involves mass marketing with a very low personal touch. On the contrary, digital marketing uses personalization in the sense that only those products are shown to the customers in which they have shown interest recently or they are searching for it over the internet for quite some time.
In the case of traditional marketing, tweakings are not possible once the ad is placed. As against, tweaking can be performed anytime, even after the ad is placed.
As the traditional marketing caters the audience of the specific geographical area only, so the reach is local or limited to the concerned area where the ad is shown. On the other hand, as digital marketing uses the internet, the products and services that are being promoted can fetch demand globally. Thus, digital marketing is not confined to a specific area only.
Coming to the results,  traditional marketing takes time to show the results of the marketing activities. But, digital marketing shows quick and real-time results to the marketer.
In case of traditional marketing, consumers cannot skip the ads, as they are bound to watch them, however, there is no such limitation in case of digital marketing as it allows the consumers to avoid or skip the ads which they do not find useful or they are not interested in.
While traditional marketing is a one-way communication, where the company spreads information about the product or services offered, digital marketing is two-way communication, where along with the ads placed by the company to spread information, customers also provide their feedback about the products and services, in the form of reviews, etc.
Forms of Traditional Marketing
The various forms of traditional marketing are presented below: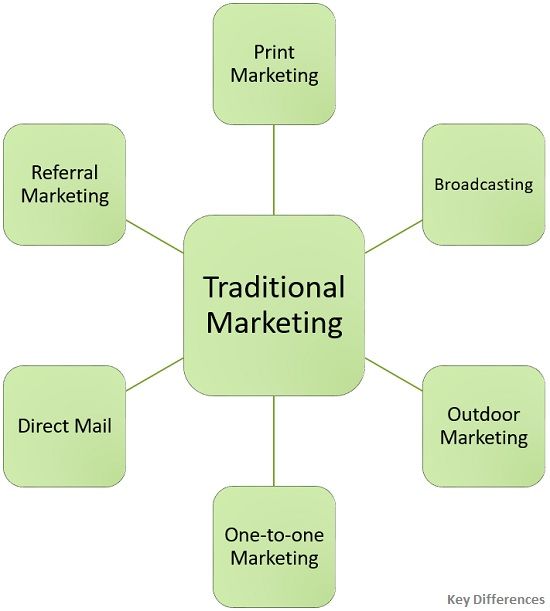 Now come let us discuss them one by one:
| | |
| --- | --- |
| Print Marketing | It includes newspaper, journals, posters, magazines, pamphlet, etc. that offer daily news, classifieds, interest-based periodical, which earns revenue by way of promotions and local advertisements. |
| Broadcasting | It may include television and radio, which provides knowledge, information, news along with the entertainment. It is sponsored by advertisements. |
| Outdoor Marketing | Billboards and Hoardings are two ways of home marketing that plays an important role in influencing consumers over time. |
| One-to-one marketing | It covers telemarketing or SMS marketing, which involves promoting the product or services to the consumers via telephone or SMS. |
| Direct Mail | Also called as advertising mail or mailshot. It is the process of delivering the advertising material to the people via postal mail. It includes brochures, postcards, catalogues, flyers, newsletters and sales letters. |
| Referral Marketing | Otherwise known as 'word of mouth' marketing which depends on the customers to convey information relating to the products or services. |
Also Read: Difference Between Print Media and Electronic Media
Forms of Digital Marketing
Some of the most common digital marketing forms or say tactics are: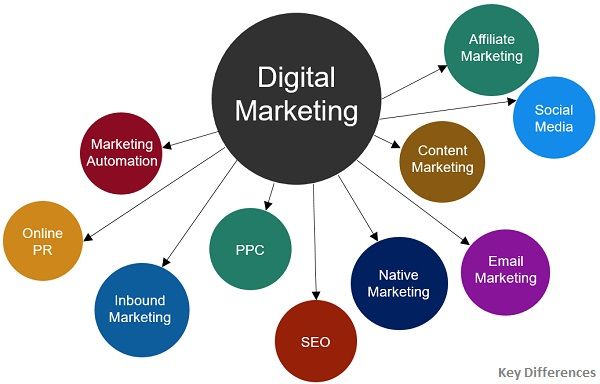 Come let us understand each form in brief:
| | |
| --- | --- |
| Search Engine Optimization (SEO) | To optimize your website in such a way that it ranks at top spots, in the search results. Hence, increasing the organic traffic on the website. |
| Content Marketing | Developing, publishing and promoting contents for the targeted group, so as to create brand awareness, increase traffic, generating leads, etc. |
| Inbound Marketing | The process of assisting prospective customers in finding your company, via social media, branding, content marketing, etc. It involves attracting, converting, closing and delighting customers. |
| Social Media Marketing (SMM) | It is the process of promoting your brand over social media platform such as Facebook, Twitter, Instagram, LinkedIn, Snapchat, etc. This helps in creating brand awareness, drawing traffic, and generating leads. |
| Pay Per Click (PPC) | It is an advertising model, generally used to drive traffic to the website, wherein the advertiser pays the publisher a specified sum, every single time when the advertiser company's ad is clicked. You might have seen ads in the search result pages of Google and Bing. |
| Affiliate Marketing | It is a practice of promoting other company's offerings on your website and earning a part of the profit, for each sales conversion. |
| Native Advertising | A form of advertising that resembles the type and function of the media upon which the ad appears. These are named so because the customer might not be able to identify that it is an ad, as it would blend the ad into the native or non-paid content. 'Sponsored Ads' on Facebook or Instagram is a common example of such ads. |
| Marketing Automation | A software designed to perform marketing functions in an effective manner on various platforms and automate repetitive tasks, like emails, etc. |
| Email Marketing | Email marketing is a method of communication with customers by sending emails, to the targeted audience relating to discounts, events, new products, offers, etc. and directing the audience to the company's website. |
| Online PR | It stands for online public relations which involves public relations activities of the marketers using an available online platform, such as social media, blogs, websites, etc. |
Example
Suppose there are two friends Jack and Joe. At the age of 25, they both decided to start shoe business. While Jack decided to open the shop at the market area, Joe decided to do business online via an e-commerce website. Jack used channels like radio, televisions, hoardings, newspapers etc. to place ads, so as to attract more and more customers. Joe hired a digital marketing agency to promote the products over the internet using online platforms, i.e. social media, websites, blogs, etc.
After some days, Jack succeeded in gaining thousands of customers, however, the cost of placing the ads was also quite high and the reach was also limited to the concerned geographical area. On the other hand, Joe also succeeded in tapping customers globally at a low cost.
So, the marketing pursued by Jack is Traditional Marketing, whereas Joe pursued Digital Marketing.

Conclusion
To wrap up the discussion, we can say that digital marketing has evolved in recent years but it became more popular than the traditional marketing due to its various advantages, one of which is effectiveness over expensiveness. However, smart organizations use both of them to develop strong relationships between prospects, leads and customers.