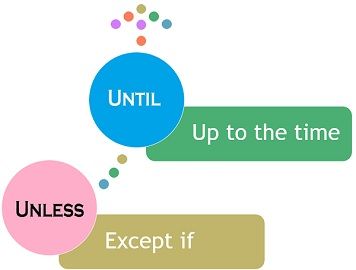 Unless and until are subordinating conjunctions, which have conditional connotations, so they are quite easily misconstrued. Unless refers to a conjunction that implies an exception, to the given statement. On the other hand, until is both a preposition and a conjunction at the same time that expresses continuance of an action up to a specified time. Now let's take a look at these examples, to understand their differences:
You will not get the first prize unless and until you try hard to win the race.
The parcel will not be handed over to the recipient unless and until the recipient signs the acknowledgement.
Here, in the given example, unless denotes a precondition, whereas until means till the time. Have a look at the article to understand the difference between them clearly.
Content: Unless Vs Until
Comparison Chart
Basis for Comparison
Unless
Until
Meaning
Unless refers to a precondition, it means except if.
Until implies up to the point or time given, i.e. before that.
Pronunciation
ʌnˈlɛs
ənˈtɪl
Part of speech
Conjunction
Preposition and Conjunction
Usage
It is used to institute the only condition in which the indicated event will not occur.
It is used to highlight the time that took place prior to the happening of incident.
Examples
You will not pass the examination, unless you study hard.
We will wait for Simon, until she arrives.
I do not pick calls in the office, unless it is important.
Continue reading the lesson, until you get its essence.
Unless you provide the required documents, the bank is not going to grant you loan.
Grace is not in India, until June.
Definition of Unless
The simple meaning of unless is except if, which implies a precondition that is required to be satisfied. It is a conjunction which is used to add conditional clauses in a sentence. Now let's understand where to use unless in our sentences:
It expresses that something is possible or is true, in a particular situation only:

You can't get admission in Delhi university unless you have scored good grades in the higher secondary examination.
No one can help you unless you tell us the problem.

It is used to mention the only situation, in which something is not possible:

I can meet you on Monday unless my relatives arrive.
You can go for a trip in July unless your exams are scheduled in that month.
Definition of Until
The word until means, up to the particular time or event. It is used in sentences to denote how long the situation continues. Now let's discuss where can we use 'until' in our sentences:
It can be used as a preposition to mean up to:

Shreya watched T.V. until 4 am.
We were on a trip until Monday.

It can also be used as a conjunction to associate an event with a particular point or moment in time.

No one is allowed to leave the classroom until the exam was over.
Sarah can't vote until she turns 18.
David stayed with us in the hospital, until my brother was discharged.
Key Differences Between Unless and Until
The points given below explain the difference between unless and until in detail:
The word 'unless' denotes a precondition to the statement given, it means except if. The word 'until' is used to represent a specific time, or a time limit, up to which something must happen.
Unless is just a conjunction, which joins two sentences. On the other hand, until is both a conjunction and a preposition, which is not only used to join two sentences but also a preposition which is used to express the relation of the noun or pronoun with an element in the clause.
Unless is used in the sentences to introduce a precondition, in which the given event is possible. Conversely, until is used to emphasize the time that occurs before the happening of the event.
Examples
Unless
Goods will not be delivered unless the amount is paid in cash.
Alisha would not have called Joe unless you had advised it.
You should call the doctor unless she is is absolutely fine.
Until
Once Steffy starts playing badminton, she will continue until she wins.
Maya didn't sleep until 2'0 clock, waiting for his husband to arrive.
The employees cannot take leave until the project is complete.
How to remember the difference
A great tip to memorize the difference between unless and until is to understand what they mean, i.e. while unless means except that, until means before that. So, in short, unless is an indicator of an exception of the given statement, whereas until sets the time limit for the event.