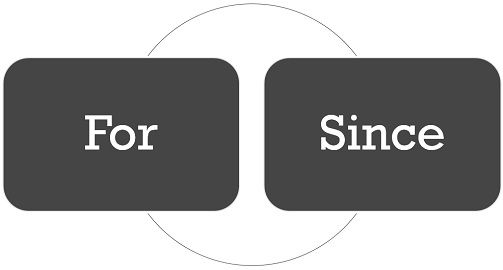 We often get confused between the prepositions, for and since, as both of these two are used to talk about how long the action continues. However, these two are different in the sense that since is used when we are talking about a specific point in time, whereas for is used when we discuss the duration of something. Let's have a look at the examples below to understand them further:
My mother allowed me to play for two hours, as I was studying since morning.
I talked to my best friend for two hours yesterday, because we had not talked since we have left school.
Peter has not met his parents since he has got a job in a metro city. So, he is going for a week to meet them.
In the above examples, you might have noticed that since is used with specific time, event or state, whereas for is used to express duration.
Content: For Vs Since
Comparison Chart
Basis for Comparison
For
Since
Meaning
For is used to refers to the length of time (duration), an action takes place.
Since is used to refer a particular point in time, which emphasizes the beginning of an event, action or a state.
Represents
A particular period of time.
A specific moment in time.
Tenses
Used with all the tenses.
Used with perfect tenses of past and present only.
Example
She has moved to Delhi for seven years.
She has moved to Delhi since 2011.
The old lady waited for ages for her son to arrive.
The old lady has been waiting for her son since 1990.
I haven't seen my best friend for a decade.
I haven't seen my best friend since I left the college.
Definition of For
Basically, 'for' is a function word (preposition) that indicates the desired objective. When for is used with respect to time, it refers to the period of time to express how long something persists. Now come let's understand its uses, with the points given below:
To indicate the time period:

I am waiting for the Project guide for an hour.
My cousin uncle lived for 50 years.
I lived in Pune for two years.
The offer is available for four days.
Mary talks to her fiance for two hours daily.
Could you please wait for a moment?
The train stopped for a few minutes at Mysuru station.
The children played in the park for an hour.
It rained continuously for a week.

To represent purpose:

There is a mail for you.
These are sample dresses not for sale.

It also means as a result of something or due to:

Jammu & Kashmir is famous for its natural beauty.
Arundhati Roy is well known for her novel 'The God of Small Things."

It can also be used for occasions:

I have bought a dress for my sister's wedding.

To refer in exchange of:

He purchased a new bike for his old one.

To refer in favour of:

The youths are protesting for equity.

To show responsibility:

The accountant is responsible for the embezzlement in the office.
Definition of Since
The word 'since' means 'from then until now', i.e. something that started in the previous time, but is continuing in the present. It expresses the initial point of an event, action or state. It can be used as a preposition, conjunction and an adverb. Now let's understand its uses:
It indicates a situation started in previous time, which continues until now:

I have known Mr Sengupta since I was in college.
My roommate shifted to a new flat since I last fought her.
Since I met you, everything looks beautiful.
It has been six months since I last visited the ophthalmologist.

It can also be used to give a reason for something:

Since you came home early, you can go to the market and bring the vegetables.
I had the biscuit since it was the last one left in the packet.
Key Difference Between For and Since
The difference between for and since can be drawn clearly on the following grounds:
'Since' is a preposition and adverb that refers back to a particular point in time in the past which results at the beginning of an event, action or state. On the other hand, 'for' implies the intended purpose of an act, but when it comes to time, it shows the amount, extent or duration of time something continues.
While for represents a specific period or duration of time since is used to denote a particular moment in time.
When we use the word 'since' to refer to a particular time, the verb used in the main clause, is either in the present/past perfect tense or present/past perfect continuous tense. Further, since can never be used with the future tense. As against, the word 'for' can be used with all the tenses.
Examples
Since
She has been in London since last year.
Ronald lives with his uncle and aunt since his birth.
We are serving poor people since 2002.
For
I am going to Dubai for a week.
Joseph has been preparing for IAS for many years.
He has not called me for the last two months.
How to remember the difference
The crucial tip to understand the difference between for and since is that since is used to highlight a time or a specific event, in the past, that lead to a situation which is still continuing. On the other hand, for is mainly used to indicate the amount of time, taken or passed so far.