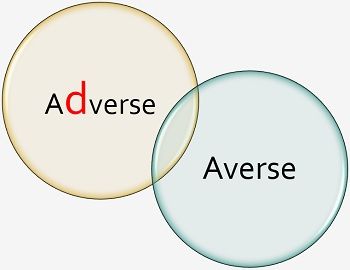 The words adverse and averse are derived from a Latin term, which is one of the frequently confused pairs of homonym. However, their meanings are quite different, in the sense that adverse is used to point out something which is unfavourable, conflicting, detrimental or unfriendly.
On the other hand, averse is used to denote something which is unwilling, reluctant, loath or opposing by nature. Let's understand the two with the help of the examples given below:
I am averse to the opinion that cold drink has adverse effects.
He is not averse to smoking, but it can adversely affect our body.
A manager is risk-averse because he/she knows the adverse impact of the risk very well.
In these two examples, you might have noticed that adverse is used to denote harmful, whereas averse primarily indicates a strong feeling of disagreement.
Content: Adverse Vs Averse
Comparison Chart
Basis for Comparison
Adverse
Averse
Meaning
Adverse refers to something which is harmful or unfavorable or which hinders the growth.
Averse implies a solid dislike or resistance to something.
Pronunciation
ˈadvəːs
əˈvəːs
Used with
Conditions, results or effects.
Feelings or attitude of people.
Preposition
Not followed by any preposition.
Followed by preposition 'to'.
Example
An expired medicine has a number of adverse effects.
A leader is not averse to taking risk.
The cyclone adversely affected the coast and the nearby region.
I am averse to talking unnecessarily.
The situation of the country is getting adverse, due to recession.
There are a few people who are averse to socializing.
Definition of Adverse
The word 'adverse' indicates conditions, circumstances or anything else, that has a harmful or negative impact or poses a threat on a person or thing. We use 'adverse' for something which is contrary to or opposed to one's interest, development or welfare.
For example:
Due to adverse weather conditions, people are evacuated from the area.
The technology advancement has an adverse impact on human health.
Recently, an adverse trend has been noticed in the world economy.
Despite the adverse conditions in the country, the election process is completed properly.
Change in the government policies and taxes adversely affected the purchasing power of the common man.
No one is responsible for the adverse events that happened to you.
Definition of Averse
Averse refers to a very vigorous feeling of dislike or disagreement towards something. If you are averse to something, you are actually opposed to it. When the word 'averse' is preceded by the word not, the meaning is changed, i.e. it indicates the interest or agreement to something. Hence, when you say you are not averse to something, it denotes you like doing it.
For example:
Some people in the country are averse to the idea of free education to poor children.
Many big businessmen are averse to talking to media.
Our school Principal is entirely averse to operating smartphone at school.
It is just that who is averse to playing cards and who loves it.
The cricket board is averse to match-fixing.
Are you averse to corruption?
Key Differences Between Adverse and Averse
The difference between adverse and averse can be drawn clearly on the following basis:
The word 'adverse' is used when we are talking about something which is unfavourable, disadvantageous and not good for the success, development, welfare or health of a person or thing. On the other hand, the word 'averse' is used to denote a strong feeling of unwillingness, disinterest, disinclination towards something, i.e. when you are against something; you use 'averse'.
Adverse is used to describe the negative effect, conditions, consequences and results. Conversely, averse is used to show an opposing feeling, disinclination or disagreement towards something.
While the word 'averse' is often followed by the preposition 'to', adverse is not followed by any such preposition.
Examples
Adverse
The video was uploaded with positive intentions, but it has got adverse reviews.
Increasing pollution has a number of adverse effect on people.
One should be prepared to live in adverse circumstances.
Averse
Usually, people involved in hedging are risk-averse.
My mother is averse to non-vegetarian food.
Robert is averse to watching a cricket match.
How to remember the difference
To sum up, you can use adverse when there is a negative or unfavourable reaction or something that acts in opposition, whereas averse is used when you dislike, disagree or avoid something. The basic difference between the two lies in their meaning, i.e. while you can remember adverse with the bad, averse can be memorized with the inverse, which means opposed to something.