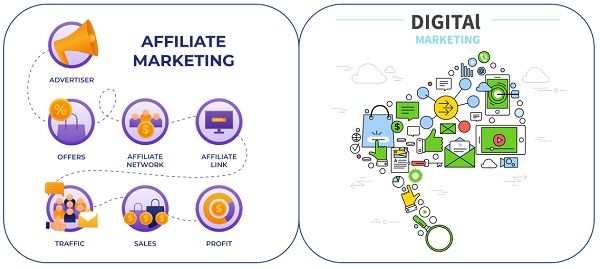 In layman's terms, we call it Digital Marketing when marketing products and services use digital platforms or channels. It involves the use of websites, search engines, emails and social media to reach the target audience. It has come out as the fastest mode of marketing that reaches a large group of audience.
On the other hand, Affiliate Marketing is a sub-type of Digital Marketing wherein an individual is paid a commission for generating sales of goods and services.
We all spend most of our time in the day using digital devices like laptops, tablets and mobile phones. This has resulted in a reduction in our focus span. That is why, now, we prefer watching a video on YouTube rather than reading content or watching television. Hence, we all know how our life has changed over the years.
In this post, we will look into the differences between affiliate marketing and digital marketing.
Content: Digital Marketing Vs. Affiliate Marketing
Comparison Chart
| Basis for Comparison | Affiliate Marketing | Digital Marketing |
| --- | --- | --- |
| Meaning | Affiliate Marketing is a program whereby companies promote products and services from online retailers via affiliates and pay commission in return. | Digital Marketing is a form of marketing in which products are promoted using free or paid digital platforms. |
| Performed by | Third-party | Seller |
| Elements | Product, channel, affiliate marketer and customer. | Product, digital channel and customer. |
| Objective | To obtain instant commission out of products promoted and sold. | To increase traffic and brand awareness. |
| Skills required | An affiliate marketer must be a good content creator and influencer and know customer psychology. | A digital marketer must be skilled in SEO, SMM, Content Marketing, Analytics, and more. |
| Reach | Narrow | Comparatively wide |
| Revenue Source | Commissions which the affiliates generate. | Marketer's own offerings. |
What is Affiliate Marketing?
Affiliate Marketing is a part of Digital Marketing. It is a partnership between the marketer and online retailer wherein the marketer, i.e., the affiliate, is paid a commission for promoting the product and boosting sales of the retailer. It is a performance-based marketing strategy wherein a company pays a commission to affiliates for each visitor brought to the site by affiliates' own marketing efforts, i.e. following the link.
Affiliate Marketing is the traditional form of marketing to which the internet has brought new life. In this form of marketing, a person, i.e., an affiliate, may promote the retailer's products, and they receive a certain percentage of sales as commission. A number of companies, like Amazon, Flipkart, Hostinger, Agoda, Shaadi.com, etc., run affiliate programs.
So, here, three parties participate, i.e. affiliate, retailer and customer.
The partnership programme is beneficial to all three participants. This is because the retailers get an increase in sales at a cheaper cost, whereas the affiliates make money out of the commission they get on every conversion. On the other hand, customers get exclusive offers and discounts.
Who is an Affiliate?
An affiliate is an individual or company that promotes the company's products or services through its website or social media profile/page. They receive a commission for every conversion. So, they are intermediaries who bring traffic to the advertiser's website. The role of the affiliate is to generate maximum sales or drive traffic to the advertiser's offerings and get a commission for it.
Types of Affiliate Marketing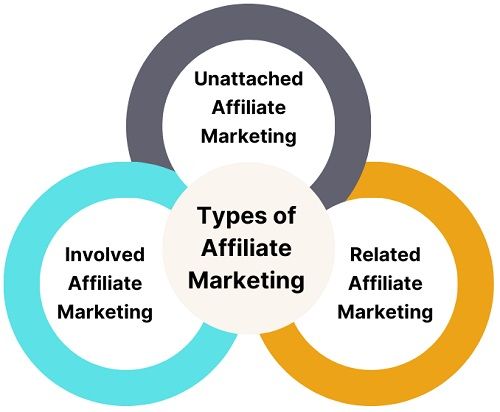 Unattached affiliate marketing: In this, the affiliates have no connection to the offerings they promote.
Related affiliate marketing: The affiliate is somewhat related to the product of the advertiser he/she is promoting.
Involved affiliate marketing: Such a form of marketing sets up a connection between the affiliate and the product that is promoted on a very deep level.
Also Read: Difference Between Traditional Marketing and Digital Marketing

What is Digital Marketing?
The marketing of products that make use of digital channels to reach customers is digital marketing. Digital channels can be email, social media, search engines, apps, websites, etc. Digital Marketing implies promoting products or brands through various forms of electronic media.
Alternatively, we call it online, internet, or web marketing. Digital Marketing covers all the activities which you perform to reach the target market using a digital platform. It helps build brand awareness, expands the customer base, generates leads, and increases sales. Further, it increases brand engagement.
One must note that digital marketing includes internet marketing and is a much bigger term as it covers the use of both SMS and MMS, social media marketing, display advertising, search engine marketing and email marketing.

Benefits of Digital Marketing
Facilitates targeting local as well as international audiences.
Audiences can decide how they want to receive the content.
Increasing interactions with the audience is easy by using social media.
Digital Marketing is one of the most economical modes of marketing.
Tracking and Analysis of results is easy as it records all impressions, engagement and conversions.
It provides the same arena to all businesses, irrespective of their size, big or small.
It shows real-time results of the marketing efforts.
The content often goes viral, giving an instant boost to sales.
Types of Digital Marketing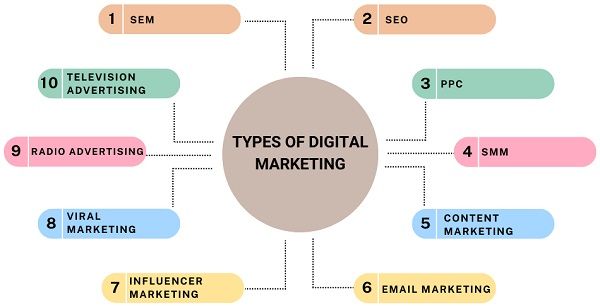 Search Engine Marketing: It covers both Search Engine Optimization (SEO) and Pay Per Click (PPC). These two ensure traffic to websites through both organic and paid means. In the case of SEO, keywords play a crucial role.
Search Engine Optimization: Those strategies that make the content search-friendly come under SEO. It helps the websites rank in the top results of SERPS. Most people among us do not like to go to the second page of the search results. With the help of SEO, one can rank their pages at the top of the search results.
Pay Per Click: PPC or Pay Per Click is a kind of advertisement on search engines such as YouTube, Google, Bing, etc. It is a technique of using the paid mechanism to move a website or product up in the SERPs (Search Engine Results Pages).
Social Media Marketing: When marketing is done using social networking sites like Facebook, LinkedIn, Twitter, Instagram, etc. It helps in increasing following as well as reaching potential customers.
Content Marketing: This is a distinct form of marketing that does not directly market the products or services. It creates quality content that improves the experience of the user. Numerous brands across the world develop and post entertaining and informative videos and content concerning their businesses.
Email Marketing: It is direct marketing in which information, discounts and offers are sent to the prospects by mail directly. This is quite uncertain as the email reaches the inbox, but it has to be interesting enough to draw the interest of the reader.
Influencer Marketing: A marketing method in which influencers, i.e. individuals having a specific fan base or followers on any social media platform or YouTube, promote brands to their audience. The influencers earn income while the companies get a boost in sales.
Viral Marketing: Viral is something that is at the top of the charts, something that is seen by everyone, and everyone is talking about it. Viral marketing aims to make the posts, stories or videos trending and topical. For promoting products, many bands often collaborate with content creators whose videos are always trending.
Radio Advertising: One of the most economical and easiest methods of digital marketing is radio advertising. Such advertising is designed for targeted customers at various locations.
Television Advertising: It is also covered in Digital Marketing. It helps in promoting products via infomercials and demonstrations.
Also Read: Difference Between Social Media Marketing and Digital Marketing

Key Differences Between Digital and Affiliate Marketing
Digital Marketing entails the seller promoting products and services directly to the customers. On the other hand, affiliate marketing is a programme in which an affiliate promotes sellers' products to earn a commission by using digital means.
While the seller or product owner performs Digital Marketing, the third party performs affiliate marketing.
Three elements are involved in digital marketing: product, digital channel and customer. As against, the elements included in affiliate marketing are a product, a channel, an affiliate marketer and a customer.
Increasing traffic and brand awareness are the two main reasons for digital marketing. On the other hand, the primary reason for affiliate marketing is to obtain instant commission out of products promoted and sold.
To create a career in digital marketing, you need skills like SEO, content marketing, data analysis and video marketing. Conversely, to make a career in affiliate marketing, you must learn similar skills as in the case of digital marketing, but you should also possess copywriting and persuasion skills.
Affiliate Marketing relies on the principle of audience reach. However, digital marketing does not rely on it.
In the case of digital marketing, the main source of revenue is the sales of the marketer's own offerings. In contrast, in the case of affiliate marketing, revenue is generated through commissions which the affiliates generate. That means the affiliate gets a certain percentage on every conversion generated through affiliate links.
As every marketing campaign aims to promote the sales of the product, so do the digital marketing campaigns. The aim is quite obvious, i.e. to boost the traffic and visitors. Also, it ensures brand publicity. In contrast, the main objective of affiliate marketing is to collect more commission from the promoted products.
Digital Marketing involves a number of functions, including research of customer needs and wants, advertising, sales, evaluation of results and so forth. Conversely, the primary function of affiliate marketing is to promote goods and services for monetary benefit.
Conclusion
While in the case of digital marketing, the marketer promotes their own brand or business, to create a huge customer base. In affiliate marketing, the affiliate (marketer) collaborates with the advertiser to promote their products and services for a certain commission.
In short, both digital and affiliate marketing cover online promotion and marketing strategies. However, the main difference lies in the objectives and roles of the marketer.