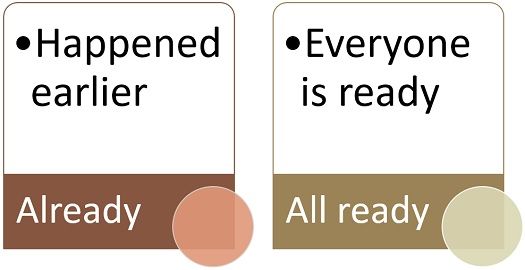 'Already and All ready' often confuses us because of their similar pronunciation, however, if you analyse deeply, they are two different words. 'Already' is used in the context of an event which is happened previously. On the other hand, 'all ready' means fully prepared for something.
Riya already informed me that she is all ready to reach the airport.
Peter has already submitted his assignment, and he is all ready for the presentation.
Look, I already have many issues with you, but still, I am all ready to cooperate in your task.
So, after reading these examples, you already got the differences between these two or you are all ready to know the differences in detail.
Content: Already Vs All ready
Comparison Chart
Basis for Comparison
Already
All ready
Meaning
Already is used to mean an event which takes place sooner than expected.
All ready is a term, which means everything and everyone is ready.
Pronunciation
ɔːlˈrɛdi
ɔːl ˈrɛdi
Part of speech
Adverb
Phrase
Sentences
Affirmative and Interrogative
All type of sentences.
Examples
You have already left when I came.
Are you all ready for the show?
Have you already been to China?
The vegetables are all ready to be cooked.
Does she already know the answer?
Is everyone all ready for the practical examination?
Definition of Already
When we use already in our sentence, we put stress on an event that took place sooner than expected. It is commonly used with past perfect or present perfect tense.
Further, it is used in affirmative and interrogative sentences only and not in negative ones. It is normally positioned at the middle of the sentence, i.e. between the subject and the main verb but after the auxiliary verb. Now, we'll discuss its usage:
It is used to indicate that something has happened, before the time you are talking about:

We insisted her to come for the movie with us, but she had already watched it.
Robin has already mentioned in the interview, that he won't be able to join from Monday.
They had already gone, by the time I reached home.

It may also be used when you lose patience or you want to show an unwillingness to tolerate something unacceptable:

Enough already with your lies.

To show surprise or shock, we use already at the end of the sentence:

It's 5'O clock already.
Have you ordered the lunch already?
Definition of All ready
'All ready' is a two-word term, wherein all is a pronoun/determiner which means 'whole or entire' and ready is an adjective which means 'in such a state to perform an action instantly'. So, the combination of these two words implies 'totally ready, apt or prepared for doing something'.
Further, 'all ready' may also be used when you fully agree with someone regarding something or when everything/everyone in the group is ready or available.
She has done shopping, and now she is all ready for the show.
I was all ready to go out on a family picnic, but suddenly my exams started.
They were all ready for the event, but they were not able to participate because of the late arrival of their flight.
As soon as I wear my sunglasses, I will be all ready.
We are all ready, at 8:00 pm to go to the restaurant.
Key Differences Between Already and All ready
The points given below are noteworthy, so far as the difference between already and all ready is concerned:
Already is used to mean an event that has happened or accomplished previously, i.e. by this time or by the time you are referring to. On the other hand, all ready is used when every person in the group is now ready for doing something.
The word 'already' is an adverb, whereas the term 'all ready' is a phrasal adjective.
When it comes to orientation, already is used for the events that took place just now, or accomplished earlier, i.e. in the past. Although, we use 'all ready' for the events which are not yet happened, or they may happen shortly.
We use already with positive and interrogative sentences only, but all ready can be used with all kind of sentences, including the negative ones.
Examples
Already
We are already late for the party.
There is no need of introduction, we've already met each other.
She has already made plans for the weekend.
All ready
I am all ready for my Civil Services interview.
Paul is all ready for his dance class when he heard the news of the accident.
When you are all ready for the party, just call me.
How to remember the difference
The basic difference between these two lies in their meanings, i.e. when something takes place before expected time, we use already. Conversely, all ready is used when everything or everyone is set, prepared of available to do something. Further, if you can replace the word with 'ready' use all ready, but if you can't then use already.