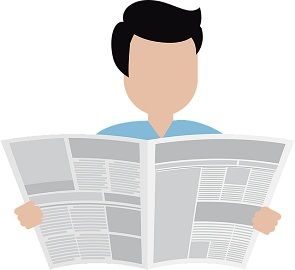 Written compositions are available in varied types and forms, and targets a different segment of audiences. One who is interested in reading can find articles in various publications. An article is nothing but just a piece of writing on a particular topic, which along with other written material included in the books, magazines, newspaper, website, blogs, journals, etc.
On the contrary, Journal is a periodical publication in a specific field of study, which is often reviewed by experts in the concerned area. Journal publications are regarded as one of the highly honoured forms of publications, because of its high standards in reviewing and publishing.
Come let's discuss the differences between article and journal.
Content: Article Vs Journal
Comparison Chart
| Basis for Comparison | Article | Journal |
| --- | --- | --- |
| Meaning | An article refers to a piece of prose, often included in different publications, such as newspapers or magazines. | Journal is a scholarly publication consisting of academic study, achievements and information concerning a particular discipline. |
| What is it? | Literary work | Form of publication |
| Nature | Non-fiction and Informative | Educational and Academic |
| Contains | News, Stories Information, Experience, Opinion, Suggestion, Facts, etc. | Articles, Book Reviews, Editorial Content, Achievements, Feedback, etc. |
| Written on | The topic of interest of the writer or any burning issue. | The specific field of study and developments thereon. |
| Objective | To influence the reader and urging them to think. | To provide relevant information relating to the professional course. |
Definition of Article
The article implies an independently written composition, usually short and precise, which is traditionally included in the newspaper, magazines, websites, journals, etc. It is written for a large audience in an entertaining manner, so as to grab and retain their interest and attention. The name of the person who wrote the article is always mentioned.
An article not just integrates facts, but the thoughts and opinions of the writer and experts, and balanced arguments are also included. A well-drafted article often brings out topics of interest into the limelight.
An article may cover fascinating stories, reported speech, information, suggestions and other descriptions. It can also describe any event, experience, person or anything else. Articles are classified on the basis of need or preference:
News Articles: Articles containing breaking news, information, happenings, events of public interest, what will happen in the near future or a trending topic. It may contain photographs, charts, interviews, debates, etc. Its objective is to report on when, how, where and why the event took place and who is involved in it.
Feature Articles: One that is written creatively and descriptively so as to entertain, engage and influence the reader. The article can be based on anything, i.e. from people to place or from event to experience.
Editorial Articles: These are commonly found in newspapers and magazines, which often showcase a new outlook or opinion, on a current issue. It often expresses a distinctive angle or approach about someone or something and provokes the reader to think that way.
How-to Articles: Such articles are instructional in the sense that they offer complete guidelines on how-to-do something.
Marketing Articles: A short piece of writing, which is actually an advertisement, written to catch the attention of the reader towards the company's product or service.
Question-Answer Articles: As the name suggest, these articles are in question-answer format, based upon an interview with the famous personality. It does not contain an introductory paragraph.
Profile Articles: Profile articles are all about a specific person, which requires research and interview, to gather relevant information about that person.
Definition of Journal
Journal can be defined as a professional or academic publication, which features a number of educational articles, written by researchers, experts or someone having academic qualifications in the concerned subject, which presents original and new research, book reviews, feedback, review articles and so forth. It includes references and targets academic audience only.
A journal is always on a specific discipline, that targets a particular group of people, typically students pursuing that discipline and not the general public. It must be noted, the journals are usually peer-reviewed (refereed) and so they undergo an extensive editorial process. However, all the journals are not peer-reviewed.
They focus on current developments in the field of study. It is available in both offline (printed form) and online mode. One can use journal articles for the purpose of research as they are authoritative, up to date, topic-specific and understandable.
Journals are published periodically, i.e. weekly, bi-monthly, monthly, quarterly, semi-annually or annually. Each copy is termed as an issue, and a set of issues are called volume.

Key Differences Between Article and Journal
The points given below are noteworthy so far as the difference between article and journal is concerned:
An article is a written composition on a topic of interest, which forms a separate part of a book, magazine or newspaper. On the other hand, Journal is a type of magazine which contains articles and other descriptions on a particular discipline or professional activities.
While the article is a work of literature, the journal is a form of publication.
An article is non-fictional and informative in nature. As against, the journal is educational and academic.
The article can include news, stories, information, facts or writer's experience, opinion, suggestion, facts, etc. Conversely, a journal contains articles, book reviews, editorial content, achievements, feedback, recent developments in the field of study and many more.
An article is written on the topic of interest of the writer or any burning issue. In contrast, a journal is all about the specific field of study or professional course and developments thereon.
The main objective of writing an article is to influence the reader and urging them to think. On the flip side, a journal aims to provide relevant information relating to the professional course.
Conclusion
In a nutshell, an article differs from a journal in the sense that an article is a written composition, which is just a small part of the journal, while the journal is itself a publication containing a number of articles and other relevant material.