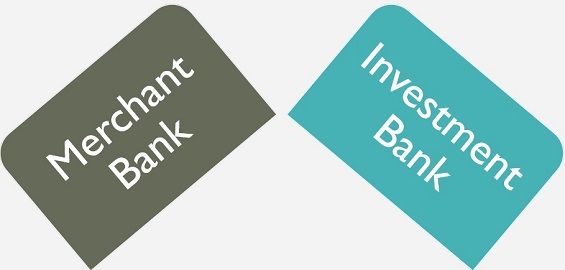 Commercial banks offer services to the general public, but there are some banks which offer services to the companies and investors but not to the public. They are investment bank and merchant bank. As the two banks offer similar services to the clients, they are comonly misconstrued, however they are different in the sense that an investment bank is a banking company that acts as an intermediary between the Client and the investing public, by helping them in raising funds.
On the contrary, a merchant bank is a bank that undertakes international finance and underwriting of securities. They provide services like fund raising, brokerage to the business houses and also acts as a financial advisory to them.
So, in this article, you may find the substantial differences between the two banks in detail.
Content: Merchant Bank Vs Investment Bank
Comparison Chart
| Basis for Comparison | Merchant Bank | Investment Bank |
| --- | --- | --- |
| Meaning | Merchant Bank implies a banking institution, that fulfills capital requirements of the companies in the form of share ownership, rather than granting loans. | Investment Banks are the middleman between the issuer of securities and the investing public, and also provides various financial services to the clients. |
| Deals with | International financing activities | Underwriting and issuance of securities |
| Based on | Fee based | Fee based and fund based |
| Trade financing | Offered to the clients | Rarely provided |
| Deals with | Small companies | Large companies |
Definition of Merchant Bank
Merchant Bank refers to a banking company engaged in international financing and offers end number of services to its clients such as underwriting of new issue, management of securities, investment banking, portfolio management, project promotion, advisory services, project promotion, corporate investing, corporate counselling, loan syndication and so forth.
These banks have good knowledge and expertise in international trade, due to which they tactfully deal with multinational companies. A merchant bank requires SEBI registration, as per SEBI (Merchant Bankers) Regulation.
A merchant banker is a person that undertakes the business of issue management, by facilitating the buying, selling and subscribing of securities as a manager or consultant or providing advisory services.
Some of the popular merchant banks are Barclays Bank PLC, Bajaj Capital Ltd., Axis Bank Ltd., Bank of Maharashtra, etc.
Definition of Investment Bank
Investment banks are set up to help the clients, i.e. Companies, High net-worth individuals and government in arranging capital. They act as a financial intermediary between the Company requiring capital and the investors and in this way, the savings are turned into investments. Further, they generate revenue from dealer and brokerage activities, corporate restructuring, financial engineering, speculation and arbitrage, corporate finance and treasury management.
It provides a number of services to its clients such as underwriting of shares and bonds, selling and trading of securities, advisory services for mergers and acquisitions, divestiture, IPO and managing the assets.
Some of the major investment banks that are operating internationally are Goldman Sachs, Credit Suisse, Morgan Stanley, Bank of America, Merill Lynch, Deutsche Bank, etc.

Key Differences Between Merchant Bank and Investment Bank
The difference between merchant bank and investment bank are explained clearly in the points given below:
A merchant bank refers to a banking company whose key area is international finance, and so its work is related to corporate investment, trade finance and real estate investment. The main functions of merchant banks are issue management, portfolio management, corporate counselling, etc. In contrast, an investment bank is a banking company that deals with established firms and fulfils their long-term capital requirement, by acting as an intermediary between the company and investors.
While merchant banks engage in international financing activities, investment banks are concerned with underwriting and issuance of securities.
An investment bank is fee-based as it provides various services such as banking and advisory services to the clients along with that it is fund based too because it earns income from interest and lease rentals. On the other hand, a merchant bank is the only fee-based because it provides banking, advisory and custodial services to its clients.
Merchant banks provide trade financing facility to their clients. Conversely, there are only a few investment banks that provide trade financing services to its clients.
A merchant bank usually deals with the companies which are not so big that they can arrange capital by making an IPO, so these banks use a relatively creative form such as private placement of securities. In contrast, an investment bank works with large corporations, who are willing to list their securities for sale to the general public.
Conclusion
In a nutshell, the two banks differ in the sense that a merchant bank assists companies in issuing shares through private placement, whereas an investment bank underwrites and sell shares through initial public offering to the general public.