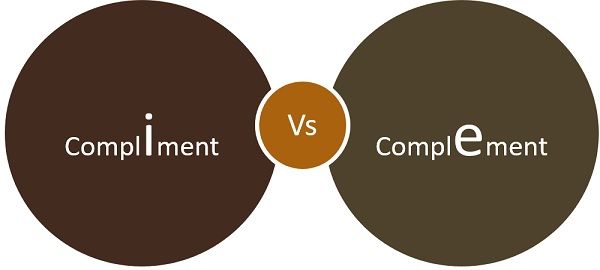 The words compliment and complement are highly confusing homonyms, not only because of their pronunciation, but their spelling is also nearly the same, due to which we end up using them incorrectly. However, their meaning is very different, and so we should apply these words intelligently especially in written English, or else, the entire message will be misinterpreted. When someone gives you a positive comment, it is known as a compliment.
On the other hand, when two things appear or perform better together, i.e. when something goes well with another one, we use the word complement. Let's have a look at the examples to understand the difference between these two:
Your attire complements your personality; you will get lots of compliment at the party.
The couple got a compliment that they complement each other.
In these two sentences, you might have observed that we have used the word compliment to indicate admiration, whereas complement means counterpart, other half or companion.
Content: Compliment Vs Complement
Comparison Chart
Basis for Comparison
Compliment
Complement
Meaning
Compliment refers to a positive and polite remark, nice words or gestures, that praises or motivates someone.
Complement refers to something that goes side by side or adds something to the features of another.
Used for
Appreciating someone
Completing someone or something
Adjective
Complimentary has two meanings, i.e. giving or supplying free of cost or expressing a compliment.
To integrate two things in a way that they highlight the qualities of each other.
Examples
The client has sent a greeting card and bouquet as a compliment.
These curtains complements the wall, better than that one.
The compliments and criticism for the novel is taken graciously by the author.
Pizza and cold drink are perfect complements.
The compliments given by the judges boosted morale of the contestant.
In spite of fighting, if we team up, then we'll complement each other.
Definition of Compliment
A compliment is anything pleasant said by you in order to make someone feel good.
As a noun, the word 'compliment' refers to a courteous expression of praise and appreciation. On the other hand, as a verb, we use the word 'compliment' for courteously congratulating or appreciating a person for his achievement or performance. Let's understand its usage:
Positive assertion expressing admiration, commendation and approval:

My teacher never paid me compliments for my good performance.
When you said to keep it up, I took it as a compliment.

Showing appreciation for someone:

The customer just complimented the waiter for his outstanding service.
The college management complimented the topper by organizing a felicitation function.
Definition of Complement
The word 'complement' can be used both as a noun and a verb, which causes something to appear/to work better and indeed more appealing or effective when united with another.
Complement refers to complete or improve the looks or quality in something, by providing what it requires. Meaning that it contributes additional features to another thing such that its quality is emphasized or brings it to perfection. Let's have a look at some points given below to understand its usage:
Increasing the quality of something, by combining with it:

Tea and biscuits complement each other well.
That necklace complements her dress completely.

It can be a set of people or things which completes something or provides something which it requires:

She is having a full complement of dresses and sandals along.
Finally, we have a full complement of highly qualified teachers.
In geometry, when the particular angle is less than 90 degree, the degree to which it is less than 90 degree is called complement. In grammar, It refers to that part of the clause that gives additional information about the subject.

Key Differences Between Compliment and Complement
The points given below are important so far as the difference between compliment and complement:
A compliment is a word, act or a circumstance, that expresses gratefulness, acknowledgement or honour to someone. On the other hand, complement refers to anything that fills up the lacking, i.e. something that completes another. It indicates counterparts, i.e. one of the two parts which enhance the value of the other when they are together.
The compliment is a formal way of showing gratitude, good wishes, thanks or respect to a person. As against, complement is something that completes another or brings near to perfection.
The adjective form of the word compliment is complimentary, which reflects two meanings, i.e. either it means expressing a compliment, or it refers to providing or supplying something to free of cost. Conversely, when complement is changed into the adjective form, it becomes complementary which reflects that the quality and the effectiveness of two things which are combined is more as compared to their quality and effectiveness when they are taken as individual units.
Examples
Compliment
Thanks for the favour – I wish I could return the compliment.
The manager complimented on my presentation.
No contestants received compliments from the judges.
Complement
I think you need spectacles that complements your outfit.
The new product will complement our old product on the market, which in turn increase the overall turnover.
Knowledge of computers is a necessary complement to every discipline, these days.
How to remember the difference
The best way to know the difference between compliment and complement is to understand their meanings. A compliment is nothing but an admiring remark given by any person to another, for his/her achievement.
As against, when two things look good or work effectively when they are together as they enhance the quality of each other, we use the word complement. It indicates one of the two divisions that makes a complete whole. So, a compliment is related to praise while complement is related to complete.