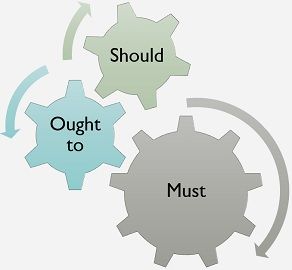 The crucial difference between should, ought to and must, is based on the extent to which they emphasize, in the sense that must is the most emphatic of the trio. On the other hand, ought to is less emphatic than must, but more than should. So, it is obvious that the degree of emphasis is least when we use should in our sentence. So, let's have a look at these examples to understand the terms should, ought to and must in a better way:
You should have been more attentive.
The outing was awesome; you ought to have come.
You must have apologized for the mistake.
In the very first sentence, we've used the word should, to talk about something which you are supposed to do. In the next one, we are using ought to, to talk about the recommendation. Lastly, in the final sentence, we are using must, to talk about something which is much needed as per the circumstances.
Content: Should Vs Ought to Vs Must
Comparison Chart
Basis for Comparison
Should
Ought to
Must
Meaning
Should refers to a person's duties and responsibilities. It also signifies the best thing to do in a case.
Ought to is mainly used when we talk of a moral obligation or duty.
Must is used to express the 'need of the hour' or necessity, which has to be done.
Nature
Informal
Formal
Legal
Degree of Emphasis
Less
Comparatively High
Highest
Examples
Do you think I should go for the interview?
We ought to book our railway tickets.
You must follow the steps properly to get the desired outcome.
You should call your father, before its too late.
She ought to tell the facts.
We must pursue our dreams.
It should not be done.
They ought not to come my home at this time.
You must take care of your belongings.
Definition of Should
We use the word 'should' to talk about obligations, duties and also when something is right and the best thing to do in a particular situation, specifically when judging someone's activity. Now, take a look at the points given below to understand their uses:
To seek or tell, the best option in the given circumstances:

What should I do now?
You should be guilty of your deeds.
I should have called her, before going to her home.

When there is a probability of something to happen:

The construction work should be completed by tomorrow evening.
He should be in the salon.

To ask or give reasons:

Why should I explain to the people who don't even matter me?
Why should you get all the privileges?

To give advice:

You should have gone to a metro city for better exposure.
They should take a cab to reach on time.
Definition of Ought to
'Ought to' is a modal verb which refers to something which is morally correct in a particular situation, particularly when seeking suggestion or recommending something to someone. We also use ought to when duties or responsibilities compel a person to perform an act. Let's take a look at the points presented below to understand its uses:
To indicate when it is the essential and right thing to do, referred by the verb succeeding it:

We ought to have performed our duties properly.
The students ought to be punctual at school.

To express a probability of something that may happen:

The seminar ought to increase awareness.
The results ought to be declared by tomorrow evening.

To discuss things that are long for or ideal:

The Government ought to make better traffic rules.
People ought to drink eight glasses of water daily.

To express duty or rightness, in case of judging a person's actions:

She ought to follow traffic rules.
Definition of Must
Must is a helping verb, which can be used in sentences to show compulsion or obligation. We use must when we want to express something which is necessary or is essential, in a particular situation. It emphasizes the importance or need of something. Let's understand how we can use must in our sentences:
To denote the necessity of something, to take place:

The candidates must bring their ID proof with them.
You must take a break from life and travel.

To show a strong possibility, likely to be true:

This must be your last attempt for the Civil Services Examination.
She must be your sister-in-law.

To indicate prohibition:

One must not talk in the library.
People must not park the vehicles anywhere on the roadside.

To comment, give feedback or reviews on something:

You must be trying hard to get this job.

In exclamations:
For emphasizing something:

I must say, you have done a wonderful job.
Key Differences Between Should, Ought and Must
The difference between should, ought to and must are discussed in the points given as under:
We use should when we imply an obligation or correctness, usually when we point out faults or mistake of someone or something. On the other hand, ought to is used to highlight the duty or rightness of something in a given situation. Lastly, when we use the word 'must' we mean something which is so relevant or necessary that cannot be ignored or left.
Should is colloquially used term, whereas ought to is more formally used term. Contrary to this, the word must is mainly used in legal terminology.
When it comes to the degree of emphasis, the must is at the supreme level. After that, ought to is considered more powerful than should.
Examples
Should
I think you should consult a doctor.
She should have appeared for the Civil Services exam.
You should carry an umbrella, it may rain today.
Ought to
You ought to follow the traffic rules.
We ought to complete the target before the month ends.
The Judge ought to give a fair decision.
Must
One must not cheat in exams.
Riya must be having lunch at school.
You must reach the station on time.
How to remember the difference
As all the three words should, ought to and must express duty, or obligation or something which needs to be done in a given circumstance, it is difficult to understand where to use them correctly. However, must emphasize things the most, which is followed by ought to and the should.