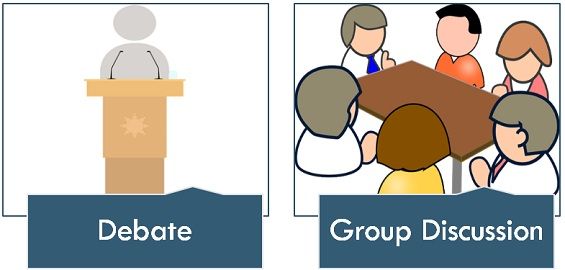 We often take part in debates and group discussions, in our school, college and office, which is not just important in grooming oneself, but it also refines the thoughts of a person and helps in understanding different perspectives. People often get confused between these two, but a debate is a form of a contest, where one of the two sides wins.
In a debate, all the participants of the team, get a fair opportunity to express their views on the particular topic and whichever side has stated more influencing and factual points, wins.
On the contrary, group discussion involves face to face communication between the participants, in which they orally interact, share, originate and discuss the ideas and views, to arrive at a consensus.
Content: Debate Vs Group Discussion
Comparison Chart
| Basis for Comparison | Debate | Group Discussion |
| --- | --- | --- |
| Meaning | The debate is a formal discussion on a particular issue, which as two sides - one supporting the resolution and one opposing it. | Group discussion refers to a process of group communication, wherein the candidates share their ideas and exchange facts and information on the concerned topic. |
| Nature | Competitive | Cooperative |
| Opposing sides | Yes | No |
| Aim | To persuade the audience. | To share ideas, facts and information with the fellow participants |
| Turns | Every participant can speak on the topic when it is their turn. | No such rule for taking a turn, the participant can put forward their point whenever he/she wants. |
| Involves | Winning or Losing | Expression of one's own point of view and respecting others point of view. |
| Speaker | Speaker can speak either in favour or against the topic. | Speaker can speak both in favour or against the topic. |
| Result | Final decision or result based on voting | Group consensus |
| Topic | Particular topic, around which the arguments should revolve. | Arguments can take a different direction, but deviations should be avoided |
Definition of Debate
The debate is also a form of discussion on a particular issue, in which a number of people participate, to give their opinion. Formally, in a debate, the group is divided into two teams – one in favour or support, while the other opposing it.
Along with the two teams, there is an adjudicator and audience. The audience judge the quality of the facts and arguments stated.
It is helpful in building confidence and self-esteem in the participants and also improves public speaking skills.
Further, the debate is driven by certain rules, which are agreed upon, in the beginning. It is being judged and so one side wins while the other loses it. It is started by the affirmative team, i.e. the one supporting the subject, followed by the one opposing it and the pattern continues. In this way, each team gets a fair chance to fend off the argument of the opponent.
In a debate, each speaker is given a set amount of time so as to present their points and answering the questions raised by the opponent team. And so there is a warning bell to give them some time to wrap up and complete which is followed by a final bell.
Definition of Group Discussion
Group Discussion can be defined as an extensive technique, used to assess the fitness of an individual with respect to the concerned criteria for the job, admission, etc. It is meant to refine the views of the participants.
It is used to analyse the entire personality of a person such as his/her thoughts, views, behaviour, emotional intelligence, perspective and so on.
In this technique, a topic is given to the members for discussion and the exchange of information and ideas takes place in a systematic manner. The sitting of the candidates is done in such a way that they face each other.
A panel of judges observe, compare and form an opinion about the participants, on the basis of their intellectual, social, leadership and communication skills.
Skills required in Group Discussion
Communication level
Behaviour and interaction within the group
Open-mindedness
Active listening
Presentation of views convincingly
Leadership
Reasoning
Subject knowledge
Ability to handle people
Body language
Critical Thinking
Confidence
Do's and Don'ts
Maintain eye contact with fellow participants while speaking.
Initiate the group discussion
Allow others to speak, do not interrupt others when they are speaking, instead make a note of conflicting points and discuss them when they are done.
Clarity and politeness in speech
Control your volume and pace while speaking
Bring back the discussion on the track, if the group is deviating from the topic.
Always have a positive attitude, do not try to dominate anyone.
Speak sensibly
Subject details are preferred while intimate details about the events should be avoided.
Dress formally and avoid the casual approach.
Key Differences Between Debate and Group Discussion
The difference between debate and group discussion can be drawn clearly on the given below parameters:
Group Discussion is an analytical and interactive process, wherein expression of thoughts, ideas, opinions, and facts take place by way of open communication, between participants. On the other hand, a debate is a systematic contest or discussion on a specific issue, in which the participants put forward opposing arguments and it ends with a final decision based on votes.
The debate is a sort of contest and so it is competitive in nature, whereas group discussion is a cooperative process.
In a debate there are two opposing sides – affirmative (support) and negative (against). As against, there are no such sides in case of group discussion.
In a debate, the participants seek to persuade the listener, with evidence and arguments. Conversely, in a group discussion, the members aim at sharing ideas and exchanging facts and information with the fellow members.
In a debate, both the teams can speak on the issue, one by one in which they can lead the argument further and also counter the question raised by the opponent. As well as, a set amount of time is allotted to each participant to speak. In contrast, in a group discussion, there is no such thing like turn, a candidate can put forward his/her point whenever, the person who is speaking has completed his point.
The debate involves winning or losing, whereas group discussion is all about the expression of one's own point of view and respecting others point of view.
In a debate, the speaker has to speak either in favour/support of the topic. In a group discussion, participants can freely share their views with the group, no matter their point is in favour of something or against it, as well as the participant is also allowed to defend their point with logical reasoning.
Group Discussion does not result in a final conclusion or decision but a consensus is reached at the end. On the contrary, in the case of debate, the final decision is based on voting.
In a debate, the participants speak on the particular topic only. In a group, discussion arguments can take a different direction, but deviations should be avoided.
Conclusion
Both debate and group discussion facilitate in assessing the individual's communication skills and play an important role in the academic, professional and administrative field.