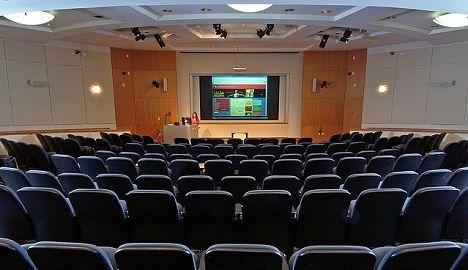 Conferences and Seminars are often conducted for an elongated period of time, wherein a huge presentation or speech is given by a speaker on a particular subject, due to which people often juxtapose them up. However, a conference is a kind of pre-arranged meeting conducted over a period of few days, wherein a particular topic is deliberated and all the participants have some shared interest.
On the contrary, a seminar implies an academic gathering of people, wherein the attendees are provided information, guidance or training with respect to the specific field of study. There are one or two presenters in the seminar who are subject matter experts. Now let's talk about the basic differences between conference and seminar.
Content: Conference Vs Seminar
Comparison Chart
| Basis for Comparison | Conference | Seminar |
| --- | --- | --- |
| Meaning | A conference refers to a large formal gathering of several people or say, members, to talk about a specific topic or subject of common interest. | A seminar is an instructional event, wherein one or more experts communicate some information, through lecture or general discussion. |
| Session | Consultative | Interactive |
| Objective | To get an opinion or solution for an issue. | To educate, discuss and guide. |
| Participation of audience | Limited participation | Active participation |
| Organized at | Organization or hotel meeting space. | Seminar hall of Institution, or an arranged space. |
| Duration | Few days | One hour or more |
| Type of work | Presentation and Exchange of views | Presentation and Discussion |
Definition of Conference
The conference, as the name suggests is a formally structured meeting of several delegates at an arranged place and scheduled date, which is meant to 'confer' something about a subject, usually of common concern to all the persons present or attending it.
In finer terms, conferences are scheduled meetings held for consultation and exchange of information or discussion, which has a certain agenda or motto to serve.
In a conference, keynote presentation is used to provide information to all the attendees. Further, it has a number of short break sessions. It can take place at both small and high level, i.e. the people attending the conference can range from 50 to 1000 or more.
A conference brings those people together who have some shared interest in the topic which is going to be discussed. It is a form of participatory meeting, organised to discuss an issue, find out facts or solve a problem in hand. It usually continues for a few days, where deliberation or exchange of information takes place, on a specific subject or removal of differences takes place.
Definition of Seminar
The seminar can be described as a formal academic instruction session organized by an academic institution for the students or by a professional organization, to educate and guide the participants on a specific topic, or a series of different topics of a subject or convey a message.
There is no limit on the number of people attending the seminar, as it greatly depends on the level in which the seminar is conducted. If it is organized at a high level, then the number of participants will also be high, and vice versa.
The seminar aims at bringing together all the people to whom delivery of guidance or information is a must and a long lecture is given by one or more subject matter experts in the concerned discipline, who are guest speakers. The speaker usually presents and discuss the topic by way of videos, slide shows or other interactive tools.
It is followed by a dialogue, i.e. question-answer session between the participant and experts, which encourages critical thinking and new ideas.

Key Differences Between Conference and Seminar
The difference between conference and seminar is discussed in the points given below:
Conference refers to a type of get-together conducted formally to convey certain information on a particular topic by way of presentations, speech and deliberation. On the other hand, the seminar can be described as a long hour educational lecture provided to a particular group of people by one or more experts, for conveying information relating to a subject, or a message.
Seminars are basically interactive session, wherein Socratic dialogue takes place between the expert and the attendees. Conversely, Conferences are consultative in nature, arranged by an organization or committee, aiming to talk about or exchange their views on a specific matter.
Seminars are held to inform, educate, counsel, guide or train the participants, on a specific subject. As against, conferences are organized at the organizational, national or international level, which objects to present and discuss a certain matter with the attendees and get their opinion and views on that matter.
In conferences, the participation of the attendees is somewhat limited. On the contrary, in seminars, the people attending it, take an active part in the discussion, by questioning the expert on their doubts, and the expert, in turn, provides a suitable answer to those questions to clear their doubts.
Conferences are organized at the conference room of the organization, convention centre, or any other place such as hotel meeting space. In contrast, seminars are held at the institution itself, i.e. at the seminar hall if it is conducted on the institute level, however, if it is organized at a high level, a large space is required for sitting and so they are conducted in an auditorium or any other hotel space.
When it comes to duration seminars lasts for a few hours only, whereas conferences continue for one or more days, wherein there are several breakout sessions.
In conferences, the topic is presented by the speaker, who give their views to resolve an issue or decide something. On the flip side, in seminars, a lecture is given by the guest speaker, who is an expert in the field to introduce the topic to the participants, after which further discussion takes place between the expert and the participants.
Conclusion
In a nutshell, seminars are academic in nature, whereas conferences are not just academic, they can be held to serve other purposes also, which can be related to business, politics, economy, science, entertainment, sports and so forth, nationally or internationally.