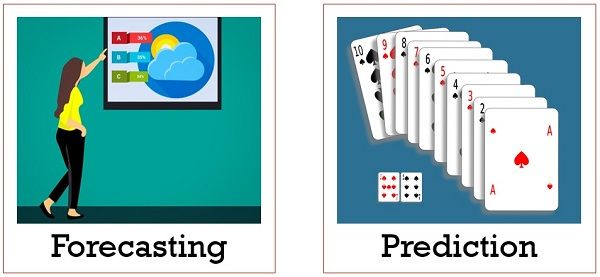 When we hear the terms 'forecasting' and 'prediction', that one thing that strikes our mind is the future. In business, estimation of the demand of the product in future is called forecasting. It is not similar to prediction. Prediction is simply the guess of the manager. Forecast relies upon the scientific analysis of past data. But, prediction is dependent upon subjective considerations. The job of the manager becomes quite easier when he has an accurate forecast.
It is a well-known fact that the future is not certain and it is full of risk. Nobody knows what is going to happen in the next moment. For reduction of the risk, it is preferred to take preventive measures. And for the reduction of uncertainty, planning is required.
So, in this content, we will talk about the differences between forecasting and prediction.
Content: Forecasting Vs Prediction
Comparison Chart
| Basis for Comparison | Forecasting | Prediction |
| --- | --- | --- |
| Meaning | Forecasting is an estimation of a future events which one can make by incorporating and casting forward data related to the past in a pre-determined and systematic manner. | Prediction is an estimate of future events made by subjective considerations. |
| Statement | Definitive and Specific Statement | Probabilistic Statement |
| Based on | Statistical model | Intuition |
| Nature | Objective | Biased |
| Concept | Throw Ahead | Saying Ahead |
| Error Analysis | Possible | Not possible |
| Results | Results are replicable. | Based on unique representations |
| Use in business | Estimating the level of demand based on factors that created the demand. | Anticipating changes in future that may or may not create the demand. |
Definition of Forecasting
Forecasting implies the determination of future trends and expectations taking past data or opinions as a base. It is used to objectively assess the future course of action. Because the future is not certain, no forecast is 100% accurate.
It can either be physical or financial. It aims to reduce threats and challenges. Also, it seeks to exploit maximum benefit out of the opportunities predicted. It plays a key role in capital budgeting.
It relies upon calculation and estimation, which uses data from events that took place in the past. And then it is combined with the recent trends to arrive at the outcome. So, we can make a statement with this outcome. In other words, what we do in forecasting is:
Collect past data
Analysing collected data
Observing recent trends
Predicting future outcome
Note: For accurate forecasting, the collection of the right set of data is vital. Also, based on how much data you have and how much you want to forecast, the accuracy of the data will differ.
The short-range forecast is important for production control and inventory control. As against, Long-range forecasts are significant in capacity designing, investment planning and layout planning. Forecasts that we often encounter are commonly related to:

Types of Forecasting Tools
Forecasting tools can be of two types:
Qualitative Tools: These are based upon a judgement that we make on the basis of past experience and analysis of future trends. Due to the dependency of this tool on individual judgement, the forecast is affected by human biases.
Quantitative Tools: These tools forecast data by analyzing past data. Further, it relies on statistical methods to make future predictions. These methods can be:

Time Series Analysis
Casual Methods
Utility
Forecasting minimizes the risk related to business fluctuations, which has an adverse effect. This results in employment, discourage the formation of capital and reduce profit margin. At present, forecasting involves the use of scientific tools which reduces the risks associated with it to a minimum. Also, the likelihood of precision increases.
Also Read: Difference Between Planning and Forecasting
Definition of Prediction
Prediction means a statement about an event, which an individual thinks will happen in future. This statement does not rely on analysis. But we make it on the basis of previous knowledge and experience. It is a general statement about the future event. Also, it can be a trend, estimated on the basis of history, observation, etc.
The term 'prediction' is a combination of two words, i.e. 'pre+diction'. Here, 'pre' means 'before' and 'diction' means 'utterance'. So, prediction is talking about the future. It is related to the estimation of the outcome of unseen data.
While predicting something one can take facts and evidence as a base. But it is also based on instinct or gut feeling.
When it comes to applications, predictions can be made in the field of sports, politics, movies, etc.
Also Read: Difference Between Hypothesis and Prediction

Key Differences Between Forecasting and Prediction
After understanding the concept of these two, let us now understand the difference between forecasting and prediction:
Forecasting is the process of estimating unknown situations, keeping past data and analysis as a base. But, a prediction is an act in which a person declares or gives hints about some future events beforehand.
In forecasting, the statement made is definitive. Whereas in the case of prediction, the statement is probabilistic.
Forecasting is scientific and is unaffected by personal bias. However, prediction is subjective and may be influenced by personal bias. It is based on intuition.
Forecasting relies upon 'throw ahead' concept. As per this concept, forecasting requires patterns in data. But prediction depends on 'saying ahead' concept. According to this concept, one can make predictions out of random data also.
In forecasting, error analysis is possible. Whereas in prediction error analysis is not possible.
The results of forecasting are replicable. But, the results of predictions are dependent upon unique representations
Because forecasting uses a scientific approach, it is more accurate than prediction. Therefore, the probability of happening of the statement is higher in the case of forecasting.
In business, forecasting involves estimating the level of demand on the basis of forces that generated the demand. However, prediction involves anticipating changes in the future that may or may not create demand.
Example
| Forecasting | Prediction |
| --- | --- |
| How many product units do we expect to be sold by the end of the third quarter? | How many runs India will make in their 6th ODI with Australia? |
| How many customer calls do we expect on Monday? | How many votes BJP is going to gain in the UP elections? |
Conclusion
All in all, we can say that in the case of forecasting we use relevant data to make estimations about the future. Also, we make forecasts for the near future.
But, when we predict something, it is not necessary to collect and analyse relevant data to make a statement. That is to say, one can make predictions even without the use of data. Besides, the time horizon in case of prediction can be the near future or distant future.