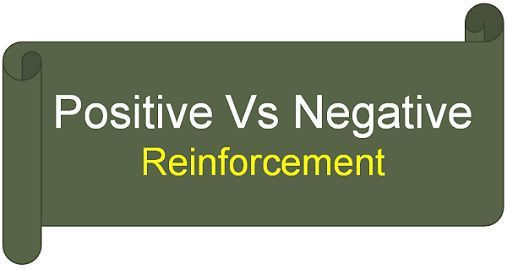 Positive reinforcement is the process that enhances the likelihood of the response, by adding something. On the contrary, negative reinforcement is one that intensifies the probability of response, by removing or reducing something.
In psychology, the concept of reinforcement is studied in operant conditioning. Reinforcement means an act in which the experimenter attempts to manage the reinforcer. Reinforcer implies the stimuli that increase the response rate. Reinforcement can be positive or negative. Both of them strengthens the repetitiveness of response, but by using different methods.
The two terms are diametrically opposite to one another. So, here we are going to discuss the difference between positive and negative reinforcement.
Content: Positive Reinforcement Vs Negative Reinforcement
Comparison Chart
| Basis for Comparison | Positive Reinforcement | Negative Reinforcement |
| --- | --- | --- |
| Meaning | Positive Reinforcement implies a process of introducing a stimulus, to increase the probability of recurrence of a pattern or behavior. | Negative Reinforcement is one in which an unfavorable stimulus is removed for the purpose of encouraging good behavior. |
| Stimuli | Added | Removed |
| Consequences | Stimuli have pleasant consequences | Stimuli have unpleasant consequences |
| Reinforcer acts as | Reward | Penalty |
| Results in | Strengthening and maintaining responses | Avoiding and escaping responses. |
Definition of Positive Reinforcement
Positive Reinforcement can be understood as the operation of encouraging an approved behaviour by offering a reward as a stimulus, on showing that behaviour. In short, after performing an action, it results in a positive response or reward, then the response tends to be reinforced.
The aim is to increase the probability of the pattern or behaviour. Positive reinforcers can be the desirable outcome, which satisfies the needs such as food, water, money, status, medals, etc. or eliminates the obstacle, in need satisfaction.
For Example:
Commercial Ad for a health drink presenting an increase in height, as result of consuming it, is an example of Positive Reinforcement, whereby increased height is the reinforcer to buy the health drink.
Income Tax Authorities offering gifts to the genuine assessee.
Promotion as a reinforcement offered to the employees if they achieve the desired sales target.
One thing is to be noted that, a positive reinforcer, can be different to different people, as an appreciation from the manager, can act as an effective reinforcer for some employees, but not for everyone, as promotion or increment can be a reinforcer for others.
Definition of Negative Reinforcement
By the term 'negative reinforcement', we mean that a reinforcer, i.e. stimulus is removed, on performing a certain behaviour. The frequency of occurrence of the behaviour will be increased in future, as a result of removing negative outcome. In short, negative reinforcement encompasses the application of the aversive stimulus. It is also known as escape or avoidance learning, as the reinforcer is negative and the person attempts to avoid or escape from it.
It is not same as punishment because in punishment the likelihood of the behaviour is reduced, whereas, in negative reinforcement, the repetitiveness increases.
For Example:
A person learns to wear a raincoat, during the rainy season, to avoid getting wet.
People wear helmets, to avoid getting injured, in case of a road accident, or getting fined by cops.
Key Differences Between Positive and Negative Reinforcement
To understand the difference between positive and negative reinforcement in detail, check out the points given below:
Positive Reinforcement implies a process of adding a stimulus when a certain behaviour is shown, to increase the likelihood of recurrence of that behaviour. On the other hand, negative reinforcement refers to a process in which the experimenter, in spite of adding something undesirable, he/she removes the unwanted stimuli, to motivate the organism to perform a certain activity again.
In positive reinforcement, a favourable stimulus is added, whereas, in negative reinforcement, an unfavourable stimulus is removed.
Stimuli involved in positive reinforcement, have pleasant outcomes. Conversely, in negative reinforcement, the stimuli can have unpleasant or even painful outcomes.
In positive reinforcement, the stimuli act as a reward, for doing something, whereas in negative reinforcement, the stimuli act like a penalty, for not doing something.
Positive Reinforcement strengthens or maintains the probability of recurrence of response. On the contrary, in negative reinforcement, the organism learns to get rid of nasty responses.
Conclusion
Reinforcement is when an outcome, strengthens a particular behaviour and thus, it is more likely to occur in future. In positive reinforcement, involves presenting a favourable reinforcer, to stimulate the organism, to act accordingly. As against, in negative reinforcement, reduction or elimination of an unfavourable reinforcer, to increase the rate of response.