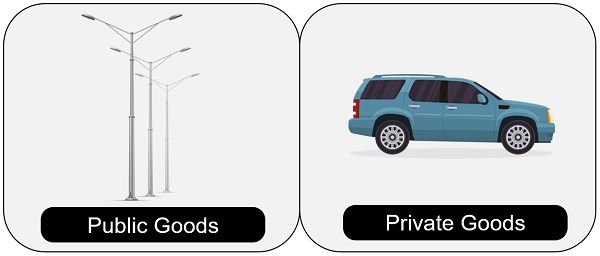 Public goods are the goods that an individual can consume without limiting or reducing their availability to others. That means every person in the society can take its advantage.
On the other hand, private goods refer to the goods that a person needs to purchase first in order to consume them. Further, one person's consumption of these goods limits another person from consuming them.
Both public goods and private goods are for the benefit of consumers. The difference between public goods and private goods is based on two main characteristics. These are the degree of jointness in consumption and the degree of exclusion. The degree of jointness in consumption is measured along the horizontal axis. At the same time, the vertical axis indicates the degree of exclusion.
This post explains the difference between private goods and public goods.
Content: Private Goods Vs Public Goods
Comparison Chart
| Basis for Comparison | Private Goods | Public Goods |
| --- | --- | --- |
| Meaning | Private Goods are the goods meant for a specific person's consumption. | Public Goods are the goods that are meant for the consumption of the entire society. |
| Example | Car, Laptop, AC, etc | Road, Bridge, Street Lights, etc |
| Nature | Rival | Non-Rival |
| Excludability | Excludable | Non-excludable |
| Divisibility | Not possible | Possible |
| Calculation of total demand | Horizontal Addition | Vertical Addition |
| Marginal Cost | Not zero | Zero or nearly zero |
| Price | The same private goods are provided at the same prices. | The same public goods are not provided at the same prices. |
What are Private Goods?
Private goods refers to the commodity or products a person buys for consumption. Hence, the ownership and usage of goods lie in the hands of that person exclusively. Private enterprises sell these goods to earn profits and meet buyers' needs. Further, when one person consumes the goods, its availability decreases for the other person.
These goods are meant to satisfy individual wants. Also, they are produced by a free market pricing mechanism. Further, the principle of scarcity applies to it.
A good is said to be a private good when there is competition between individuals for acquiring the good. Also, when one person consumes the goods, it prevents another person from consuming them. Such products are excludable and rivals. Further, any person who is unable to afford private goods is excluded from its consumption.

Characteristics
Private cost and benefits
Rival consumption
Knowledge:

Payment and benefits are simultaneous
Benefit obvious
Payee and beneficiary.
Types
Pure Private Goods: These goods have no externality. Also, there is low-cost exclusion like food, clothes, and cars.
Private goods with externalities: External benefits on the production and consumption of private goods, low-cost exclusion like schools, private hospitals, transport, etc.
What are Public Goods?
A public good is an umbrella term that defines a commodity or product that is accessible to each and every person. The government provides these goods. Further, if one person uses it, then there is no decrease in its availability for others. They are neither excludable nor rival. Therefore, any person can use it. Further, they are also indivisible. That means one cannot divide it or buy it as much as they want.
Public goods are there to provide facilities, services or welfare to the general public for free. These goods cannot prevent others from accessing and enjoying these goods.
In simple words, public goods are collectively and equally consumed by people at the same time.

Characteristics
Extremities
Non-rival consumtpion
Ignorance:

Payment and benefit are not simultaneous
Benefits obvious
Payee and beneficiary are not identical
Types
Pure Public Goods: The goods that are ideally non-competitive in consumption and are non-excludable. Such goods are collectively consumed, and their benefits are not subject to crowding. Also, there is high-cost exclusion. For example: National defence and police protection.

Non-rival: The consumption of goods by one person does not impact another person's opportunity to consume the goods.
Non-excludable: Individuals can't keep each other away from consuming the goods.

Partially public goods: The goods that are consumed collectively, benefits are subject to crowding, and there is a possibility of exclusion. For example: Theatre, amusement parks, pay TV, public golf courses, etc.
Impure public goods: Those goods that are non-rival and non-excludable, to some degree, but not completely.
Also Read: Difference Between Public Sector and Private Sector
Key Differences Between Public Goods and Private Goods
Private goods refer to the goods that a person must buy to consume them, and if someone consumes it, its accessibility ends up for the other person. In contrast, public goods are open to all the people for use. If one person uses that good, it remains available for others.
Private goods are rival in nature, as when it is consumed by one person, it reduces the amount of goods available to other persons. For example: Limited number of seats in a Flight. As against, public goods are non-rival. This means it is equally available to all the people of the society. Hence, its benefit can't be reduced if any person consumes it.
The person who owns a private good can exclude another person from consuming it. For example: If the buyer of the goods does not have enough money, then the seller can exclude the buyer from consuming it. But, this is not the case with public goods. As these goods are owned by the government, no one can exclude the other person from consuming it.
Private goods are divisible. That means it can be divided among two persons for their personal use. In contrast, public goods are indivisible, as they can't be divided for personal use.
We calculate the aggregate demand for private goods using the mode of horizontal addition of individual demand. As against, we calculate the aggregate demand of public goods through the mode of vertical addition of individual demands.
The marginal cost of providing private goods to an additional consumer is not equal to zero. Conversely, the marginal cost of providing public goods to an additional consumer is zero or almost zero.
While the same private good is provided at the same prices to all, this is not the case with public goods. That means the same public goods are not provided at the same prices to all. The price may differ on the basis of gender, age, etc. For Example: Different citizens pay taxes at different rates, but everyone has an equal right to travel on roads, highways, railways, etc. In contrast, everyone pays the same price for buying an AC or Refrigerator.
Conclusion
All in all, private goods are such goods that if you have one, you are the only person who receives the benefits. But, public goods are such goods which, if a person uses, do not diminish another person's use or benefit.