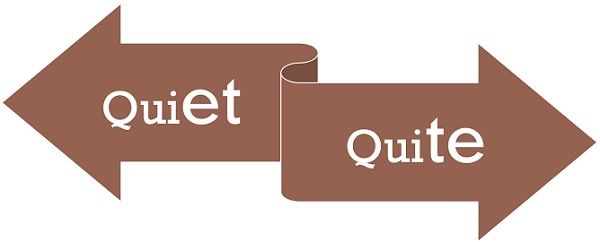 Many often use the word 'quiet' when they actually mean 'quite', due to the similarity in the letters used in the two words. However, these are different in their spellings, meaning and even pronunciation. Quite means 'to a considerable extent', whereas Quiet means 'to make very less or no noise, i.e. free from the bustle'. Let's take a look at our examples to understand the two in a better way:
The baby is quite innocent, that is why she is quiet.
I am quite disappointed to see, that Alex remained quiet while the incident happened.
After a change in the examination schedule, it is quite obvious that the students will not be quiet.
In the above examples, you might have noticed that we used quite to put stress on something. However, quiet is used in a variety of ways, i.e. in the first example, quiet denotes a person who is silent or calm in nature. In the next two examples, quiet indicates without any activity or disturbance.
Content: Quite Vs Quiet
Comparison Chart
Basis for Comparison
Quite
Quiet
Meaning
Quite means to a significant degree, i.e. fairly, completely or really.
Quiet implies, with a little sound or without any sound, i.e. noiseless or silent.
Part of speech
Adverb
Adjective
Pronunciation
kwʌɪt
ˈkwʌɪət
Examples
The design is quite impressive.
We are really surprised to see him quiet.
Kate's sister is quite arrogant.
Do you know why Mary is quiet all day long?
I am quite happy with the decision.
One should be quiet in the hospital.
Definition of Quite
The word 'quite' is an adverb which describes the degree of something. It either means slightly or moderately but not completely or it means fully, totally or actually. It is commonly used to emphasise another word. Quite is often followed by an adjective or adverb. Let's take a look at the examples given below:
Meghna's French is quite well.
The dress was quite different from what I ordered online.
She is quite selfish.
He pushed me quite forcefully.
The new gym trainer is quite young.
Whatever you heard about me is quite true.
They are talking quite loudly.
The question was quite difficult, but I solved it.
The teacher said, "Paul is quite weak in Maths".
I am quite sure that they are not lying on this matter.
Definition of Quiet
Quiet refers to making little or no noise (especially a disturbing one), i.e. to be silent. It can be used in varied ways, which you can see in the examples below:
As an adjective it indicates without any noise or bustle:

The students were quiet when the teacher entered the classroom.
Be quiet! I am studying right now.
You should not be quiet when you need to raise your voice against corruption.
Mr Bean walked quietly, so not to disturb anyone who is sleeping.
The speech given by the Director has a great message – "To stay quiet when you are not aware of the fact".

It may also mean without any excitement or activity:

The market is quiet due to demonetization.

As a noun, it may mean the state of being calm, still or silent:

She loves peace and quiet.

As a verb, it implies making someone calm and cool:

After hearing mother's voice, the kids were quiet.
Key Differences Between Quite and Quiet
The points given below are noteworthy so far as the difference between quite and quiet is concerned:
The word 'quite' means to a larger extent or substantial degree/amount, i.e. thoroughly, rather, fully, truly etc. In contrast, quiet means silent, calm or still. It is used to denote something having very little or no sound.
When it comes to pronunciation, quite is a single syllable word. As against quiet is a two syllable word, wherein emphasis is given on the first syllable.
We use the word 'quiet' commonly as an adjective, which implies making a little noise. However, it can also be used as a noun, to refer to a lack of noise. As a verb, it means to cause a person to be calm or still. On the other hand, Quite is an adverb of degree which means absolutely or slightly.
Examples
Quite
The movie is quite interesting.
Kate dances quite well.
I am quite busy these days.
The news is quite interesting.
Quiet
Joseph is not quiet; he is just observing everything.
The librarian scolded me to be quiet.
She was very quiet yesterday.
Keep Quiet! I am on a call right now.
How to remember the difference
The best tip to recognize the difference between these two words is that you can use 'quite' when you just want to emphasize 'what you are saying'. But when you mean silent or calm or inactivity, you can use 'quiet' there.
Talking about their pronunciation, while 'quite' rhymes with the word 'site', 'quiet' is a rhyming word of 'diet'.