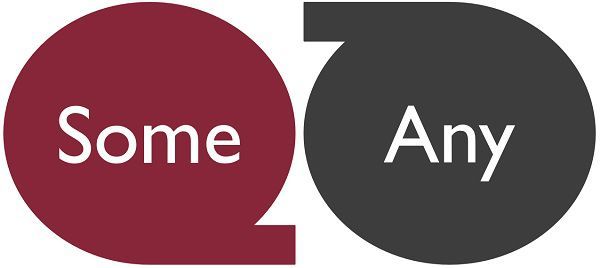 Some and any are the two quantifying determiners which are often used when the exact number of things or the amount thereof is not known, or it is irrelevant. Some refer to unspecified number or amount of a particular entity. When we use some in a sentence we mean a few people or things, but not all the people or things. Conversely, Any means one or more of something, without indicating the number or amount of it exactly.
Now, have a look at the examples given below which will help you in understanding the difference between some and any:
I have some work to do. Don't you have any?
Pihu takes some rest, after playing any game.
In the first sentence, some is used to show a definite amount of work, while any is used in the interrogative plus negative sense, as to whether the other person is having work or not. Likewise, the second case indicates that after playing any (whichever) game, Pihu usually takes some amount of rest.
Content: Some Vs Any
Comparison Chart
Basis for Comparison
Some
Any
Meaning
Some refers to a quantity of people or things whose number is not specified.
Any is a quantifier which signifies quantity of a noun, but not in exact terms. It denotes whatever, whichever, whoever.
Pronunciation
sʌm
ˈɛni
Used with
Plural nouns and nouns that do not indicate exact quantity or number.
Singular, plural or nouns that do not indicate exact quantity or number.
Used in
Affirmative Sentences
Negative and Interrogative Sentences.
Examples
Unnati has some bananas
Unnati does not have any bananas.
He bought some clothes.
He didn't buy any clothes.
They have some issues with the music teacher.
They do not have any issues with the music teacher.
Definition of Some
Some is a quantifier, which refers to the amount, number or part of a particular entity which is not specified. As a determiner, some can be used prior to the nouns to signify the indefinite quantities. However, the quantity is irrelevant; when we use some, it means a limited quantity. 'Some' can be used as a pronoun to, wherein the noun is implied. Let's discuss the uses of some:
It can be used in affirmative sentences, either with countable nouns or uncountable nouns:

There is some food on the table.
Karan has some coins in his wallet.

Some can also be used in interrogative sentences when offering or requesting something to someone:

Would you like to have some chocolates?
Can you get me some water, please?

It can be used before a number, to represent approximation:

Some thirty days ago, they left the hostel.

It indicates a reasonable amount of:

Vidyut is facing some problem.

To indicate noticeable or impressive:
Definition of Any
Any refers to one or the other chosen at random. It can be used as a determiner to represent some or small amount of something. As a pronoun, 'any' denotes one of or each of a specific kind of an individual or thing, wherein which one is insignificant and so, here noun is implied. Now let's discuss where to use any in sentences:
Any is used primarily in negative sentences to show that no person or thing exists of a specific kind.

Ritu is not having any information about his brother.
There is hardly any park in this city.

It can be used in questions and conditional sentences that talk about if there is some of a particular thing:

Is there any management book in the library?
Do you have any idea about guitar shop in this area?

We can also use any in positive sentences when it doesn't matter which one:

If you have any queries, then you can contact me.
You can take any taxi, to go to the station.
Key Differences Between Some and Any
The points given below explain the difference between some and any:
In simple words, some refer to a quantifier, representing a specific person or thing or part of a thing, whose number or amount is not certain. On the other hand, any is also a determiner as some, which also denotes an indefinite or unknown quantity of something.
We mainly use 'some' in the sentences which are affirmative. Although, it can also be used in interrogative sentences while making an offer. Conversely, when the sentence is negative or asks questions, we use any.
Some can be used with Plural nouns and nouns that do not show the specific quantity or number. As against, when the sentence consists of singular, plural or nouns that do not indicate the exact quantity or number, we use any.
Examples
Some
There is some milk in the jug.
I want some ice cream
I need some new friends in the new city.
Any
Do you have any questions?
Is there any beautiful place near Bhopal?
I don't want anyone to interfere in my life.
How to remember the difference
A simple way to memorize the difference between some and any is that while 'some' is used with 'positive' sentences. On the contrary, any is used in (NE)gative or Interrogative sentences.