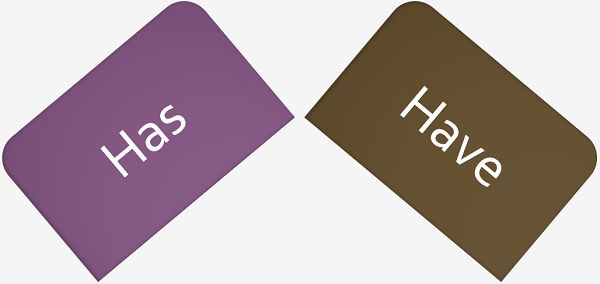 In the English language, when we want to express possession, we either use have or has, depending on the person. Most of the time, the words has and have are being used interchangeably, but there are certain rules concerning their use in the sentences which must be followed for making it gramatically correct. We use 'has' with a third person, i.e. He, She, It, etc. whereas we mainly use 'have' with a first and second person, i.e. with I, We, You, etc. and also with the third person when the sentence starts with 'they'.
Now come let's go through the example to understand the difference between Has and Have.
It has been a year since we have talked.
Jacob has done the job perfectly. All the teachers have appreciated his efforts.
Have you replied to the mail? Your sister has already replied to it.
In the first example, has is used with the third person 'it' while have is used with the second person 'we'. Likewise, in the second example, Jacob is a singular noun, so we have used 'has' there, but in the second part of the sentence, we have used 'have' with the plural noun, i.e. teachers. Lastly, in the third sentence, 'have' is used with the first person and 'has' is used with a singular noun.
Content: Has Vs Have
Comparison Chart
Basis for Comparison
Has
Have
Meaning
Has is a form of have, that denotes what people hold or possess.
Have is the base form of verb, that means to possess, hold or own something.
Pronunciation
haz
hav
Nouns
Used with singular nouns.
Used with plural nouns.
Pronoun
He, She, It, This, That
I, We, You, They, These, Those
Examples
She has good market knowledge.
You have good sense of humor.
Akira has submitted the college project today.
I have to submit the project by tomorrow, any how.
Has she confirmed the railway reservation status?
Have you entered your personal details in the railway reservation form?
Definition of Has
Has is a word indicating possession or ownership of something. It is the present tense of 'have' used with third person singular, i.e. he/she/it/ singular noun. Come let's understand where to use 'has':
It is used when we own, possess or hold something:

She has a house in Bengaluru.
Melissa has a joint injury.

It can also be used when we talk about things that we eat:

Peter often has noodles for lunch.

It indicates relation:

Jane has two brothers and a sister.

It is used with 'to' to show some obligation:

He has to pay the electricity bill by today evening or else penalty will apply.
Plan B has to work properly.
Definition of Have
Have is an indicator of possessing or owning something. It is the base form of verb, which is mainly used with the first person and second person, singular pronouns and third person plural pronouns. Below we've discussed where to use have in sentences:
It is used with the third form of other verbs, i.e. past participle form to create sentences in present perfect tense or past perfect tense.

I have visited Singapore twice.
They have taken part in the cultural program.

It means to hold, possess or own something:

I have some issues with the current strategy.
You have a really beautiful garden at your home.

To ask for food or drink:

What would you like to have: tea or coffee?
I have had snacks just an hour ago.

When we experience something:

You might have faced some difficulty in reaching the job location.

When we tell about our day, i.e. how's our day going so far:
It can be used with 'to' to show a requirement or obligation of doing something.

You have to perform the dance otherwise you will be disqualified.
I have to meet him before he moves to another city.

It also indicates a feeling, thought or desire:

I have a strong feeling that she is in trouble.
Key Differences Between Has and Have
The following points are substantial so far as the difference between has and have is concerned:
Have is an irregular verb, which can be used either as a main verb, i.e. action verb itself or as an auxiliary verb to form present perfect sentences using a past participle form of the verb. Conversely, Has is just another form of the verb 'have', used with third persons.
Has and Have denotes a simple present form of the verb have, wherein has is used singular nouns, i.e. teacher, child, judge, my mom, etc. On the other hand, have is used with plural nouns, i.e. teachers, parents, children, judges, etc.
Has is used with the pronouns, i.e. He, She, it, this, that, etc. Have is used with pronouns I, you, we, they, these, those, etc.
Examples: Have you ever dreamt of starting a new business.
The company has allotted the work of marketing of the new product to the best marketing team.
Examples
Has
Tanya has gone to Bengaluru, to find a good job.
He has crossed all the limits.
It has influenced me a lot.
Have
I have a golden coloured pen.
They have been to India many times.
Have you got the joining letter?
How to remember the difference
Basically, there is only a subtle difference between has and have, as both are used in present perfect sentences. A simple and easy tip to memorize the difference is that, whenever you create sentences with I, you, we, they or any other plural noun, use 'have', whereas if you are making a sentence with he, she, it or any singular noun, use 'has'.