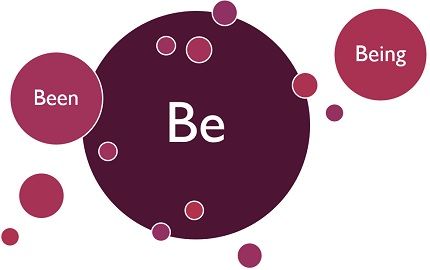 'Be' is an irregular verb, which is used with prepositions to form sentences. The two forms of the verb 'be' are been and being that are commonly juxtaposed, during their usage. Been is used in sentences to outline some information about the subject, which is not present but from an earlier time.
On the other hand, being is used when an action is going on in the present situation. Further, it also expresses the state of existing. Let's take a look at these examples to understand the terms better:
Rahul has been late to the class today. He is being careless.
She had been going to Kerala last week, but because of being ill, she wasn't able to.
In these sentences, been and being, you might have noticed that these are used at different points. Been is used to provide information about the subject which is not the present one in both the sentences, while being in the first one, is used to reflect a sudden change in Rahul's behaviour. On the other hand, the second one is used to denote the condition.
Content: Been Vs Being
Comparison Chart
Basis for Comparison
Been
Being
Meaning
Been is the past participle version of the verb 'be'.
Being is the present participle version of the verb 'be'.
Acts as
Auxiliary verb to form perfect tenses.
Auxiliary verb to form continuous tenses.
Part of speech
Verb
Verb and noun
Used with
Has, have, had.
Is, am, are, was, were.
Prepositions
We do not use been with prepositions.
We use being with prepositions.
Examples
I have been working here for a long time.
She is being rude.
Shruti has been to London many times.
I am being more careful, this time.
They have been waiting for you, for half an hour.
Being late, I didn't enjoy the party.
Definition of Been
The past participle form of the word 'be' is 'been'. Been is a verb, which is used to express some detail or information about the subject, which is not happening in the present, rather it is from an earlier time. It has a number of uses, which are discussed below:
To mean visited or gone somewhere:

I have been to Kerala twice.
Have you been to Singapore?

When the action which we are talking about is completed, it is used as a past form of 'go':

Shreya has been to the Parlor.

It can also refer to 'arrive':
It can be used after could have, should have and would have:

We should have been left by now.
Definition of Being
In simple words, 'being' refers to someone or something which is existing. It implies the nature or behaviour of a person, which is only one time and not a regular behavior. Nevertheless, it cannot be used to show a person's feelings. It is the present participle form of the word 'be', which plays the role of a helping verb in forming sentences in present continuous tense. Now we'll discuss the uses of the word being in our sentences:
As a noun, it is used to imply an existing person:

The new virus killed many human beings in the city.

It is also used to represent the state of the coming into force:

The law came into being on 1st April.

It can also be used as a non-finite clause when you want to give a reason for something:

Being the eldest daughter, I took the responsibility of my siblings.

It can be used as a gerund too:

Do you love being so rigid?

It expresses an individual's behaviour or action, which is followed by an adjective:

She is being ignorant.
Paul was being silly.

It can be used with prepositions also:

Thanks for being with us, in our hard times.
Key Differences Between Been and Being
The differences between been and being are discussed here in the points in detail:
Been is a form of 'be', which is a past participle one. On the other hand, being is also a type of 'be', but present participle one.
Been is used as a helping verb in sentences to form sentences in the perfect tense. As against, to form sentences in continuous tense, we use 'being'.
Been can be used as a verb only, whereas being can be used as a verb, noun and gerund.
While been is used with has, have and had, being is used with is, am, are, was and were.
We can use being with prepositions, but we never use been.
Examples
Been
Kiara has been my roommate for years.
Joe has been so angry that he shouted badly.
Who has been there in the class?
Being
Steffy doesn't like being kept waiting.
Alex is being confident.
All the student like being selected for the contest.
How to remember the difference
One can easily distinguish between been and being by understanding their meaning and usage. As been is the past form of 'be', it is used indicates something which is not or currently happening, but happened some time ago, whereas being reflects something which is going on at present.