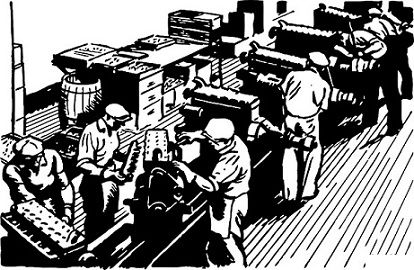 "Manufacturing" and "Production," are the two most commonly interchanged words. Have you ever wondered about their differences? Manufacturing is a process that involves making something that uses raw material as input, whereas Production may or may not include raw material as input. We can also say that manufacturing is production, but production is not merely manufacturing.
While manufacturing is related to tangible goods only, production is concerned with, both tangible and intangible goods. Take a read of this handout and clear all your doubts, with respect to difference between manufacturing and production.
Content: Manufacturing Vs Production
Comparison Chart
| Basis for Comparison | Manufacturing | Production |
| --- | --- | --- |
| Meaning | The process of producing merchandise by using resources like labor, machines, tools, raw materials, chemicals and others is known as a Manufacturing. | Production is a process of making something used for consumption by combining various resources. |
| Concept | A process in which raw material is used to generate output. | A process of converting inputs into outputs. |
| Compulsory resources | Men and Machine | Men |
| Form of input | Tangible | Tangible and Intangible |
| Form of Output | Goods only | Goods and Services |
| Creation of | Goods that are suitable for use | Utility |
Definition of Manufacturing
Manufacturing is a process of producing something useful through raw materials with the help of machinery or by hands in factories. The term manufacturing is used in the industrial sector where the input is transformed into the output on a large scale. The input can be in the form of raw material, components, and parts.
The most important feature of manufacturing is the man-machine setup. The product manufactured can either be directly sold to the final consumers or other manufacturing entities to produce other items like equipment, appliances, aircraft, household, etc.
Definition of Production
The activity of transforming both material and non-material inputs into the output that create utility is known as Production. The transformation includes conversion of raw materials into work in progress and works in progress into finished goods ready for sale. Here, the material input includes raw material, components, partly finished goods, etc. and non-material goods include ideas, information, skill, art, talent, etc.
The production of goods and services employs manpower and sometimes machines. The output generated should be used for consumption, or it must possess a value so that it can be sold to the consumer.
In economics, the production of goods and services is done to satisfy human wants. There are five factors of production that are used in the activity; they are land, labor, capital and entrepreneur. The participation and coordination of all these factors can lead to a successful production.
Key Differences Between Manufacturing and Production
The following are the major differences between manufacturing and production:
When the raw material is used as input to produce goods with the use of machinery is known as a Manufacturing. The process of transforming resources into finished products is known as Production.
Manufacturing consists of the generation of all those goods that are suitable for use or it can be sold out. Conversely, production involves the creation of the utility.
In manufacturing, the use of machinery is a must whereas production can be done with or without the use of machinery.
All types of manufacturing activities are used in production, but production may not necessarily be known as manufacturing.
In manufacturing, the output generated will be tangible in nature, i.e. goods only, but in the case of production it produces both tangible and intangible outputs, i.e. goods as well as services.
Men-machine setup should be there for manufacturing of goods, which is not in the case of production, the only man is sufficient for producing output.
Conclusion
Nowadays the creation of the product is very difficult. Input has to pass from many levels and hands to become the output. Moreover, the coordination of men, money, material and machine is also necessary. In manufacturing, the involvement of machines and raw material should be there. On the other hand, production is just a creation of utility, i.e. anything produced or transformed that adds utility to the consumer is known as production. In this way, it has no relation to raw material and machines.