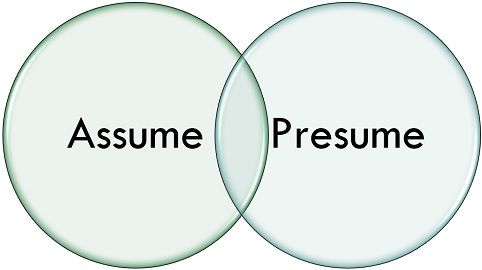 The words assume and presume are commonly used when we want to express something which we are believing of holding as correct or true before it actually takes place. However, there are some differences between assume and presume, as in, assume implies supposing something or taking it for granted, without having any proof or evidence against it.
On the contrary, presume means to suppose or take for granted that something is valid, which have proper evidence. Let's look at the examples to understand them better:
Ashima assumed that I will take her maths classes, while Shweta presumed that I will not, as I was on leave for two months.
In the given sentence, the word assumed is used in the first case, because there is no explanation or logic, but when it comes to the second case, presumed is used, as there is some logic behind her assumption.
Content: Assume Vs Presume
Comparison Chart
| Basis for Comparison | Assume | Presume |
| --- | --- | --- |
| Meaning | Assume refers to suppose something as true, without actually knowing the fact or having any proof against it. | Presume means to believe or hold something as valid, based on the likelihood. |
| Pronunciation | əˈsjuːm | prɪˈzjuːm |
| Derived from | Latin word 'assumere' which means take towards. | Latin word 'presumere' which means anticipate. |
| Guess | Random | Informed |
| Example | She assumed that I am in the hospital, as I met an accident yesterday. | I presumed her to be your friend, by the way she is talking to you. |
Definition of Assume
The word 'assume' is a verb which basically means to accept something as true, but there is no evidence or proof against it. Further, it also means to take the form of something. It is used in the sentences in the following ways:
To believe something as true, without knowing the fact or reality or being certain:

She said she needs new shoes and I assumed she is shopping in the mall.
The marketing manager is assuming 20% decline in the demand for tea, in the quarter.

It can also be used for pretending a different name, in order to express a false feeling:

He assumed to be a diamond merchant to catch the thieves.

To take the control of something or to be responsible:

In case no one is elected for the post of CEO, then it will be assumed by the General Manager.
The committee chairman will assume the office in February this year.
Definition of Presume
Presume is a verb, which means to accept something as true, on the basis of probability. Now come let's understand how can we use presume in our sentences:
To hold something as valid because it is probable, however, it is not sure:

If a student does not arrive even after half an hour of the examination, it is presumed that he/she are absent.
When the bag is not found under normal diligence, it is presumed to have been stolen.

To become offensively impolite, by doing something which you should not be doing:

What made you presume that I can do something like this?
Key Differences Between Assume and Presume
The difference between assume and presume can be drawn clearly on the following grounds:
The term 'assume' means to believe or hold something as true, without knowing the actual factor or without having any evidence. As against, we use the word 'presume' means to suppose or take for granted something as valid or correct, with substantial evidence or proof.
The word 'assume' is a Latin origin which implies 'to adopt something or to take up something.' Conversely, 'presume' is also a Latin term which refers 'to take upon oneself'.
In case of assume we make a random guess, which does not depend on any evidence. On the contrary, presume is an informed guess, which relies on logic, facts, and evidence.
Examples
Assume
My sister assumed I went with my friends for a movie when I left home early for the extra class.
Palash is assuming her paper on Sunday.
Presume
We presumed that you are not coming, as you haven't informed us about that.
A person is presumed as innocent until his/her crime is proven in the court of law.
How to remember the difference
Both assume and presume mean the same thing relating to supposing or taking for granted, but there is just one difference between them, i.e. while we are assuming something we believe on it without any kind of evidence, but in case of presume, we have a reasonable or logical assumption.