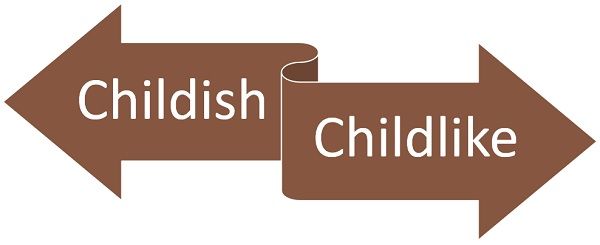 The words childish and childlike, are more or less associated with the characteristics of a child, that is why people often use them interchangeably, but there is a huge difference between them, which lies in their meaning. As the word 'childish' is commonly used in negative sense, i.e. to disparage someone.
On the other hand, 'childlike' is a positive compliment given to someone, for having good qualities similar to a child. Let's have a look at the example given below to understand the difference between them:
No one likes her childish behaviour, but everyone praises her childlike honesty.
In the given example, you might have observed that the word 'childish' is unflattering, as it is something which people find annoying and irritating. As against, the word 'childlike' is used in a good sense, to appreciate the qualities of a person, that resembles a child.
Content: Childish Vs Childlike
Comparison Chart
Basis for Comparison
Childish
Childlike
Meaning
Childish refers to a behavior in which a person acts in an foolish and annoying way.
The word 'childlike' indicates good qualities of a child, such as honesty, sweetness, purity etc.
Indicates
Immaturity
Innocence
Implication
Negative
Positive
Example
That's totally childish, isn't it - for a woman of 50 years?
We are looking for a girl with childlike face.
He is too childish.
A childlike sweetness attracts everyone.
Don't be so childish - behave maturely.
She has a childlike trust on her father.
Definition of Childish
The adjective 'childish' represents behaving immaturely, foolishly, insensibly or silly like a child. When a person is an adult but acts childishly, it means that they pretend like a child, which they are not. The characteristics of a childish person are discussed as under:
They have emotional escalations.
They look for someone to blame when something goes wrong.
They are impulsive and sometimes stubborn.
They have a narcissistic behaviour.
They are attention seekers.
They use lies to defend themselves.
Childish behaviour is usually annoying to many people and thus unattractive because if a person is childish, he/she is self-centred and may not be able to understand another person's perspective and condition.
Example:
They are talking childishly.
How childish of him to reject the job proposal!
She is very selfish and childish.
Definition of Childlike
A person is said to be childlike, when he or she has very good qualities, like that of a child, especially in their behaviour, appearance, thinking or character. When a person is childlike, they possess the following qualities:
They trust people easily.
They are innocent, sweet, simple and pure.
They are quite honest.
They are full of energy, excitement and enthusiasm.
They are curious to learn new things.
Childlike is a positive compliment given to someone possessing virtues typical of a child, even if he/she is an adult.
Examples:
She has a childlike enthusiasm.
John showed a childlike excitement for the function.
That childlike expression on her face, made my day.
Key Differences Between Childish and Childlike
The difference between childish and childlike are described in the points given below:
We use the word 'childish' to refer to the behaviour of a person, in which he or she behaves silly or foolishly. On the other hand, a person's behaviour, appearance, voice, or character is said to be childlike when it sounds like that of a child.
When we use the word 'childish' we are talking about immaturity which a person shows in his/her deeds. As against, when we use the word 'childlike' we discuss the innocence which a person acquires like a child.
The word 'childish' has a negative connotation; it is used to outline the bratty or silly attitude of a person, which is not at all likeable. In contrast, 'childlike' is used positively, to praise someone's youthful virtues.
Examples
Childish
She is very childish.
I don't like childish behaviour.
Please don't act childish.
Childlike
Alex has a very childlike curiosity to learn new topics.
She has childlike qualities.
Her childlike voice is lovely.
How to remember the difference
The best way to grasp the difference between childish and childlike is to understand their meaning. Being childish means, we are showing an immature, impulsive, narcissistic behaviour, whereas being childlike means we have that kind of innocence, or honesty, which a child has.