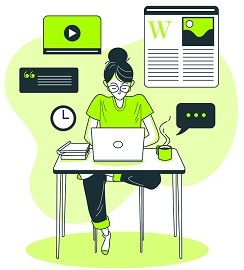 Do you often get confused between copywriting and content writing? Well, if it is a 'Yes', then you are not alone. The basic difference between the two forms of writing is the length and purpose of the text produced. While copywriters write shorter texts, content writers write longer texts.
The focus of the content writer is to educate the audience with words. But a copywriter focuses on selling with words.
Copywriting is all about playing with words and language in a way that convinces readers to take action, be it buying a product, signing up for the newsletter, registering on a website, clicking on a URL or downloading an app. It is just one of the elements of an ad campaign.
Content writing is all about providing information for communicating an idea or explaining a concept to the readers in a simple manner.
In this post, you will learn the differences between content writing and copywriting.
Content: Content Writing Vs Copywriting
Comparison Chart
| Basis for Comparison | Content Writing | Copywriting |
| --- | --- | --- |
| Meaning | Content Writing is researching, developing and publishing content for different purposes, from marketing to education. | Copywriting involves writing sales or advertising copy, which is meant to promote a product, service or brand. |
| Goal | Inform | Persuade |
| Drives | Engagements | Conversions |
| Effect | Develops trust and value | Evokes emotions and a sense of urgency |
| Writing Style | Content is a long-form writing | Copy is short-form writing |
| Tone | Formal tone | Conversational or Informal tone |
| Aim | Entertaining and Informing | Promotional Advertising |
| Nature | Conversational | Persuasive |
| Direction | Multi-directional | One-directional |
| Found in | Articles, Blogs, Email Newsletters, White papers, Reports, Case studies, and Ebooks | Copy for ads, slogans, taglines, landing page content, brochures, sales pages, etc. |
| Helps in | Driving organic traffic | Converting organic traffic into sales leads |
What is Content Writing?
Content Writing is the art of telling your customers about your brand while offering valuable content. It is all about writing informative and factual content. It uses short, straightforward and understandable sentences. Content Writing means writing specific content for a website which helps in driving traffic to it. It has to be non-plagiarised and authentic.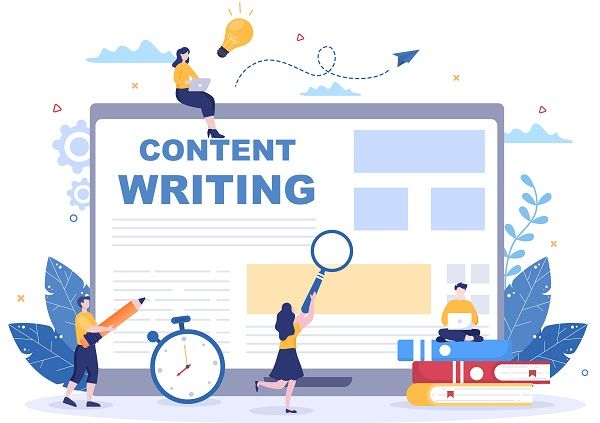 Content Writing implies developing content for online marketing. The content can be in the form of:
Articles,
Product descriptions,
Website content,
Blog post
Email newsletter,
Press Releases
Ebooks.
The content has to be educative, which adds to the knowledge of the reader. Hence, it requires a lot of practice and in-depth knowledge of the subject matter. For an article to be effective and successful, the content should be unique and valuable.
It helps the reader understand the topic, get the answer to a question, make a decision or solve a problem. Its minimum word count is 500 words. However, the ideal word length of content is 2100 to 2400 words.

Who is a Content Writer?
Content Writer is someone with good learning skills and has got a good grip on the topic which he is explaining. For this, he must be simple and concise in writing, with an aim to make people read.
A content writer works to bring organic traffic to the site through search engine optimization. Content Writer creates engagement and builds brand loyalty. The goal of a content writer is to get more likes, comments, shares, etc. This will add to their goodwill and value.

Process of Content Writing
The content writing process is divided into various steps, involving:
Keyword research
Selecting the topic for creating content
Researching the topic
Organizing gathered information
Creating a rough outline
Writing content
Using SEO Practices to generate organic traffic
Also Read: Difference Between Formal and Informal Writing

What is Copywriting?
Copywriting means using language to promote and persuade in an optimum way. The word 'copywriting' is a combination of two words 'copy' and 'writing'. It is an art in which the writer uses words persuasively to prompt the readers to take an intended action. It aims to promote the brand or spread awareness. Not just this, it communicates the value and benefits of the brand.
What does the word 'Copy' in Copywriting means?
The word 'copy' means 'ad copy'. An ad copy is a written text used to promote a product or service and raise brand awareness by persuading them. It can be a slogan, text for printed ads, radio jingles, direct mail letters and script for TV commercials.
Copywriting is the art of selling an idea, ideology or brand to your potential customers. It uses ideology with products to pitch customers the emotions associated with the product or service. It uses persuasive language and customer psychology to influence the reader to take a specific action. A copy presents an offer.
The aim of copywriting is to make the reader read every sentence till they take the desired action.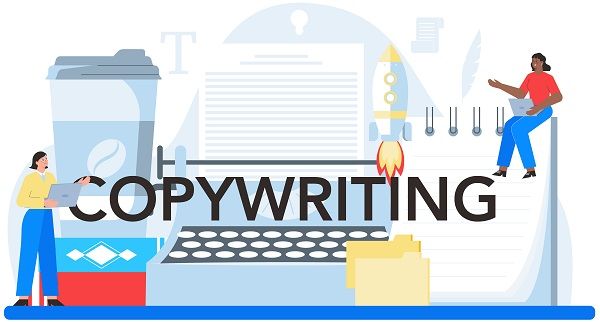 You can find copywriting in posters, local newspaper ads, slogans, sales brochures, etc. They create ads, PR documents, marketing materials, etc.
In simple words, copywriting implies using an influential, thought-provoking word that paints a picture in the mind of the reader that their life would be more complete, better, easier and happier if they had what you are selling.

Who is a 'Copywriter'?
Someone who does the task of copywriting is a copywriter. He is the one who knows how to play with words creatively and promote the product artistically. They are shouldered with the task of hatching the big idea.
An ideal copywriter writes every line in a manner that induces the reader to read the next line. A good copywriter is to increase conversion and, ultimately, revenue.
A copywriter must possess the following skills:
Imaginative and exceptional writing skills to make the message get the attention of a large audience.
Business sense and understanding of the industry for writing a successful advertising campaign.
Wise enough to find the right set of words, the right length of copy, the right structure and the right tone.
Copywriters must possess clean grammar and a vast vocabulary.
Note: The work of every copywriter is different, and that depends on their approach.
Copywriting Principles
AIDA: Attention, Interest, Desire, Action
WAYS: Write As You Speak
You Vs. We: Focus on the Reader's Needs
Also Read: Difference Between Newspaper and Magazine
Key Differences Between Content Writing and Copywriting
Copywriting is a set of words that compels the reader to take some action., i.e. for a short-term goal. In contrast, content writing means creating specialised content to connect with a large group of audience with a long-term goal.
Copywriting means writing in a way that persuades people to take the desired action. It is psychological and intentional. As against, content writing is about writing content, i.e. blog or article, to inform the audience or make them aware of something.
The basic difference between content writing and copywriting lies in the purpose. A copy is written for creating sales through writing a sales letter, webinar script, etc. Conversely, the purpose of writing content is to create engagement and brand loyalty. The audience engagement is in the form of likes, comments, saves, shares, etc.
Copywriting involves persuasion. For this, the copywriters use words and sentences that prompt people to take the desired action. However, content writing involves creating awareness and building relationships.
While content is long-form writing, Copy is short-form writing.
Copywriting is one-directional, i.e. it ends with a single call to action. On the other hand, content writing is multidirectional. It contains links to various sources. Also, there are a number of questions asked throughout the posts.
While content writing brings traffic, copywriting converts traffic into customers. Hence, Copywriters are tasked with creating effective copy so as to convert internet surfers into buyers. Content writers are responsible for creating valuable content that engages and informs the audience.
When it comes to skills, a copywriter must be skilled in persuasion, sales and marketing. He must have a knowledge of human psychology to influence people in a better way. In contrast, content writers must possess good knowledge of the subject and should be able to perform extensive research.
You can find content writing in the form of blogs, ebooks, email newsletters, magazine features, scripts for social media content, how-to guides, news articles, social media posts, etc. Conversely, you can find copywriting in the form of brochures, billboards, press releases, taglines, email campaigns, product pages, radio scripts, etc.
The aim of content writing is educating and informing. But the aim of copywriting is promotional advertising.
Conclusion
Whether content writing or copywriting, the creation of valuable and relevant content is necessary for both. However, the difference between these two lies in their engagement potential.