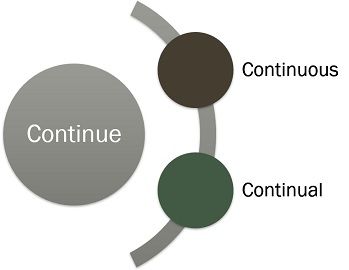 The words continual and continuous are adjectives derived from the word 'continue' which means to carry on an activity or a process, persistently. The line of demarcation between continual and continuous is very thin and blurry, due to which we often use them interchangeably, however, their meanings are different. Continual is used to talk about something which occurs again and again.
On the contrary, continuous is used to mean something that continues over a period of time, no breaks or pauses. Let's take a look at the examples to understand these two clearly:
There is a continuous series of games in the inter-school competition, but due to continual rain, the cricket match was postponed.
Riya has been continually warned, for talking continuously during the class.
It is not possible for any person to drive a car continuously for two days, but continual driving is possible.
The teacher said to Steffy, 'You have to pay continual attention to your studies, for continuous improvement in marks."
When we use the word 'continuous' in a sentence, it means the action or process doesn't stop. But, if we are using 'continual', it means there is a start and stops action.
Content: Continual Vs Continuous
Comparison Chart
Basis for Comparison
Continual
Continuous
Meaning
Continual refers to occuring repeatedly over a period of time, but can have some interruptions.
Continuous means ongoing, i.e. one that continues uninterruptedly and ceaselessly.
Represents
On and Off action
Non-stop action
Examples
The continual screaming of child, caused him headache.
Continuous rise in the prices of products, is an indicator of inflation.
Continual argument between my neighbors is quite irritating.
That boy in green shirt is watching us continuously.
Doctor suggested continual care for the patient.
Tarun watched three movies continuously.
Definition of Continual
By the term 'continual' we mean something which takes place frequently or regularly. It indicates recursion of an activity or process over a period of time, which contains breaks and pauses. Let us now understand this with some examples:
I have encountered a continual problem with the handset, so I just want to return it.
The actress suffered from continual humiliation, after exposing the activities of her co-actor during a movie.
After continual earthquakes, some buildings collapsed in Bihar.
The boss continually pressurised the employees to complete the target.
Definition of Continuous
The word 'continuous' is used to denote something which continues without any pause or break. It indicates an activity or process which takes place persistently. Let 's understand its uses with the help of examples:
It means an uninterrupted action taking place over time, space and sequence:

The Chief Minister gave a speech continuously for three hours.
The doctor advised me not to work for 12 hours continuously, as it is not good for our health.
Disha's mother is in continuous pain, while she was admitted to the hospital, after the accident.

It may also mean a series of something, which is in close connection or spatial relationship:

The mobile phone is specifically designed to take continuous shots.
There is a continuous row of houses in the colony, where I live.
Key Differences Between Continual and Continuous
The points given below are substantial, so far as the difference between continual and continuous is concerned:
Continual implies an action that recurs very often or at regular intervals, as it contains some breaks in between. On the other hand, the word 'continuous' is used to represent something that continues ceaselessly over a period of time.
Continual indicates an action that occurs on and off, i.e. again and again. As against, continuous is used to represent an action which is unbroken, i.e. one that does not contain any pauses or breaks.
Examples
Continual
The machine has been used continually since it was bought.
She is suffering from a continual migraine.
The continual decrease in turnover is not good for a company's growth.
She is continually calling and influencing me to take a loan.
Continuous
The Earth revolves around the Sun continuously.
This system makes a continuous humming sound which is very annoying to me.
Due to continuous losses, the proprietor decided to close the company.
The teacher said that there is a continuous improvement in Joseph's results.
How to remember the difference
While both continual and continuous talks about the time period, but continual indicates continuation over a long time, but with certain interruptions. Continuous, on the other extreme outlines interruption-less continuation of any activity. So, things which are a continual start and stop, but continuous things are incessant.