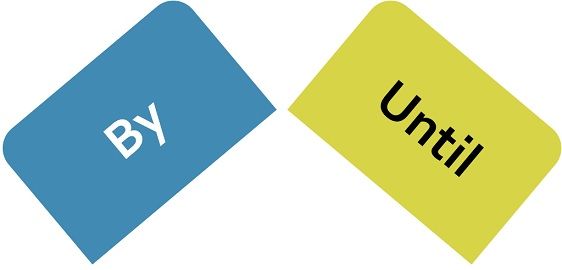 Prepositions are the words that precede a noun or a pronoun to show the relation or connect it to another element within the sentence. By and Until are the two prepositions of time, which are commonly misinterpreted. However, the preposition 'by' acts as a deadline in a sentence, indicating the time up to which something must be done or completed.
On the contrary, the word 'until' focuses on the period, before the deadline. Now, let's have a look at the examples below to understand the difference between by and until:
The Minister promised that they will arrive at the School Annual day function by 12:00 pm and will stay there until the program is over.
My mom will come home by Monday, so you cannot meet her until she comes back.
In these two examples, you might have observed that we have used the word 'by' to indicate a certain time, at which something must happen, whereas, the word until is used to indicate a particular point at which the situation/state which is continuing over a long time will change.
Content: By Vs Until
Comparison Chart
Basis for Comparison
By
Until
Meaning
The word by means 'not later than', which indicates something must be achieved or completed.
Until is used to show how long a state or situation continues, so it marks a point at which the situation or state is going to change.
Part of Speech
Preposition, Adverb, Noun
Preposition and Conjunction
Usage
Deadline
Period before deadline
Specific time
It is followed by specific time.
It is not followed by a specific time.
Examples
John will come back to the town by Monday.
John will be out of the town until Monday.
Kate will be at the party by 4'O clock
Kate will be at the party until 4'O clock.
Definition of By
The word 'by' with reference to time is used to set a time limit for an action to finish. This means that the action must be completed on or before the expiry of that time. Hence, it highlights a specific point in time or moment in future, when that action should be finished or something has to be achieved. Let's talk about its usage with the help of points given below:
Not later than:

The tailor said, " Your dress will be stitched by Friday."
All the candidates must arrive by 9'O clock.
My friends are supposed to be here by May.

It also represents the agent, i.e. the person who does something or what causes something:

The car was driven by Mr Sharma.
This restaurant is run by an old woman.

It also indicates the way of doing something:

He learned dancing by watching videos on Youtube.
The policeman rescued the victim by grabbing him in his arm.

Nearby or next to:

When we are taking photographs, the girls stood by my side.
Alex purchased a new house by the coast.

When something happens unplanned or unintentionally:

I met my friend in Amsterdam by luck.
Sorry, I didn't mean it, it happened by mistake.

For measurements:

The salary of the employees was increased by 20%
The rate of inflation has fallen by 1%

To indicate Mode of transport:

The guests arrived by car.
Definition of Until
The word 'until' describes an action, state or situation which continues up to a long time and then it stops or changes at a specific moment or point in time. Informally we use the word till, instead of until. Now, we will discuss the usage, in the points given below:
Up to a specific time or point:

You cannot leave the office until you finish the work.
I will help you, but you have to wait until this evening.
The President is in Kolkata until midnight.
Mom said, "You can sleep until seven."
We will stay at the office until the rain stops.

As far as or with respect to distance:

Don't go anywhere until I come back.
Alex can stay by bus until Delhi and then change the route.
Key Differences Between By and Until
The points given below explains the difference between by and until:
The preposition 'by' is used to express an event or action that should be happened on or before a definite moment or time. On the contrary, we use the word 'until' to describe a situation, action or state which will change or stop, at a particular point in time.
'By' is used when there is a specific time limit, for doing something, to indicate that something has to be achieved/completed by that particular time. As against, if the focus is not on the time limit but the period before the deadline, then we use until to show that something continues over a period of time and then stops once a particular point (mentioned) is reached.
While 'by' is often followed by a definite time, this is not so in the case of 'until.'
Examples
By
I will mail you the documents by Monday.
I will finish my homework by 12:30 pm
You must complete the visit by May this year.
Until
She will be staying in Ooty until Wednesday.
Peter was studying until 11:00 clock last night.
The kids watched cartoon until 7'O clock in the evening.
How to remember the difference
One easy trick to remember the difference between by and until is that when you have to accomplish something on or before a specific point in time and that time is the last moment up to which the action must be completed, then you need to use 'by'.
On the other hand, when something is going on, up to a particular point in time, i.e. something takes place or continues over a duration of time, and then it changes or stops when the point is reached, we use 'until'.